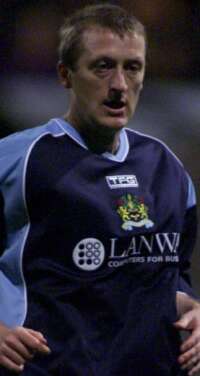 Tony Grant - the new, improved, hard-tackling version
The Clarets have now done the double over the Rams who last season were rubbing shoulders with Arsenal, Manchester United and Chelsea. This double sits nicely alongside the one which the Clarets recorded in their previous league outing when they beat Coventry for the second time this season. Should Burnley put Leicester to the sword next month, they will have completed a grand slam of sorts.
Stan Ternent made no changes to the team which had held Fulham to a draw in the FA Cup six days previously, which meant Marlon Beresford continued in goal. The Clarets lined up 4-1-4-1 with Branch, Diallo, Cox and West across the back. Paul Cook played as the inverted sweeper in front of them. Alan Moore, Briscoe, Grant and Ian Moore formed a bank of four across the middle, whilst Gareth Taylor was the Clarets solo striker.
The first opening of the game fell to Derby County on 6 minutes. The lively Lee Morris played in Adam Bolder whose weakly struck effort proved no problem to Beresford. Within 60 seconds, Burnley had taken the lead. Dopey defending from Derby's defence allowed Alan Moore to advance on goal. He tried to recreate his Fulham goal, but the Rams' Keeper, Lee Grant was able parry away his shot. County's players stood and admired their keepers' save seemingly forgetting the ball was still in play. Ian Moore was alive to the situation, and pouncing on the rebound fired the ball into the empty net. Ryan Giggs could learn from the lad.
On the quarter hour, the Clarets might have doubled their lead when Alan Moore skipped around a challenge from Steve Elliott, but was unable to find a suitable finish, firing tamely wide of the mark. Derby countered on 17 minutes when Georgi Kinkladze released Paul Boertien down Derby's left flank. His cross was met by Lee Morris who dragged his effort wide of the target. It was to prove a costly error.
On 23 minutes, Luciano Zavagno thought it would be a good idea to start showboating in his own penalty area. It wasn't. As he attempted to dribble the ball out of his box, he was dispossessed by the new, improved, hard-tackling Tony Grant. Rodders advanced to the by-line and instead of opting to go for goal, he lofted a beautifully weighted ball over to an unmarked Gareth Taylor on the far post. Warren Barton did what he did all afternoon, and stood gaping – just like the Derby net – as the Welsh international netted his tenth, and arguably his easiest, league goal of the season. Game over.
The Rams had one more decent opening in the half, when the casual Zavagno attempted to make amends for his earlier indiscretion with a goalbound header. Paul Cook was in the right place at the right time and managed to make a vital goal-line clearance. Derby's appeals for a penalty for handball were almost as desperate as their calamitous defending.
On 38 minutes, Dean West linked well with Tony Grant who played in Alan Moore, but again the Irishman's finishing proved to be his weakness. Still, half-time brought with it a deserved two goal advantage for the Clarets, and the interval was spent anticipating another half of attacking football from the lads in an attempt to improve our poor goal difference.
We didn't get it. What we got was 45 torturous minutes of some of the most tedious football played at Turf Moor for some time. Judging from the second half display, Stan had told the team to protect their lead and not take too many risks. Fair enough. It's just that Burnley crossed the halfway line so infrequently in the second half, that many of those in the Jimmy McIlroy Stand had begun to forget what many of our players looked like.
In an uneventful half, Derby bossed possession, but created precious little in the way of decent openings. On 48 minutes, Adam Bolder directed his powerful header straight at Marlon after good work from Richard Jackson. A handful of minutes later Dean West was called upon to tackle Morris after he threatened to break through on goal.
Burnley were struggling to get any kind of fluency going, particularly down the left hand side where the trio of Branch, (showboating) Briscoe (the last thing he wanted was possession of the ball) and Alan Moore (rather be at home with a nice cup of tea) were getting nowhere fast, and frustrating the home crowd into the bargain. On 57 minutes Burnley mounted their sole attack of the second half. It was from Ian Moore and he had to do it all on his own. Picking up the ball on the halfway line, Moore outpaced his markers and headed for goal. At the last minute he changed feet, and it was to prove his undoing as his first shot was blocked and his second saved by Grant.
On 70 minutes Alan Moore made way for Paul Weller, and Cook was replaced by Mark McGregor. It was simply a case of fresh legs, rather than a tactical switch. On 89 minutes, something rather curious occurred. It was a sighting of Fabrizio Ravanelli. Apparently he had started the game, but no-one could recall him actually taking part in it. Joking aside, if I were a Derby fan I would feel massively short-changed by the man they call the White Feather. Reportedly picking up huge wages, Derby's most high profile player did little to justify his salary and how he stayed on the pitch for 90 minutes is beyond this correspondent.
All in all this was probably Burnley's easiest league win of the season. Once again Diallo and Cox showed that they are a tough duo to get past, a point not lost on John Gregory who was fulsome in his praise of the pair.