The striker, fresh from two Turf Moor goals for England under-21s, scored twice in under two minutes early in the first half to give the Clarets a 2-0 lead, and although Stoke pulled one back just after the half hour those goals ensured our first away victory of the season.
At times in the second half, when Stoke, shall we say, saw quite a bit of the ball, it looked as though we might just concede the lead, but by the time we got close to the end we'd seen them off and left the home side a very frustrated outfit in a game that their manager Mark Hughes claimed would shape their season.
I'd love to be able to report a relaxed afternoon watching my team outplay Stoke with some free flowing football but it's never like that at the Britannia where, no matter who you are, you have to flight for every inch in any game you play there.
That's how it was yesterday but this was no fluke victory; this was no fortunate victory but a fully deserved victory where every single player on the pitch gave his all from first whistle to last.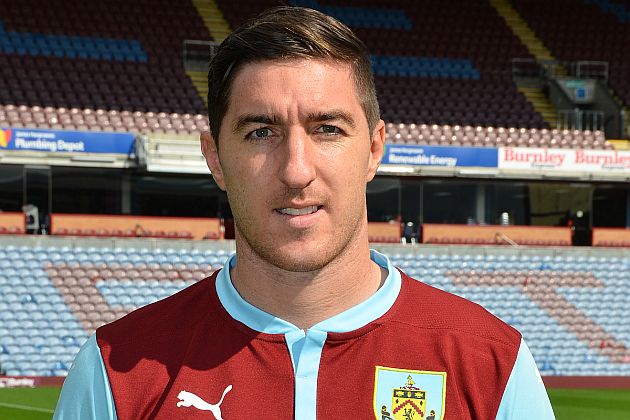 Stephen Ward was exceptional in Burnley's outstanding defensive display
I overcame illness to make it to this one (a heavy cold that's left me feeling sorry for myself) and we were on our way just before 11 a.m. and on the lookout for a decent stop for lunch on the way. We found one too, close to the M6, and once refreshed we were on our way to the Britannia, eventually, after some crazy attempts parking cars, all making into the stadium some considerable time before kick off.
The team news by then had come through. Sean Dyche said he had expected both Scott Arfield and Nathaniel Chalobah to shake off knocks but neither made it. Michael Kightly, against his former club, came in for Arfield with the two substitute places available seeing returns to the bench for Steven Reid and Ross Wallace.
I labelled this ground 'The Windy City' some years ago. In 2003 I headlined my report "Just got back from the Windy City" and in 2006 it was "Good days at the Windy City". No wonder, someone came up with the bright idea of building it on the top of a hill and also to leave huge gaps in three of the corners. As it happened yesterday, it was absolutely still and I've never been as warm in there.
Burnley came out in the all black kit chosen by chief exec Lee Hoos and the game started with us attacking the end of the ground that was housing almost two and a half thousand of our fans.
In the opening exchanges I thought to myself "We're doing alright here". It's certainly important not to let the opposition grab the initiative and it was Stoke who must have been worried in the first ten minutes or so with how well we settled and how good we were looking.
Even so, I wasn't expecting what happened in the 12th and 13th minutes of the game right before my very eyes as we went one and then two goals in front.
For the first, George Boyd won the ball back for the Clarets on the right and played it inside for Dean Marney who played a ball out left for Ashley Barnes, who had a terrific first half for us, giving Stoke so many problems.
Barnes brought it under control and crossed low. Michael Kightly's run to the near post forced goalkeeper Asmir Begovic to parry the ball straight to Ings who had the reasonably simple task of turning the ball home to give us the lead away from home for the first time this season.
The excitement had hardly died down when we won a throw in the left back position taken by Stephen Ward, and t here will be more on him later in this report.
Barnes brilliantly flicked the ball on for Kightly who skipped past Phil Bardsley, who in 2006 made his Burnley debut at the Britannia. Kightly got forward and crossed for Ings who from just a few yards out had an open goal.
It was almost as if time stopped for me. I had a seat very close to the camera behind that goal and it was as if I'd hit the pause on my Sky box and I was staring at this picture of Ings having a golden opportunity immediately after he'd given us the lead.
It seemed to be an age but then again I'd hardly any time to take it in before the ball hitting the net brought pandemonium in the stands. Goal number two had come 1 minute and 45 seconds after goal number one.
This was dreamland. We were 2-0 up at Stoke in under 13 minutes and we were, without any doubt, the better side and fully deserving of the lead. What I couldn't see then, but have since, were the pictures of Mark Hughes looking extremely miserable on the home bench.
Burnley fans were photographing the big scoreboard to our right showing STOKE 0 BURNLEY 2. I wasn't going to do that; I did it at Man City five years ago when we led by the same score only for us to be 3-2 down not too long afterwards.
Having said that, there was no real reaction from Stoke. We were in control and we forced Begovic into a save when Boyd cut in from the right and hit a left footer from outside the box.
I recall glancing over to the screen and seeing that 25 minutes had gone. We were looking so comfortable and, in truth , Stoke hadn't put us under any pressure at all. Then things started to change.
They pulled one back when Jonathan Walters got in front of Jason Shackell to head home. Tom Heaton got a hand on it but couldn't keep it out. For the rest of the half the play was mainly towards our goal at the far end.
There was a heart stopping moment when Victor Moses went down in the box. Referee Martin Atkinson couldn't have been much closer and said no to the penalty shouts. What I didn't know then but have since seen is that Moses, accused of diving recently by Swansea boss Garry Monk, had done exactly the same again. It was absolutely disgraceful and only Atkinson, who had clearly seen what had happened, will know why there was no card.
Moses almost immediately saw a shot saved by Heaton but we got through and went in at half time with a 2-1 lead. Stoke had put us under some tremendous pressure in the closing stages of the half but we'd survived it.
It would be ideal if I could write of the second half that we came out and took the game to Stoke for the entire 45 minutes, but the report has to have more than an element of realism to it and so I must report that for much of the second half we were being put under pressure defensively from the home side.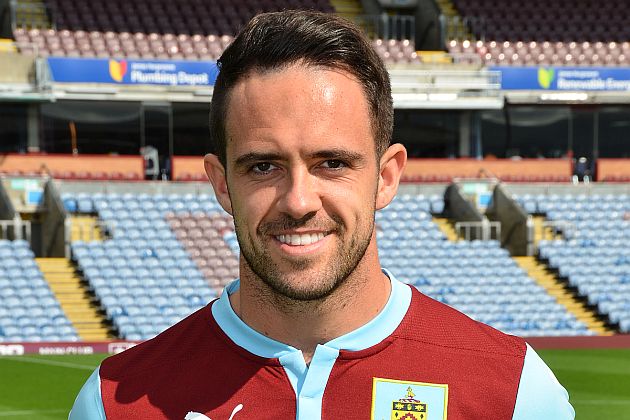 Danny Ings becomes the first Burnley player to score two goals in a top flight away win since Ray Hankin
I lost count of the number of balls they were putting into our box. It was almost Stoke of old; it was almost Pulis ball to the extent that I wondered at what time Rory Delap might come on to start hurling throw ins into our box.
Having said all that, they weren't creating too much although Mame Biram Diouf came close with one effort. Thankfully, it went wide. It was a clear hand ball but I'm not sure either Atkinson or the assistant were able to see it.
They threw on Mr Abbey Clancy on the hour, the six foot and a lot Peter Crouch. Dyche immediately reacted. In a switch of system we withdrew Kightly with Jutkiewicz coming on up front as Ings dropped back and Barnes went on the right.
I thought we dealt with him brilliantly. Of course Stoke hurled even more high balls into our box but our defending was simply outstanding. Everyone did their job but Ward was simply exceptional. This was his best performance in his so far fledgling Burnley career. I lost count of the number of blocks he got in and the number of headers he won.
There was little respite and when Michael Duff was forced off there was a real concern. I have to say that Michael Keane came on and was simply outstanding for the twenty minutes or so he was on the pitch.
We were seeing them off. Even the brilliant Krkic Bojan was beginning to look a frustrated figure, on one occasion hammering the ball into the away fans as another opportunity passed them by.
I was getting more and more nervous as the clock ticked ever closer to ninety minutes and then through those extra minutes added on. Others around me seemed much more confident with plenty of Um-bah-bah's and the like.
I didn't think Stoke had a goal in them during that last period of the game. They'd run out of ideas and we were looking more and more comfortable, even when Begovic came up and got in a header from a corner.
But by the time Heaton went down with cramp, even I'd decided this one was probably won and so it was.
And what a big, big win it was. If you were there and didn't realise how big then the reaction of players, manager and fans told you.
Dyche spoke of his pride; he spoke of giving us a team that would give everything for the shirt and would play with that pride, with passion, will desire and with will. He told us that two years ago and never was it more in evidence than yesterday, and, let it be said, against a very good and strong Stoke team.
Even the oft bitter Hughes admitted we deserved it, although there was no need for his reaction as he reached the tunnel.
I voted for Ward in the man of the match vote. In truth it could have been any one of them. This team of ours gave us absolutely everything and gave us all one of those memorable afternoons we all love so much.
I travelled with a couple of friends who all but gave up on the Premier League season last time and opted not to travel to Hull. I've often reminded them that they've never seen Burnley win a top flight game away from home. I've lost that little bit of ammunition now but I have to say that I'm as delighted as they are that I can no longer use it against them.
It was brilliant yesterday Burnley, absolutely brilliant. It left us all with absolute pride in the Potteries.
The teams were;
Stoke: Asmir Begovic, Phil Bardsley, Ryan Shawcross, Geoff Cameron, Marc Muniesa, Steven N'Zonzi, Steve Sidwell (Charlie Adam 78), Jonathan Walters, Krkic Bojan, Victor Moses (Marko Arnautovic 56), Mame Biram Diouf (Peter Crouch 60). Subs not used: Thomas Sorensen, Oussama Assaidi, Glenn Whelan, Stephen Ireland.
Yellow Cards: Mame Biram Diouf, Steve Sidwell.
Burnley: Tom Heaton, Kieran Trippier, Michael Duff (Michael Keane 76), Jason Shackell, Stephen Ward, George Boyd, Dean Marney, David Jones, Michael Kightly (Lukas Jutkiewicz 60), Danny Ings (Steven Reid 86), Ashley Barnes. Subs not used: Matt Gilks, Ben Mee, Ross Wallace, Marvin Sordell.
Yellow Cards: Danny Ings, Tom Heaton.
Referee: Martin Atkinson (Bradford).
Attendance: 27,018 (including 2,464 Clarets).
Footnotes
The Britannia hasn't been the worst of venues for Burnley since it was first opened in the 1990s although we did lose there on our first visit in the League Cup in 1997.
Since, we've played ten league games there, winning six, drawing two and losing just two. That record would have been even better had Howard Webb not robbed us of a seventh win in 2008 with a ridiculous penalty award to Stoke in stoppage time.
Danny Ings, in television interviews last night, said he could take no credit for the win, it was all down to the defence. Gary Lineker put him right and of course he can take much credit.
I've taken a look at the more recent Burnley players to have scored two in a top flight game. Graham Alexander achieved it in both games against Hull in 2009/10 and both ended in wins. There were three penalties in those games, one at home and two away.
Prior to yesterday, Steven Fletcher was the last Burnley player to score two in open play; they came in the 5-3 defeat at West Ham, leaving David Nugent, in the 3-1 home win against Sunderland, as the last player to score two goals in a win.
The last player, previous to Danny, to net twice in a top flight away win was Ray Hankin in a 3-2 win at Luton. That was forty years ago next Sunday.