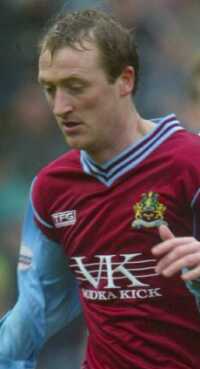 Tony Grant - superb in midfield
There's no doubt it was hard fought and if Stan thought Mansfield were over physical then he must have cringed at what his mate Gary Megson's lot got up to this afternoon but the most incompetent of officials seemed not to have a clue as to what was going on.
The first half could quite easily have seen three Baggies leaving early but Rob Hulse was the only one sent packing for an awful challenge on Mark McGregor that looked very much to be an elbow.
Hulse must have thought it was OK though because he had seen his team mate Sean Gregan get away with one far worse on Tony Grant that the referee didn't even give a free kick for.
But it was neither of these that saw Stan in a rage. That was when Andy Johnson, a player with a dreadful reputation in the game, took out Tony Grant right in front of the Burnley technical area. Incredibly referee Miller awarded the free kick to West Brom and Stan stormed onto the pitch remonstrating at it.
None of it should have been a surprise though, West Brom have played very much this way since Megson took over and they were certainly no worse than last time they came with Jason Roberts at it.
Thankfully we kept our heads but unfortunately the football was not much to right home about and there were few good individual performances to enthuse. What a makeshift team it was with Glen Little in a central midfield role at the start with Paul Weller ruled out with his hamstring injury and Graham Branch was back in the side, this time in his rightful position on the left hand side of midfield.
The first chance of the game fell to West Brom and we had much to thank the Beast for as he saved well from Geoff Horsfield who was unmarked just a few yards out.
The next few minutes lifted the home crowd. There is nothing that will do this more than the Burnley fans thinking they are being badly done to and with elbows and bad tackles flying it really got the home fans' backs up.
And the Longside was on its feet again when the referee finally decided to take some action, got it wrong again, and booked Tony Grant.
Almost immediately we nearly went a goal down after Lee Roche tried to get in a back header but again Jensen was there to deny Horsfield.
The former Wigan striker was soon to be on his own up front when Rob Hulse was sent off for a disgraceful elbow on Mark McGregor – once again leaving us with the task that we find so difficult, playing against ten men.
Megson made no changes but just played with the one up front but they still looked the more dangerous side and as the teams finally left the field at half time it was difficult to recall a single chance for the Clarets.
West Brom had done their homework, man marked Robbie Blake and to be honest that left us with no inspiration. Glen was working hard in midfield but again we got nothing from Chadwick and his game came to an end at half time.
With two wide men on the bench it was something of a surprise to see him replaced by a full back but Fred West it was who went into central midfield with Glen going wide.
Nothing much changed and the ten men of Albion always looked the more likely to score and it was always Horsfield who was getting on the end of things. He hit the post in one attack and then should have scored after awful errors from Lee Roche and Jensen.
But then Turf Moor was lifted as we went in front and it was another from Blake, this time curling the ball into the far corner from the right hand side of the box. It was hard to believe we were in front but I'm sure we all hoped it would last more than five minutes.
Why is it that we never seem to have a right back on duty? Fair enough we got the offside trap wrong but Roche was in front of the central defenders as Horsfield latched onto a ball down the left hand side and this time he made no mistake.
You sensed it might all go wrong and it could have done. Jensen stopped but failed to hold a free kick, he made another good save but then deep into stoppage time we almost won it. Again it was Blake but this time Russell Hoult made a brilliant stop.
Nigel Miller finally brought it to an end and with it a nightmare performance for himself. If the assessor was doing his job then it will be some considerable time before this particular official is allowed to referee at this level again. You could say it was a nightmare debut.
As for the Clarets there weren't too many good performances but it is only right to mention Glen Little who was much improved on some recent efforts, Brian Jensen who made some excellent stops against his former club, and Mark McGregor the pick at the back. And we cannot forget Robbie Blake who was the only player who ever looked as though he might score.
The rest I'm afraid were below par with captain Branch and Ian Moore having poor games indeed with the two full backs probably even worse.
But the man of the match for me was without any doubt at all Tony Grant who turned in a superb performance in the midfield. Kicked from pillar to post by West Brom, wrongly booked by the referee, he just got on with it. It seems some time since he had a bad game.
A draw was about right; we caught West Brom on a bad day and with ten men for over an hour but never looked capable of beating them. But we won't come up against any physically tougher sides this season no matter who we play.
And a point is a point and a point closer to the fifty we will probably need to stop up.
Today's teams were:
Burnley: Brian Jensen, Lee Roche, Mark McGregor, David May, Mo Camara, Luke Chadwick (Dean West 45), Glen Little, Tony Grant, Graham Branch (Alan Moore 78), Robbie Blake, Ian Moore. Subs not used: Nathan Abbey, Joel Pilkington, Matt O'Neill.
West Brom: Russell Hoult, Thomas Gaardsoe, James Chambers, Darren Moore (Mark Kinsella 88), Bernt Haas (Lloyd Dyer 72), Andy Johnson, Sean Gregan, Neil Clement, Paul Robinson, Rob Hulse, Geoff Horsfield. Subs not used: Joe Murphy, Artim Sakiri, Lee Hughes.
Referee: Nigel Miller (County Durham).