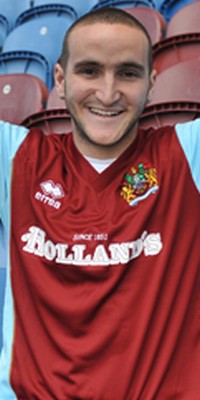 Martin Paterson - cheers greeted every replay of his goal
Cheers greeted every replay of Martin Paterson's goal that was displayed, quite generously by the hosts, on the scoreboard on the far side of the ground.
When those replays finished, "Tottenham 0 Burnley 1" beamed down in giant letters.
Associate Members Cup aside, this was our first semi final in a quarter of a century. We were winning and were outplaying Premiership opposition. It was all rather satisfying.
While we realised we were only one quarter of the way through the tie, we were happy, in fine voice and eagerly anticipating the second half.
Moments later and our short-lived joy was turned at first to complacency, then trepidation, then horror and finally despair - cue stunned silence and lots of heads in hands.
Many of us had gone to Tottenham hoping for the best and fearing the worst, and the worst was being played out in front of us. It was excruciating.
The gulf in class between the teams in the second half was more a chasm of Grand Canyon proportions.
The Spurs central defensive pairing of Dawson and Woodgate took the game in their stride while our defenders were being run ragged by substitute Jamie O'Hara.
Burnley were second to everything in the second half and conceded four very soft and avoidable goals.
The defence that, by and large, performed admirably throughout the 90 minutes disappeared on four separate but crucial occasions.
The post-mortem revealed Paterson failing to jump at the post, Jensen letting the ball squirm underneath his body, Carlisle being fended off with minimal ease and Duff inexplicably heading into his own net.
It had started so positively - Eagles, Blake, McCann, Elliott, Gudjonsson and Paterson all causing Spurs problems. The goal itself was a great team effort, which demonstrated good passing and movement.
As half time approached, Burnley could have added another couple of goals. Blake went close with a header and an on-target shot from substitute Kevin McDonald was blocked.
The only high points of the dire second half were Blake's curling effort and the mad scramble just before the wheels came off during which McCann appeared to head the ball backwards.
Rodriguez, who contributed little, had a good claim for a penalty late on, but there was no real protest from the fans or players - 4-2 would have been much better, psychologically at least.
We have beaten Premiership opposition 3-0 at home in cup competition in recent years, but there was less at stake on that occasion against Fulham.
Even the most optimistic fan would have to admit that Wembley is beyond our reach, for now.