For much of the first hour there hadn't been too much to excite the crowd but then we suddenly had two chances to take the lead before conceding within a minute of the second one.
It all started when Jason Shackell played the ball forward for Lukas Jutkiewicz, who some say made no contribution. The recalled striker cushioned the ball down well for Danny Ings who weaved one way and then the other to create a chance for himself.
We can be critical and say the shot was just the right height for Leicester goalkeeper Kasper Schmeichel but it was a good save and he was able to parry it away to Paul Konchesky. He was sleeping and when Matt Taylor nipped in, Konchesky clipped him and even the appalling Anthony Taylor could do no more than point to the penalty spot.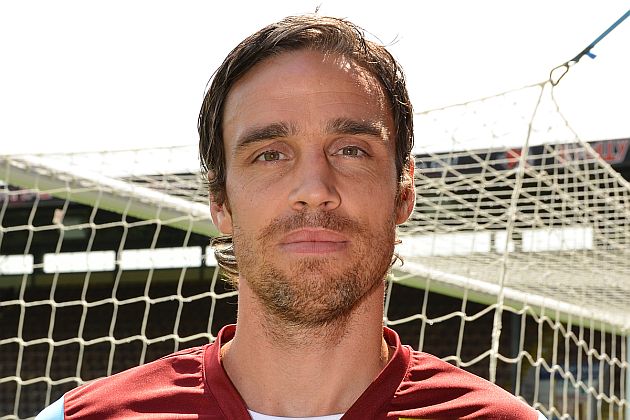 Another good performance from Michael Duff
This was our chance. Matt Taylor took over proceedings and collected the ball to take the spot kick himself. I'd absolutely no problem with that. He's a penalty taker and had Alan Shearer and Match of the Day researchers done a better job they'd have known he converted a penalty for West Ham on the Turf last season.
Unfortunately, despite sending Schmeichel the wrong way, his shot clipped the outside of the post and went for a goal kick. Television pictures showed he'd slipped but the chance was gone and disaster was about to strike.
We were all still trying to come to terms with missing such an opportunity as Leicester, from the goal kick, got the ball up the pitch on their right hand side. They won two headers, Danny Drinkwater winning the last to beat Ben Mee and it found Marc Albrighton totally unmarked with George Boyd nowhere near him.
Albrighton's cross was met by Michael Duff who could do no more than turn it towards his own goal. Tom Heaton just about managed to prevent it from crossing the line but, as the ball got away from him, Jamie Vardy turned it in and Leicester were in front. The only consolation was the save because at least it prevented Duff, who played so well, being credited with the winning goal.
The BBC separated the penalty miss and the goal by 59 seconds, virtually a minute that defined this otherwise disappointing game of football.
This was always going to be a big match for us. I sensed a lot of nervous Burnley supporters before the game but I was quite calm. I never used to be but I think, since my illness in 2012, I've viewed things differently, and, I've already been to four funerals this year and all of them sudden deaths.
This was also the day when we were remembering those 56 football supporters who never got home from a game at Valley Parade thirty years ago because of that horrific fire in the main stand. Things like this do tend to put the result of a football match firmly into perspective.
I was outside the ground on Harry Potts Way at around 1 p.m. and then about 2:40 on the way back from the pub. It was different with all the stalls. The barrel organ really took me back to my childhood days, I successfully avoided the cake stall, as much as I was tempted, and I missed out on my free hair cut from Jazz Man Grooves.
I'd been in there last Thursday for a number 1. I'd no idea I'd just had a Danny Ings. Maybe next time I'll ask for a number 9, I was always Jimmy Mac at school.
What impressed me, as I walked past, was the mixing of the two sets of supporters by Fanzone II on the Harry Potts Way car park. I didn't venture in, I thought Here I Stand so therefore missing the Milltown Brothers who were performing on stage.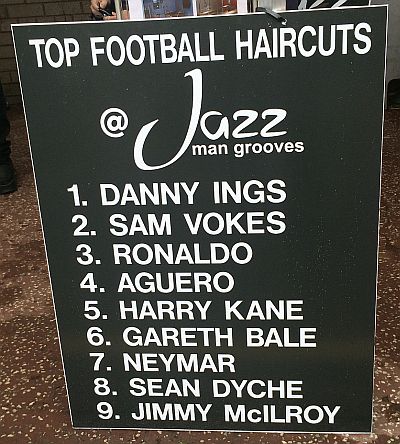 Some extremely loud old bloke was selling Goalden Goal tickets. I quickly got past him and was inside the ground just before the two teams came out.
The minute's silence was observed impeccably by those inside the stands. There was some noise coming from the concourses I believe, presumably from people unaware of the silence taking place. Maybe something needs to be put in place to make them aware, but I note it was similar today at the Emirates.
We were finally ready for what really was one of the biggest games of our season . Ashley Barnes, as I expected, was replaced by Matt Taylor and there was another change with Lukas Jutkiewicz coming in for the injured Sam Vokes. That saw us welcome both Fredrick Ulvestad and Marvin Sordell back onto the bench.
Burnley looked to start on the front foot and there was an early opportunity for Danny Ings when he was played through down the inside-left channel. Danny hasn't scored since he got that diving header at Old Trafford and he's had to suffer a lot of negativity from people who have attached this long run without a goal to his perceived desire to leave at the end of the season.
He never looked like taking the opportunity and I did say that a year ago he'd have scored. It happens to all strikers. They have barren runs and you can guarantee that during them the frustration increases more and more. He's certainly working hard enough but that frustration is there for all to see.
In truth, there was precious little for the supporters of either side to get excited about in the first half. Jason Shackell headed away when danger threatened and Tom Heaton had one routine save to make.
At the cricket field end, where thankfully once more we saw Burnley supporters making use of some of the seats by standing in front of them alongside the HOOS OUT banner, Schmeichel made one very good save to deny Taylor after Duff had headed on a corner.
I'd no concerns at half time. I didn't think a draw would be a complete disaster and I felt we could possibly step things up and go on and win it.
The second half started with one of the referees giving Leicester a very soft free kick and the other referee actually taking it. I didn't know our game would be subject to an experiment, but as the_quoon said on the message board last night, Leicester's Esteban Cambiasso. the former Argentine international and Inter Milan midfielder, was having more influence on the decision making than Taylor.
For clarity, it was Taylor that gave this one and Cambiasso who took the kick, which found some of the Leicester fans in the stand.
But I just sensed we were the more likely of the two. Duff saw a goal bound header following a corner headed away by Leo Ulloa although I'm sure it would have been saved by Schmeichel, and then came that dramatic period of the game that turned it all away from us.
There was still half an hour to go but the whole place flattened. In truth, we troubled them only once more and that was when Robert Huth deflected a ball from Ben Mee towards his own goal.
Schmeichel, who won the man of the match from his own supporters, reacted brilliantly to keep it out. There were still more than ten minutes to play but by then I think we all knew there was nothing for us and so it proved.
For the game to be decided so dramatically was very hard to take, but we have to keep fighting to try and stay in this division. I'm not sure we did enough to win the game yesterday but I'm certain we didn't deserve to lose it.
Sean Dyche talks about fine margins. We've won one, drawn one and lost three of our last five home games. The three defeats have all been 1-0, one to an own goal, one following an unfortunate game of pin ball in our box and yesterday's deflected effort leading to it against a Leicester team who, by the way, are the only club in the country to have won on each of their last four visits to Turf Moor.
Hand on heart, I think the task facing us now is too great, but I do find all the finger pointing and the blame culture somewhat distasteful. There were even threads on the message board yesterday before the game had finished.
If we do somehow manage to stay in the Premier League then that will be fantastic, if not then there is still a Burnley Football Club and we'll still be playing football and it will still be at Championship level which is excellent for a club of our size, and I wouldn't bet against another return to the top league.
The fat lady may well be clearing her throat, but she's not singing just yet.
The teams were;
Burnley: Tom Heaton, Kieran Trippier, Michael Duff, Jason Shackell, Ben Mee, George Boyd (Ross Wallace 71), Scott Arfield, David Jones, Matt Taylor (Michael Kightly 84), Danny Ings, Lukas Jutkiewicz (Marvin Sordell 71). Subs not used: Matt Gilks, Michael Keane, Stephen Ward, Fredrik Ulvestad.
Yellow Cards: Ben Mee, Danny Ings, Ross Wallace.
Leicester: Kasper Schmeichel, Marcin Wasilewski, Robert Huth, Wes Morgan, Marc Albrighton (Ritchie De Laet 72), Andy King, Esteban Cambiasso, Paul Konchesky, Danny Drinkwater (Matty James 77), Leo Ulloa (Andrej Kramarić 65), Jamie Vardy. Subs not used: Mark Schwarzer, Matt Upson, Riyad Mahrez, Chris Wood.
Referees: Anthony Taylor (Wythenshawe) and Esteban Cambiasso (Buenos Aires).
Attendance: 19,582.