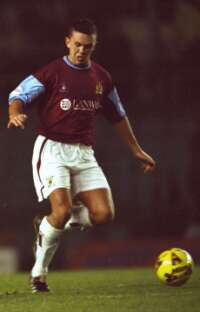 Star geezer - Paul Weller
At a ground where Clarets had not won in over seventy years, Clarets needed at least a point against Steve Parkin's men, themselves unbeaten in eleven games to maintain the pace with the leaders. Wily Stan saw fit to restore Ian Cox to the starting eleven at the expense of Graham Branch, who did not merit a tracksuit today. Curiously, Stan even went for five outfield players as subs, including Robbie Blake, Luigi Cennamo still presumably not forgiven for his Cheltenham display.
So, on a cold but blustery afternoon, Clarets kicked off once the ridiculously loud tannoy had been silenced, playing with the wind at their backs in the first half. Despite this advantage, it was Baa-rnsley who drew first blood after only six minutes, Barnard's delightfully curled free kick from eighteen yards, going in off the left hand post after Arthur had been penalised for fouling the lively Dyer.
That it took six minutes was something of a delay, Sheron had already had a headed "goal" disallowed after only three minutes for offside, after Marlon had fumbled Dyer's angled shot. From this point Clarets dominated proceedings to the break, controlling the play and having the vast majority of chances in a game played at pace.
First, after being teed up by Mooro and Weller, Ball's eighteen yard drive was wide of the post, before Little's new slip and dribble manoeuvre caused panic in the Baa-rnsley defence, the first of many corners thankfully conceded. After a great catch from a rare Baa-rnsley foray, Marlon was wind assisted in setting Taylor free and Miller was down smartly to smother the shot. Ball was alert to a dreadful clearance and his first time header was unfortunately straight at Miller. Ball's head was take a pounding and he needed treatment for a nose bleed after being kicked when heading the ball, Mr Beeby taking no action despite the ridiculous challenge. Sadly, Briscoe's resulting free kick made amends, apart from lacking pace, direction and conviction.
Again tormenting dribbling from Little saw Morgan desperately clear from under his bar as Clarets sought the equaliser, but the ball would just not run clear to Clarets strikers who quite pleasingly today were supported from midfield throughout. The equaliser finally arrived seven minutes from the break. Little fed Weller, whose neat reverse pass was picked up by an intelligent run from Briscoe and who dinked a cross to the far post taking out the complete defence, enabling Taylor the simplest headers at the far post, his eleventh goal of the season. The only surprise here was that it took so long from Barnsley's goal. So to half time and the warm applause for Clarets was fully merited as they left the field.
Both managers made changes for the start of the second half. Lumsdon was replaced by Ward, whilst the once again disappointing Grant was replaced by fit again Alan Moore and what an inspiration he was to be in the following forty five minutes. Two minutes in and Marlon was a lucky lad, being caught in no-mans land as Morgan headed in for yet another "goal", disallowed as he had held down Cox in his leap for the ball.
Baa-rnsley's tactic was to launch the ball long at the earliest opportunity, with Dyer and Sheron to chase the balls from defence in attempts to catch Clarets asleep on the counter. Clarets by contrast would work the ball intelligently through Weller, Little and as the half progressed, Alan Moore. On the hour mark, there were shouts for a penalty, Little clearly impeded by Chettle, but Mr Beeby was having none of it.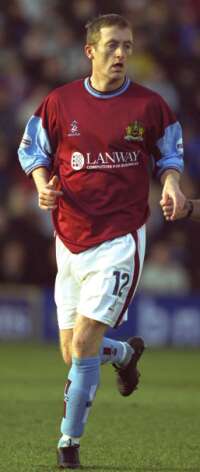 Star gazer - Tony Grant
The early stages of the half were more a battle, as a fairly but keenly fought contest was waged in midfield, tackles aplenty flying in, it was an enthralling game at this point, both teams desperate to gain two further points. Arthur, having been caught trying to see the ball out was robbed by Sheron. Once the ball was cleared, an arch backed Stan was bellowing words of wisdom to our Arthur, linguistic limitations not preventing his understanding of his managers desires at that point. Barnard having been booked for dissent was further punished with a ten yard advancement, again Briscoe's free kick being collected easily by Miller.
Ian Moore was applauded from the field, replaced by Robbie Blake with twenty minutes remaining, before debutant Bedeau replaced a tiring Sheron. Little was then replaced by Maylett who was instantly upended by Barnard. This time Briscoe's free kick was hit with pace and curl, Miller parried and the ball ricocheted back into the goalmouth of Cox's shins to a very relieved keeper.
In the last ten Clarets were dominant seeking to claim a deserved victory. Two minutes from time and Maylett's trickery was superb, taking him past his man in the area. Cutting the ball back, Alan Moore went for placement rather than power and his right footed shot was superbly saved by Miller flinging himself across his goal. Still there was time for one last chance. Ball started the move, the ball was played wide to Briscoe on the left wing, his ball in was top quality as was Ball's run, his headed though powerful was straight into the grateful arms of Miller and the points were shared. What for the most part was a scrappy game, spoiled by the blustery wind, the game saw two teams play at a pace and with commitment making it exciting to watch and very enjoyable, Clarets retaining fifth spot as a consequence.
Att:- 14,411
Glass Half Empty
Clarets need to make more from half chances to maximise the points return. There were many instances in this game where a poacher might just have got those two elusive points. It was a surprise that Clarets took half an hour of pressure to realise an equaliser.
Star Gazer
Tony Grant. Substituted at half time, the game seemed to be too quick for him denying his passing skills from having a bearing on the game. Still seems to be trying to shake off the memory of Maine Road.
Glass Half Full
Four points from two difficult away games, the dominant side in this game and that against a team themselves on a very good run. Whilst the TV make much of Glen Little's contribution to all things Claret, this game was more a case of a superb all-round midfield performance, where Ball and Weller inspired the teams drive forwards. In the second half the introductions of Moore and Blake added real quality with incisive wing play coming more from Maylett, his fine run near the end creating more panic than anything Little had created in his time on the field.
Star Geezer
Could have been either Kevin Ball or Paul Weller, but my vote goes to Paul Weller. An all round tremendous display of defensive grittiness and determined support play to the attacks saw a performance capped by his pass that led to the equaliser.