For over two thirds of the game a defeat hardly looked likely, but once they'd gone in front and quickly added a second there was no way back for the Clarets who by the final whistle looked a well beaten side.
The goals came almost from nowhere. Ipswich hadn't been putting us under any pressure, unless you consider some bloke throwing a ball almost half the length of a pitch. They were bad goals to give away from which we never recovered and left us with our first league defeat of the season.
The final whistle was a long way away when I locked the door behind me yesterday at the start of the journey. It was shortly after 11 a.m. as the journey got underway via the delighted of Baildon in West Yorkshire for the last pick up.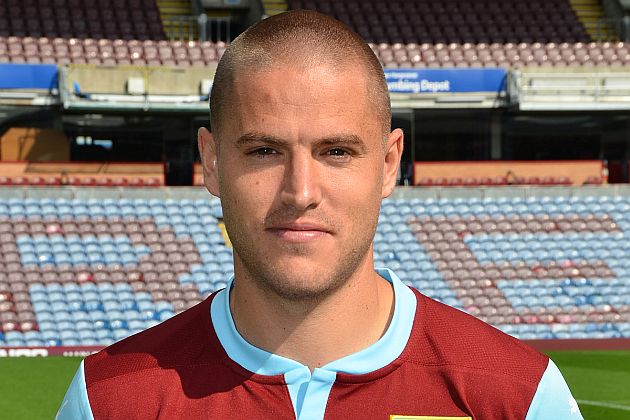 Man of the match Michael Kightly
It was a decent journey down despite the somewhat childish behaviour at times in the rear seats of the vehicle (I was sat in the front). It was soon calmed down with a few Burnley FC questions (and players of how many different nationalities by birth can you come up with who have played league football for Burnley?)
That was followed by a game of Pointless. I was both Alexander and Richard. I'm not daft; you can't be embarrassed not knowing any answers if you have them in front of you.
There was a quick change for the pub stop when we learned the previously arranged hostelry wasn't serving until 6:30 p.m. so we found a decent pub in Norton some half an hour or so away from the ground. It proved to be a good choice, if a little expensive, but we were parked up around 40 minutes before kick off and were quickly at the turnstiles having gone past the two Ipswich Sirs, Alf Ramsey and Bobby Robson.
I was a bit surprised to get the news that Sam Vokes had been preferred to Lukas Jutkiewicz given that Juke was on the bench. Had we left him en route somewhere in Nottingham then I'd have been less surprised.
What was a shock was the news that Rouwen Hennings was on the bench. With no indication from the club that international clearance had come through I wasn't expecting him to be available. My email to Angela Merkel asking her to give the Deutscher Fuβball-Bund a push must have worked. The efficient Germans had come up trumps again.
I don't think anyone has got too excited with our start to the season. We did OK at Leeds, certainly didn't at Port Vale and whether we deserved a point from the Birmingham game, and I think we did, has certainly been a topic of debate.
This time, though, we started well and the opening minutes so us take the game very much to Ipswich. It was interrupted by an injury to Ben Mee. It looked a bad challenge although subsequent viewing has shown that Freddie Sears did slip. Even so, he shouldn't have gone in like that and was somewhat fortunate not to see referee Simon Hooper's yellow card, a card that stayed in his pocket until right at the end.
Michael Kightly was the real danger man, and without doubt he was our best player all night by some distance with probably Scott Arfield, playing his best game of the season so far, his biggest challenger.
I like Kights. He isn't always the most popular player with the fans, and I know he has some real critics, but he's the player that gets us up the pitch quickly and he certainly did that and caused Ipswich some problems.
He'd already got one good ball into the box when he again got clear on the left before playing the ball in for Jelle Vossen. As all the Burnley fans went up for hand ball, and why do we do it when we don't get penalties, the ball came back for Kightly whose shot came up off the ground and then bounced back into play off the far post.
Ipswich had a few minutes but didn't really trouble us and for much of that first half we looked the better side. George Boyd, a player still to find form, fired just over and then Vossen tested the former Southampton goalkeeper Bartosz Bialkowski before David Jones curled a free kick just over as Hooper was looking keen to blow his half time whistle.
At half time I was more than content. This had been much better. We'd looked assured at the back, far better in midfield with all of Arfield, Jones and Kightly playing well. It was only up front where we still looked to be lacking with Vokes alongside Vossen for only the second time.
Having said that, we'd three strikers on the bench, what a luxury when you compare that to how we were so short of forwards in our promotion season, when Dyche's only options during a game seemed to be to change the wide players.
Half time came and went. Ipswich had already made one change and they made another with Brett Pitman coming on, a player that made a habit of scoring for Bristol City against us.
Nothing much changed. Ipswich weren't threatening and we were doing fine, albeit without the goal threat we are going to have to find.
With only ten second half minutes gone, Dyche decided to change things. I've watched Burnley for nigh on 54 years now and I never thought I'd see the day when we replaced a Belgian with a German but that's exactly what we did as Hennings came on for Vossen.
He looked energetic and eager, he got a couple of good touches and one extravagant flick. But the game was soon to turn against us.
The first goal came five minutes after the hour. After a poor clearance from Tendayi Darikwa, they got the ball on the left, switched it to the right and when the cross came in it was flicked in by Sears.
Dyche almost immediately replaced Vokes with Juke and the substitute almost immediately got a header on target but too close to the goalkeeper.
We were going to need a goal now from somewhere but five minutes after they'd taken the lead they'd doubled it and it was the simplest of goals, an almost unchallenged header from a right wing corner by David McGoldrick. We'd no one on the back post, Tom Heaton looked as though he could have done better and only Michael Keane will know how he let him get in a header so easily.
At that point of the game, with just under twenty minutes remaining, the scoreline was harsh, but I have to report that we didn't seem to have anything in the tank to get back at them. Keane came closest with a header that was tipped over but in truth we did not offer any real threat and Ipswich were able to close the game down without any concerns whatsoever.
That's not what we've come to expect in the last couple of years, not by any means, and it was a worry that suddenly going two goals behind could do this to us.
I've read the word 'crisis' today and even a suggestion that Saturday's home game against Brentford is a must win game. I laughed. We've still 129 points to play for this season and there are some short memories. In our first promotion season to the Premier League we had just the one point from the first four games with a goal difference of minus six.
I don't think we are that far away. It really was, for a time, much improved and if my reaction at the end suggested otherwise then it was nothing more than frustration at those closing minutes when the score went 2-0.
I know it's easy to say we just need to start scoring goals. We found last season that it's not that easy to do. But our strike force is good enough and I am sure it will come good sooner or later.
Could we even have a Belgian and a German playing up front together?
Just hold on tight, we are getting there even if, as Dyche admitted, Ipswich did, in the end, deserve to win this one.
So, homeward bound, disappointed, but worse was to come. Someone decided, having had us sent on such a long midweek trip, that it would be fun to close a part of the A14 and then a few miles further a part of the A1. Oh the joys of watching your team play away.
The teams were;
Ipswich: Bartosz Bialkowski, Luke Chambers, Tommy Smith, Christope Berra, Jonas Knudsen, Cole Skuse, Jonathan Douglas, Ryan Fraser (David McGoldrick 28), Ainsley Maitland-Niles (Giles Coke 84), Daryl Murphy (Brett Pitman ht), Freddie Sears. Subs not used: Dean Gerken, Josh Emmanuel, Jay Tabb, Larsen Toure.
Burnley: Tom Heaton, Tendayi Darikwa, Michael Duff, Michael Keane, Ben Mee, George Boyd, Scott Arfield, David Jones (Matt Taylor 77), Michael Kightly, Jelle Vossen (Rouwen Hennings 55), Sam Vokes (Lukas Jutkiewicz 66). Subs not used: Matt Gilks, Tom Anderson, Stephen Ward, Marvin Sordell.
Yellow Card: Michael Kightly.
Referee: Simon Hooper (Wiltshire).
Attendance: 18,353 (including 470 Clarets).