Apparently Blackpool is noted for fresh air and fun. I went there yesterday with Mr and Mrs Robertson and young John their son, and despite the presence of the lion hearted Wallace I can vouch for the fact that there was little fun to be had during a second half when the game went so badly against us.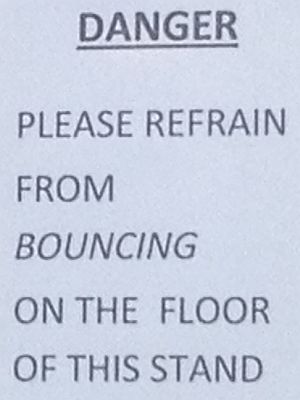 The warning sign at the turnstiles
It was hard to imagine at half time that we could take a 4-0 hammering. We'd been the better side in the first half and the one goal deficit we took into the break was so unjust, but just as an early second half goal at Portsmouth turned the game our way recently, then an early second half goal at Blackpool yesterday had just the reverse effect.
Away days this season have been mixed. There have been too many defeats, eleven in total now, but the ten wins is the best in a decade and has seen us with 32 points. When leaving home yesterday I had this confidence that we'd increase that, potentially to 35 points.
I nearly missed it too with a back problem and maybe it might have been a good idea to stay away given the other two I've missed this season, Hull and West Ham, both ended in wins.
As always, the journey there and the stop en route were enjoyable before we arrived at Bloomfield Road in plenty of time for the game, making our way into the Gene Kelly replacement.
It's better than the Gene Kelly, no doubt about that, but the temporary structure is accessed almost via a back street, has only one entrance and exit which would make it a nightmare in an emergency,. It is still very much a temporary structure, albeit with a roof and a back, and of course, as we were warned on entry, bouncing is not permitted due to the fact that two Sheffield Wednesday fans fell through it. That, needless to say, ensured there would be much bouncing.
It was no real surprise to hear the team news which revealed an unchanged team from the draw at Leicester. It's not that we should have been making any changes, it's more that we don't have any players to make changes with.
The game was close to starting disastrously for us when the home side went up for a penalty for hand ball against Dean Marney in the very first minute. I think we were very fortunate to get away with it but we soon put it to the back of our minds and took the game to our hosts.
We were certainly in the ascendancy in the first twenty minutes and asked some questions of Blackpool who were probably thankful to keep themselves level. Chris McCann, again in the role behind lone striker Charlie Austin, came closest when Matt Gilks saved his shot as it looked to be creeping into the corner.
Then, disaster struck. We gave away a free kick some thirty yards from goal and simply allowed Blackpool to score from it. Stephen Dobbie, their best player on the day, scored it as he took a short pass to crash in a shot into the bottom corner, but we were ill prepared, didn't close him down at all, and maybe goalkeeper Lee Grant might have done better getting across to it.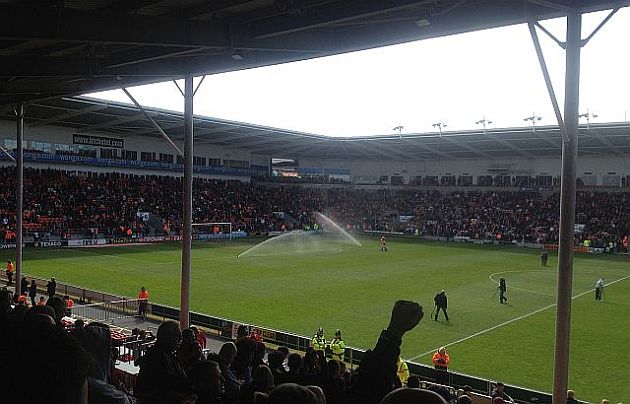 The improved Gene Kelly
Much of Burnley's attacking intent had come down the right hand side with Kieran Trippier and Ross Wallace. The pair had started the game well and right from the re-start they linked again with Trippier all but making an immediate response.
The right-back broke into the box after receiving the ball from Wallace and created his own opportunity and looked a certain scorer with a left foot shot only for Gilks to make an excellent save and turn it away via the post.
Had that gone in I remain convinced that we'd have gone on and won this game and I still can't quite fathom how we got to half time with the score still at 1-0. With both full backs getting forward to support the attack we were on top for the remainder of the first half and came close to scoring several times.
Unfortunately, we couldn't find the finish. McCann saw another effort saved, so did Charlie Austin. Junior Stanislas tried his luck with an angled shot that flew just wide and I'm sure the home fans must have feared the equaliser was on its way.
It didn't come, but even with a one goal deficit at half time the Burnley fans were very positive about the outcome and I think most of us thought, if we continued to play as we'd done in the first half, we'd get back into the game.
In many ways it was as good a performance away from home in half a game as most this season, probably behind only the first half showing at Middlesbrough. The scoreline was unjust, something even Ian Holloway admitted to after the game.
Just three weeks ago we went in at half time at Portsmouth level despite having played poorly in the first half. We came out in the second half and Danny Ings gave us a 47th minute lead. That goal changed the game and we ran out easy winners.
Three weeks on, and after one early Burnley attack in the second half, Blackpool scored in the 47th minute to increase their lead. It was a bad goal to concede. David Edgar and Danny Lafferty should have dealt with the cross from Stephen Crainey but they didn't and that allowed Gary Taylor-Fletcher to get up beyond the far post and head home.
Michael Duff cleared the ball but even from my vantage point it looked as though it had crossed the line. The assistant was in no doubt, flagged and we were 2-0 down.
The game was going Blackpool's way but we did have one real chance to get ourselves back into it. From a well taken free kick by Ross Wallace the ball rebounded to Marvin Bartley off Gilks, but the midfielder, who had a poor game all round, made a hash of it and hit it somewhere into the Jimmy Armfield Stand.
He was taken off soon after, replaced by Danny Ings as we went to a 4-4-2 formation to try and rescue the game. Almost immediately, it was nearly 3-0 but Ings, in his first bit of action, made a storming run back to get in a goal saving tackle in the penalty box. I feared the worst as I saw a centre forward go into a challenge like that but it was as clean as it could have been.
Unfortunately, at the other end there was no response and as Blackpool seized the initiative they added two more goals that were horrible as far as we were concerned.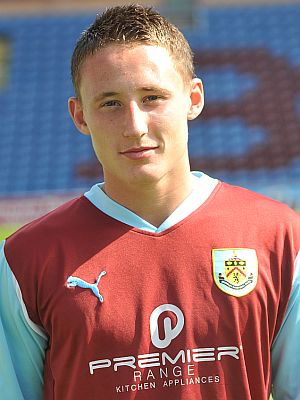 A debut for Joe Jackson as a late substitute
Goal number three was a real disaster for Grant, although some poor play from Trippier had allowed the situation to develop in the first place. Even so, Crainey's shot went straight through the goalkeeper's hands.
There was still almost half an hour to go at this point and we looked capable of conceding a goal every time Blackpool went forward. Thankfully, they only got one more. The ball was played to Tom Ince; Trippier thought he was offside so stopped with hand in the air making his appeal.
When he realised we weren't getting the decision he could do little about it and Ince played in substitute Nouha Dicko who completed the scoring.
Our only response was to make two late changes with Josh McQuoid, who has returned to Millwall today, coming on with the latest debutant Joe Jackson. By then there were very few Burnley fans left to witness it, many of them gone to try and find this fresh air and fun.
This last away game of the season really highlighted it. The first half showed how good we can be and the second half just how poor we can be. If we are to get anywhere next season we have to iron out this inconsistency.
For 45 minutes yesterday I really enjoyed our performance, but there was nothing illuminating after the interval and certainly nothing to make Blackpool rock.
Just one game to go now and then a longer than usual break.
The teams were;
Blackpool: Matt Gilks, Neal Eardley, Alex Baptiste, Ian Evatt, Stephen Crainey, Barry Ferguson, Angel Martinez, Stephen Dobbie (Ludovic Sylvestre 70), Matt Phillips (Kevin Phillips 77), Tom Ince, Gary Taylor-Fletcher (Nouha Dicko 57). Subs not used: Robert Harris, Lomana Tresor Lua Lua.
Yellow Card: Ian Evatt.
Burnley: Lee Grant, Kieran Trippier, Michael Duff, David Edgar, Danny Lafferty, Ross Wallace, Marvin Bartley (Danny Ings 58), Dean Marney, Junior Stanislas (Joe Jackson 88), Chris McCann, Charlie Austin (Josh McQuoid 88). Subs not used: Brian Jensen, Cameron Howieson.
Yellow Card: Junior Stanislas.
Referee: Chris Sarginson (Staffordshire).
Attendance: 14,141 (including 2,116 Clarets).
Footnote
The 32 points won away from home has been bettered only four times since the Football League changed to 3 points for a win at the start of the 1981/82 season.
The seasons in which we have won 30 points or more are shown below.
37 points: 1991/92 and 1999/2000
35 points: 2001/02
34 points: 1981/82
32 points: 2007/08 and 2011/12