It was another cruel defeat with Ashley Barnes scoring our goal, a special goal too with one television reporter using my match report headline of last week and calling it a Barnes Stormer.
But, a controversial goal before it and an almost equally outstanding goal to restore their lead, it was Spurs who went on to take the points and move up to sixth place in the table.
The journey down, which included a traditional breakfast stop, was trouble free and we were parked up not much after noon. Again the information thread on the message board had proved invaluable.
There had been some good suggestions offered and we took up the one posted by herts_clarets, parking at Waltham Cross (free parking after 12 noon) which is only a five station journey to Northumberland Park and the short walk down to the away end at White Hart Lane. There have been so many journeys to London recently that we're even getting used to using Oyster and contactless debit cards.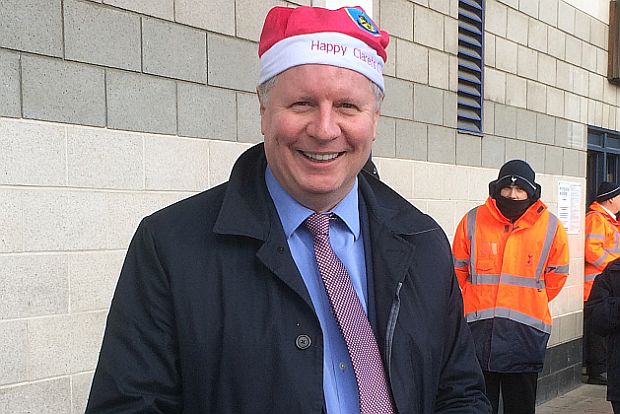 John B ready to distribute the hats
Last time we were there for a Premier League game I bumped into former Burnley Express Sports Editor Peter Higgs outside the ground; he was reporting on the game for the Mail on Sunday, and then former chairman Barry Kilby who was receiving a rollocking from his wife Sonya for losing their tickets (I believe they did blag their way in and suffer the 5-0 defeat with the rest of us).
Yesterday it was co-chairman John B and fellow director Brian Nelson who were directing the operation of handing out those Santa hats to the Burnley supporters outside the turnstiles.
A select few photographs will appear this week on Clarets Mad of a handful of Burnley supporters wearing the hats with me wishing I'd shaved off my white beard before allowing a camera anywhere near.
I also bumped into one of the stars from the Burnley v Spurs games of the 1960s. It was Spurs' Welsh international winger Cliff Jones, the player Alex Elder described as his toughest ever opponent. I thought a photograph of him on Clarets Mad was the order of the day; Jones, despite being approached politely, was sadly ignorant and thought not, this just a couple of weeks after Elder was signing autographs for visiting Newcastle fans at Turf Moor.
Entry into White Hart Lane was an interesting affair with the stewards. I'm sure I wasn't singled out but I was subjected to the most extensive search ever before going into a football ground.
I'll be sharing my Christmas Day with a springer spaniel but here had one on search patrol while I even had my specs case taken off me to be searched before I was allowed to go in. I'm not sure what they thought I might be trying to do but I suppose, at this time of year, you have to be concerned when presented with a bloke over 60, overweight, sporting a white beard and wearing a Santa hat at this time of year.
It was good to catch up with a few people on the concourse before the game before taking my seat, which had a decent view for £37, the most we've paid this season thus far (and only £3 less than we'll charge them when they visit us later in the season in the league).
As expected, we were unchanged, the only change coming on the bench where Steven Reid replaced Danny Lafferty. Sam Vokes was down there with them too, a clear indication that the striker is edging ever closer to a first team return.
The game got off to a terrific start with both sides looking to get on the front foot and either of us could have taken the lead. In only the second minute a left foot effort from Scott Arfield just missed the target; to be fair it would have been a wonderful effort had he been able to direct it on goal.
It all happened with George Boyd down following a clash with Ben Davies. Referee Mike Jones had played an advantage but returned to yellow card the Spurs player as Boyd received treatment. Having seen the incident since on television, and noting that Jones had an excellent view, Davies can consider himself very fortunate not to have received a red card.
Such was the start to the game that I jokingly suggested it would finish 0-0, but that was out of the window when Spurs took that controversial lead through Harry Kane. There could be so much debate on this goal that it could warrant its own report but I'll try to summarise it.
1. The award of a free kick against Michael Keane for handball is very, very harsh indeed. It looks very much like ball to arm and Keane has made no movement with his arm at all.
2. The free kick is taken by Kane with a moving ball and with his hand on it.
3. The ball is played to Christian Erikson who is in an offside position, but the Dane does not play the ball which allows Nacer Chadli to run on to it down the left wing.
4. Kieran Trippier and Keane stopped defending to appeal in vain for an offside decision.
5. Kane gets into the box and is not picked up well enough and he heads home Chadli's cross.
I have every sympathy with Sean Dyche on the offside although I do think it is very unlikely these days that you would get that. Interestingly, this morning on Goals on Sunday, Sam Allardyce thought it was OK. I bet he wouldn't have had it been given against West Ham.
But the moving ball should have been picked up although no free kick should ever have been awarded in the first place.
So we found ourselves a goal down and that Spurs lead lasted all of six minutes before we equalised with a goal that will be talked about for some considerable time.
Ashley Barnes won our goal of the season vote last season for his first ever Turf Moor goal against Wigan. He's offered a real contender here, but let's not forget the contributions of David Jones and Boyd.
Jones won the ball back for us and did really well to get it through to Boyd who played it forward to Barnes. The striker took a touch with his left before hitting a beauty with his right from just outside the box. Hugo Lloris had absolutely no chance of getting anywhere near it.
It was a wonderful strike from Barnes. He's claimed it to be the best goal of his career and it certainly stands up alongside the one he got for Brighton at Bournemouth last season.
It wasn't the only outstanding strike that ended in a goal on the day. Just eight minutes on and they restored the lead with what was Erik Lamela's first ever Premier League goal. He came inside Ben Mee, wasn't closed down quickly enough by Boyd and curled his shot into the far corner beyond Tom Heaton.
It's easy to be critical with Mee and Boyd, just as it was with Trippier and Keane on the first goal, but this was another goal of some class from a player who had an outstanding game yesterday. He gave Mee a difficult afternoon; to be honest, in that sort of form he'd have given most left backs a difficult afternoon.
Just before the interval, former Spur Dean Marney had a shot that went just wide. It would have been just to go in at 2-2 but unfortunately It was a disappointment to go in at half time behind.
Absolute credit to Spurs for making us very welcome by bringing out a former player during the half time interval and introducing him to the crowd; a player who once scored two goals for Burnley at White Hart Lane against Spurs.
It wasn't Billy Hamilton, but it was the same Milk Cup tie of 1983, none other than Spurs defender Graham Roberts who scored two own goals that night.
He was joined by two other former Spurs players. I think one might have been Paul Miller but the other was very definitely Alan Mullery. He was given the microphone to speak about a former team mate of his who had sadly passed away four years ago last Wednesday.
That former team mate was Ralph Coates, a player adored by both sets of fans in the 1960s and 1970s, and Mullery's words received the warmest of applause from every section of the ground.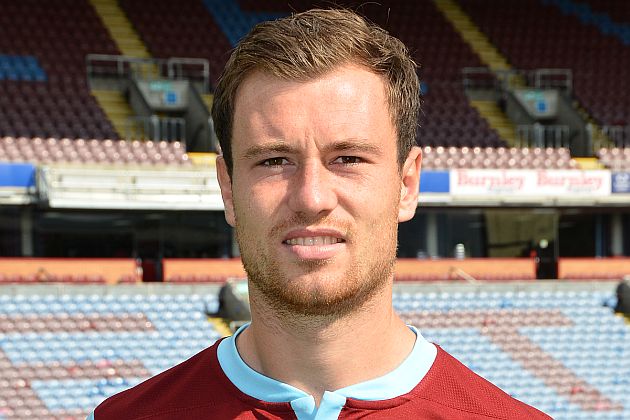 A goal of the season candidate from Ashley Barnes
Last time we were there it was Ralph himself who was interviewed pitch side at half time, receiving a tumultuous welcome from the visiting supporters. Well done Tottenham for that yesterday; it was very much appreciated.
There might not have been any further goals in the second half but it was another enthralling 45 minutes when we certainly had our moments. We came out and within a minute we'd won two corners, both times when Lloris saved from Danny Ings after he'd initially been played in by Barnes.
Barnes played him through again soon after but again Lloris was able to save at the expense of a corner.
Spurs had a lot of possession in the second half but didn't really threaten that often and Heaton was hardly overworked even in the periods where they dominated the play. Dyche replaced the two wide men to try and change things a bit and it was one of them who came closest.
Was there going to be another Leicester we thought when Jones awarded us a free kick right at the end of normal time. Was Ross Wallace going to score and leave Mauricio Pochettino doing a Nigel Pearson?
The answer, unfortunately, was no. Wallace got his shot over the wall and on target but Lloris got across to save at the expense of a corner. That was the last chance for us and so it ended in defeat, the first time we've lost successive away games this season.
I love some of the brilliant snippets of information you get on Sky Sports News. I learned this morning that we've never won a Premier League match in London. I bet that took a long time for them to work out given we've only ever won away games at Hull and Stoke.
There will be more, of that I'm sure. Spurs have been a bit up and down this season but they've got some very good players. Lamela was outstanding and I was also impressed with Erikson, even when he was in an onside position, and Chadli. They'll be in that top group at the end of the season I suspect.
We won't but we are going to be fine according to Phil Neville. I hope he's right. We might well now be spending Christmas in the bottom three but I do think we've got enough about us to be above it come May.
Another defeat sadly but another decent performance and now onto Liverpool on Boxing Day.
The teams were;
Tottenham: Hugo Lloris, Kyle Walker, Federico Fazio, Jan Vertonghen, Ben Davies, Ryan Mason (Benjamin Stambouli 44), Nabil Bentaleb, Erik Lamela, Christian Erikson (Danny Rose 90+3), Nacer Chadli, Harry Kane (Roberto Soldado 84). Subs not used: Michel Vorm, Vlad Chiriches, Andros Townsend, Mousa Dembélé.
Yellow Card: Ben Davies.
Burnley: Tom Heaton, Kieran Trippier, Michael Keane, Jason Shackell, Ben Mee, George Boyd (Michael Kightly 79), Dean Marney, David Jones, Scott Arfield (Ross Wallace 79), Danny Ings, Ashley Barnes (Lukas Jutkiewicz 89). Subs not used: Matt Gilks, Steven Reid, Kevin Long, Nathaniel Chalobah.
Referee: Mike Jones (Cheshire).
Attendance: 35,681.