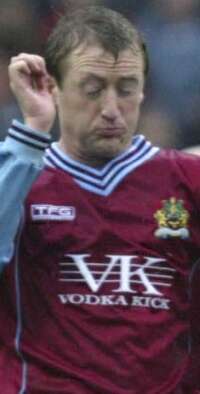 Star Geezer - Tony Grant
Clarets long standing embarrassment that is the Christmas stuffing, came once again on Boxing Day, this time at Crewe Youth, leaving the Clarets without an away success on Boxing Day for over thirty years.
Crewe Youth boasted an average outfield player age of 21 years and three months, with two players in the home side not old enough to buy a drink in the bar afterwards in celebration of three meekly conceded points by a wasteful Clarets side, guilty once again of park football standards in defence.
So it's super Dario's all round as the Cheshire club battles against its injury crisis. For the Clarets, its three straight defeats now and whilst Clarets entertain going forwards, there is no final cutting edge, whilst at the back the defence holds tight like a sieve holds water, one clean sheet in the last sixteen games telling its own story.
Stan once again rang the changes, though very strange ones indeed in the starting line up. David May was sick, so into defence stepped not a recognised defender, but Graham Branch in and alongside Arthur, yes the tried and unsuccessful partnership was tried again in preference of McEveley or McGregor in the centre of defence.
Somewhat surprisingly, both West and Camara retained their places after AWOL (that's awful in capitals) performances at PNE as everyone else kept their shirts in midfield and up front on a cold and wet day - a very wet day if you were lucky enough to get seats in the puddles housing seat rows A, B and C.
Cheered on (initially anyway) by 1,800 Clarets, the team took the game to Crewe Youth from the off and in what was a bright opening to the game, Chaplow, Blake and Little all had 'keeper Ince on his toes as the gangly one flapped and parried everything that came his way.
West, guilty once again of allowing space to his supposed marker, allowed Ashton to get a shot in on seven minutes, this allowing Jensen time to get the cold out of his system with an elementary save.
Grantona's high and wide collection gained another as early as the eleventh minute, his first time effort from the edge of the area allowing his boo boys another moment of derision. On the quarter hour, Little, having lost control of the ball, then lost the feeling in his right hamstring and after a quick rub failed to cure the problem off he limped for another spell on the sidelines, Chadwick delighted to enter the force eight gale and let the monsoon spoil his runs.
It was all Clarets territorially speaking, with Crewe Youth prepared to sit back and defend, even Camara was allowed a pop at Ince, but like most efforts in the half, it was from distance with Ince content to parry over the bar, rather than risk a catch. After all, what harm results from a short corner?
Grant's timely interception set up Blake to shoot just wide and Chaplow hit a rising drive from fully thirty yards warming the finger tips of Ince. Down the other end, dozy defending by Arthur saw a poor header misdirected and land at the feet of veteran Steve Jones (27) only to be relieved as the resulting shot was both poor and wide.
Branch added to Clarets thirty yard shot collection, Ince added to his parry over collection and Clarets wasted another corner by taking it short once again.
By the half hour mark, most Clarets within earshot of "liner" Mr Evans were intent on a wind up and after many a sarcy comment regarding his dancing, new boots and his vision, Clarets fans were enjoying their day.
The merriment ceased though as a Grantona foul was punished by a lenient ref Mr Parkes which led to the opening goal. The ball floated in to the box was only half cleared by Weller and Ashton showed a neat turn and left footed finish from ten yards, to remind all 1,800 Clarets fans just what life may be like with a striker in the team.
Clarets tried to rally before the break and Blake's in-swinging cross was crying out for Gareth Taylor as Ince once again got away with poor 'keeping.
Arthur tried a suicidal pass, Weller slipped and Clarets survived a last minute defensive crisis, but survive they did as the team left the field for words of eternal wisdom as Stan beckoned his troops from the sodden pitch. HT 1-0.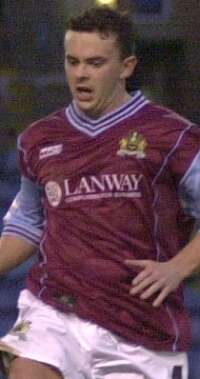 Star Gazer - Paul Weller
If the first half was a battle with the elements, the second was even more so, as the Clarets played into the increasing strength wind and incessant rain, much to the delight of now numb feet in Rows A, B & C. Despite the fact that Ince could now reach the half way line with his clearances, the pattern of the game remained the same and Clarets continued to have the better of possession and territory.
West's good early run ended with a poor shot setting the tone of the opening minutes, that was though until Clarets pantomime season kicked in so to speak on fifty five minutes.
A harmless ball out of Crewe's defence saw the ball fall between Branch and Gnohere mid way in their own half. 1,800 thought it was safe, but oh no it wasn't, the ball got caught between Branch's legs and before Arthur could shout behind you, Steve Jones nipped in and tidied up by curling a shot past Jensen who'd sought the comfort of no man's land.
Crewe's fans did not know whether to laugh or cheer, Stan didn't know where to throw his gloves, 1,800 just wished for the signing of Brian Rix in confirmation of the farcical stuff oft being served in defence these days, as Arthur's body language shirked any responsibility, a great comfort to Branch as he looked for a hole to fall into.
Twenty one year old Robinson replaced a similar aged Cochrane in a move to bolster midfield by Gradi. The Clarets were clearly rattled by this latest catastrophe and with West once again AWOL, Branch almost put through his own goal, heading past his far post when trying to cover two attackers in a rare move upfield by the home side.
Moore's one attempt at goal, a poor, weak effort, was watched past the post by Chadwick as Clarets all but petered out as an attacking force, their play often over elaborate and unnecessary, particularly in the conditions.
Very strangely, Chaplow was replaced by McEveley, a move seen as most unpopular amongst the rank and file, considering some of the shirking performances elsewhere on the pitch.
The lack of self-belief was all too evident twenty minutes in. Blake's neat return pass put Grantona into the area and whilst a shot would have been preferable to the low cross he played, the miss by both Gnohere and Moore was hard to believe as they allowed Ince time to recover and smother a loose ball in the six yard area. Blake's next cross was met with some force by Arthur but his header was cleared from the line with Ince well beaten.
With twenty minutes to play, West was replaced by McGregor as Stan played out with only three at the back sending Branch up front with Camara playing in front of McEveley.
The pattern of the game from hereon in was set, Crewe would defend from their eighteen yard line with six across that line. Clarets would weave pretty patterns in the middle of the field before trying to find a way through, sometimes lobbing aimlessly, some times across the floor via the trickery of Chadwick or Camara from his makeshift role.
Ten minutes from time and sixteen year old Roberts replaced old timer, twenty one year old Varney, as Clarets continued to find ways of conceding possession in the ongoing saga of 1,001 wasted short corners.
Five minutes from time and a superb cross, perfect for a striker, by Chadwick eluded everyone in red - few in Claret would currently recognise such a cross and so it passed away for a goal kick instead of a consolation goal.
Within a minute the consolation arrived, Chadwick was needlessly felled from Blake's neat through ball and Blake made it fourteen for the season with another confidently taken spot kick.
There was little over a minute remaining, the question was could Clarets find another goal in a last attack? They could but at the wrong end. Moore lost the ball in the Crewe area, the ball was knocked clear and a woeful off side trap, played on the half way line, I kid you not, hadn't a chance.
Not needing to look to the linesman, Steve Jones took the ball onwards and as Jensen ambled outwards towards the point of his six yard area, Jones hooked the ball over his shoulder and into the far corner for scenes of delight in the home stands and scenes of anger in the visiting stand.
Seconds later and Mr Parkes allowed us all to sample the open heavens of Cheshire, the walk back to coaches and cars accompanied by accusations aplenty on the performance just witnessed, the skies above reflecting the mood of Clarets and a team currently in a worrying rut. (FT 3-1).
Att:- 9,512.
Star Gazer
Paul Weller pips Ian Moore to this prestigious award. Just what is going on in the midfield? Weller's contribution was negligible in this performance of men against boys where the boys left the field laughing. That they were allowed to win, was down to some inept covering play and half heartedness going forwards. Seemingly gone for now are the runs forwards and the intelligence that used to see good support play whenever Glen Little was on form.
Beer Money
Clarets are now embarrassed by the worst defensive record away from home in the Division and only Wimbledon have conceded more full stop. The need for a defensive rethink cannot be underestimated and the whole team needs to do more when not in possession.
Star Geezer
Tony Grant. Often overshadowed of late by Richard Chaplow, this was a day not for extravagance or the spectacular, but for sheer graft and determination. Despite the meek performances alongside him, Grantona kept his game together, with many timely interceptions and a straight forward, simple passing game missed by many of his detractors in the stands.
Champagne Tastes
Oh for a striker. What a difference in the last two games from teams with recognised strikers. Last week it was Ricardo Fuller, whilst at Crewe it was the double act of Jones and Ashton. What a difference a striker would make to the Clarets not just in goal-scoring terms but in the relief offered to the rest of the team.