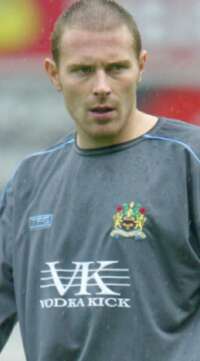 Ian Moore - two more FA Cup goals
And that's exactly what we did with a 2-0 win at Mansfield with two goals from Ian Moore in what was something of a controversial match that ended with only nineteen players on the pitch.
Nobody believed it would happen but there was delight behind the goals where over 1,400 Burnley fans were housed as news filtered through that three of the back four had been dropped following another poor showing last week against Stoke.
Out went both full backs, Dean West and Mo Camara, both relegated to the bench alongside captain Graham Branch. With Arthur still suspended it mean Mark McGregor was back in the centre with Lee Roche at right back and loanee Jay McEveley making his full debut at left back. To add to that Alan Moore, still an absentee according to our wonderfully informative club only yesterday, was given a place on the bench in place of Matt O'Neill after being out injured since August.
It sounded as though the entire away following had been reading Clarets Mad this week because the support was superb from the start and remained so throughout the game even when chances one again went begging.
It was a game that was always threatening to be a banana skin, in form lower division side against a struggling team from two leagues higher, it was a frightening ingredient. But we dominated from the off and could have been in front in the opening exchanges, and more than one in front too.
Ian Moore, Robbie Blake and Luke Chadwick all missed chances as we carved open the home side's defence but Moore and Blake shot wide whilst Chadwick hit his close range effort straight at his former Manchester United team mate goalkeeper Kevin Pilkington.
It was all Burnley and the Mansfield defence didn't appear to have nearly enough to contain the Burnley forwards but two more chances were spurned before the home side had their first serious attack.
Finally on the half hour we did go in front and it came via a usual source when it comes to FA Cup goals, striker Ian Moore. Jay McEveley, impressing down the left hand side on his full debut, made a run forward and Mooro got a glancing header onto his cross that keeper Pilkington couldn't hold.
It was no more than the Clarets deserved but Mansfield came back with their over physical forwards Junior Mendes and Iyesden Christie being allowed to get away with far too much by the unusually lenient Phil Prosser.
The Gloucestershire referee was only warming up though and four minutes from half time he finally got into card action. It all started when Mansfield's Jamie Clarke challenged goalkeeper Brian Jensen. The Big Dane went down in the challenge and Prosser immediately and correctly awarded us a free kick.
David May picked the ball up and threw it at Clarke and that earned him a yellow card but that came after Clarke was given a straight red for violent conduct charging at the keeper. In the ensuing melee Mansfield's Liam Lawrence also received a yellow card.
The Burnley fans sung, "Time to Go" at Clarke as he made his way down the tunnel, like Burnley's in the away end. But realistically we should have been worried, when did we last play well against ten men?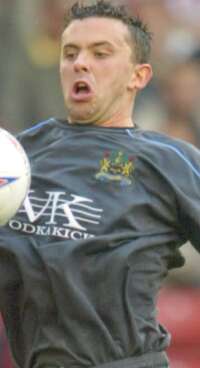 Paul Weller - outstanding performance
We got to half time a goal and a man to the good and there was no real reason not to be confident. It should have been 2-0 early in the second half but Chadwick against missed a gilt edged chance in what was again a disappointing afternoon for the Manchester United loanee.
There was a major blow for the Clarets on the hour though when McEveley landed awkwardly just a few feet away from our dug out. There was an instant rush to get a stretcher to him and he has in fact dislocated his knee, an injury that will bring to an end his loan spell at Burnley.
But then it was Prosser time as first Blake and then more significantly Richard Chaplow received yellow cards before Mansfield were reduced to nine men when Maltese Luke Dimech was red carded for pulling back Ian Moore about twenty yards from goal.
And just to rub it in we doubled out advantage from the resulting free kick. Blake's effort was well saved but Mooro was there to hit home the rebound from a tight angle. He really must love this competition and this is his ninth goal in eleven FA Cup appearances for Burnley.
He was the last to get an FA Cup hat-trick, against Canvey Island, and for the second time in a year was one away from becoming the first Claret to hit three in the FA Cup against league opposition since Willie Irvine at Spurs in 1966.
Two up, two man advantage and coasting but within two minutes Mo Camara, on as a sub for McEveley, got a yellow card and seconds later Chappy became the third player to be sent off when he kicked the ball away. He'll now miss the West Brom game in a couple of weeks.
Shortly afterwards Alan Moore made his return and was involved in a couple of good moves as we looked to kill the game off. He didn't put a foot wrong in his short cameo appearance.
Mansfield did push forward but apart from a couple of half chances they didn't seriously threaten us and although some nails had probably been bitten we had won ourselves a reasonably safe passage through to round four – with our name on ball number three in tomorrow's draw.
We were only playing a 3rd Division side but given recent results this was a big boost for the Clarets, a win and a clean sheet and some very good individual performances. The back four generally did well with David May in excellent form and up front Robbie Blake teased them whilst Mooro got the goals.
But the two stars for me were in the midfield area. Tony Grant again played extremely well, apart from another Jonny Wilkinson shot over the bar, but today it was Paul Weller who was back to his best despite failing to get a shot in late in the game when he should have done better. An on form Weller is a major asset and he looks to be heading that way just now.
Overall though it was all about getting through and from a personal viewpoint I would like the easiest tie possible at home in the next round to give us the best chance possible of another decent cup run. But given the club's finances I wouldn't mind too much if we did get sent to St. James' Park or Old Trafford.
And a final word for those 1,400 or so I was sat in the middle of today – magnificent support, behind them from first to last with only the odd occasional moan. We need to keep it up.
The teams today were:
Mansfield: Kevin Pilkington, Jamie Clarke, Luke Dimech, Rhys Day, Bobby Hassell, Liam Lawrence, Lee Williamson, Tom Curtis (David Artell 85), Craig Disley (Jake Buxton 42), Iyesden Christie (Wayne Cordon 45), Junior Mendes. Subs not used: Jason White, Colin Larkin.
Burnley: Brian Jensen, Lee Roche, Mark McGregor, David May, Jay McEveley (Mo Camara 59), Paul Weller, Richard Chaplow, Tony Grant, Luke Chadwick (Alan Moore 79), Robbie Blake, Ian Moore. Subs not used: Dean West, Graham branch, Joel Pilkington.
Referee: The very difficult to miss Phil Prosser from Gloucestershire.