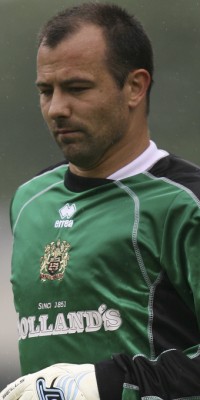 Gabor Kiraly - man of the match performance that almost won us a point
We've had Chico, we are going to get Ade Akinbiyi masks (although apparently no one has asked Ade) and tonight I sat in disbelief as the latest addition to our match day experience, the big screen, flashed up 'Longside, Longside give us a song' and sadly even worse.
Still it took our concentration away from the football on what was a dire night for us, and that has to be some sort of consolation as the Clarets almost collected the most undeserved point imaginable. We were shocking, awful, wretched, just choose your word, and the only surprise was that it took a pretty average looking Hull side until the third minute of stoppage time to win it.
It's difficult to work out, after a hugely disappointing performance against Southampton we went to Bramall Lane to play Sheffield United with virtually the same side. We played ever so well, and with any luck at all would have come home with all three points which our performance had merited.
Three days later the same eleven players take to the field and turn in what for me is the worst home performance of the Cotterill era, marginally worse than the performance against Stoke last January when at least we could point to the performance of Fuller as a match winning one.
Hull didn't have any match winners, they had time wasters such as goalkeeper Boaz Myhill who can count himself fortunate to have come off without a card for his antics. They had Brown on the touchline. Last time he was at Burnley he was sent off for coming onto the pitch, this time he got away with it. And the other thing they got was a team of opponents who made things as easy for them as any side is likely to do all season.
We got a couple of shots in at goal in a poor first half performance. John Spicer shot well wide and Andy Gray fired over, but at the other end we were thankful for the in form Gabor Kiraly for keeping us level. He did brilliantly to deny Bryan Hughes getting down to save at his feet and then somehow got to a Richard Garcia shot that was heading for the top corner. It was without doubt a man of the match performance from Gabor.
They didn't put us under any real pressure although they did have a number of opportunities, but they weren't very good themselves, but we just kept giving them the ball and hardly mounted any attack of note during the first forty-five minutes.
I was happy enough to hear the referee's whistle at half time. I was happy enough to be level, we didn't deserve to be and maybe we could just get things moving in the second half and turn the game round.
Alan Mahon came on for the very subdued Robbie Blake, with Kyle Lafferty going up front. For a while there was a bit of an improvement and there's no doubt we should have had a penalty for a foul on Clarke Carlisle. We didn't get it and neither did we get much luck with a Chris McCann headed against the bar.
But there were isolated moments and no matter what we did it just didn't get any better. Ade Akinbiyi came on and then Steve Jones came on, but neither of them caused the visitors any anxiety whatsoever.
Hull had two excellent chances but managed to mess them both up. We were going to get a point, but then the first of two disasters struck. With shell shocked fans already streaming out of the ground Hull got clear again with young loan player Fraizer Campbell. David Unsworth got back to challenge him, but it was deemed a foul and as he was the last man out came the red card, the first Burnley player sent off since Eric Djemba-Djemba at Derby last January.
We survived the free kick and incredibly almost won it when a Mahon shot nearly sneaked in, but Myhill got down to his left to save just as the fourth official was appearing with his board to signal four minutes of stoppage time.
In the third of those four minutes when the second disaster hit us. With the Clarets all over the place defender Michael Turner headed home and gave Hull all three points. I didn't even look to see whether the latest addition to the match day experience was flashing up 'Well played Burnley' - I just got out as soon as possible.
As I left the ground someone said to me that it had taken all night but we'd eventually managed to get what we deserved from the game, nothing.
We're not able to find any sort of form at home, but this was far worse than anything else we've seen, I really didn't think we were capable of playing this badly. But we are, and worryingly anything we can do once we might just be able to do again.
Don't worry though, we can at least hide behind our Ade masks at the next home match if it is as bad again, and we can pretend it's not us when they appear in blue and white stripes at what really is Fairground Turf Moor.
The teams were;
Burnley:
Gabor Kiraly, Graham Alexander, Clarke Carlisle, David Unsworth, Stephen Jordan, Wade Elliott (Ade Akinbiyi 72), John Spicer (Steve Jones 82), Chris McCann, Kyle Lafferty, Robbie Blake (Alan Mahon 45), Andy Gray. Subs not used: Brian Jensen, Jon Harley.
Hull:
Boaz Myhill, Sam Ricketts, Michael Turner, Wayne Brown, Damien Delaney, Richard Garcia, Dean Marney, Ian Ashbee, Bryan Hughes (Dean Windass 81), Fraizer Campbell (Jay-Jay Okocha 90), Stephen McPhee. Subs not used: Matt Duke, Andy Dawson, David Livermore.
Referee:
Chris Foy (Merseyside).
Attendance:
9,978.