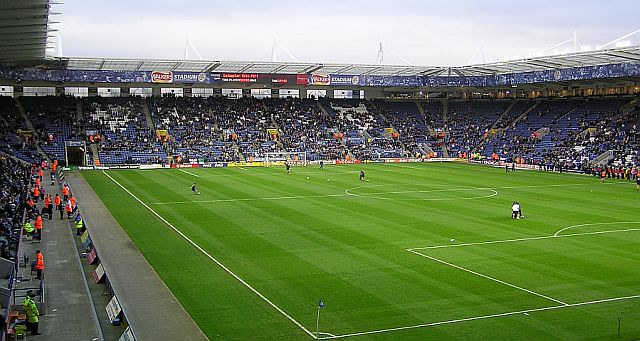 COMMENCED 10am TUESDAY 17/4/2012
Walking the dog at6.30amthis morning in the wind, rain and freezing temperatures I cannot say that I was totally over excited about tonight's trip to the King Power Stadium.
Having spent many years working inLeicesterI can honestly say that they are the most miserable set of people inEnglandso all did not bode well and the game would see two teams with little to play for.
With Alf not travelling again and numbers with Accy Clarets and other supporters groups relatively sparse it looks as though the travelling support will be few and far between.
This evening will hopefully not see any of our players refusing to play because they are not in the "right frame of mind". Whoever is selected to play for us owe it to the fans to put a 100% shift in and earn their corn, unlike last Saturday.
So off for another dog walk and then a trot intoAccringtonto board the coach at2pm (without Alf).
CONTINUED 1am WEDNESDAY 18/4/2012
Arrived home after a good day out. A stop off North ofLeicesterfor refreshments and then we arrived at the ground shortly before kick off.
A few hundred Clarets were there to cheer on the team whose formation seemed attacking enough on paper and the opening period showed that we had come for all three points.
Meanwhile Nigel Pearson was on another planet or certainly watching another football game as he accused us after the match of putting everybody behind the ball and just wanting a point.
Try telling that to Charlie Austin who slogged his guts out all night and how that header that struck both posts before being cleared did not go in was a miracle.
The central defensive partnership of Duff and Edgar was the best of the season and we never looked as though we would concede a goal.
Not too much to write about so good luck to Norwich on Saturday and hopefully we will return with 3 points from the donkey lashers.
I have a good feeling about next season.