St James' Park is one of the few grounds I've always wanted to go to that was still to be ticked off the list and, having not been in the same division as Newcastle, it was the same for plenty of other Clarets. We were coming off the back of a deserved draw with the champions and with many taking the opportunity of a big night out on the Toon, there was a lot of excitement ahead of a game which didn't disappoint.

I've seen a lot of the city of Newcastle over the years; my best mate was at uni there and I've been back with work numerous times, so I've seen St James' Park as it's transformed from a huge block of concrete on a hill into its current guise as some kind of open-sided enormo-greenhouse randomly plonked in the middle of town by a huge space crane. The stadium absolutely dominates the city, similar in a way that Turf Moor is such a focal point in Burnley. Although its huge, it feels like a proper football ground still, in the way the likes of the Emirates and Eastlands never will.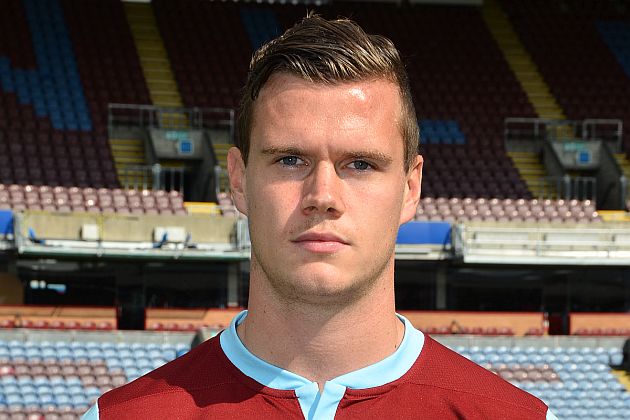 Kevin Long looks like he'll be out for some time
It's fair to say the away end isn't very near the pitch, indeed this is the first time I've been to a match with tickets for the balcony seats. It's as though you've turned up to watch Subbuteo. The vista before you is excellent though with an uninterrupted view of the pitch, the Tyne Bridge and the Sage off over the stands to the left of the Gallowgate End, and the Eiffel Tower in the distance. We had plenty of time to take it all in as well as somehow we'd arrived earlier than we had to any other match ever. There's a lot to be said for travelling on New Year's Day.

Unsurprisingly, Burnley named the same starting eleven for the sixth game running to face a Newcastle team that still looked strong despite missing the knee of Papiss Cisse which had scored the equaliser when we last met. We were perhaps hoping that they would be a bit unsettled by the departure of Alan Pardew - a man who looks like he'd start a fight at his daughter's wedding - and looked that way as early as the first minute when Ings robbed Coloccini and played in Ashley Barnes. Barnes, who looks nothing like an aye-aye, hit the inside of the post and Newcastle were let off.

The first half was a pretty even affair but it certainly wasn't without incident. Jason Shackell had played every minute of every match under Sean Dyche but that record was to break when, after 15 minutes, Shackell signalled to the bench that he had to come off. This was a double whammy as we were defending a corner at the time and Shackell, who couldn't jump, was beaten by Geordie Shore's Steven Taylor and Newcastle went 1-0 up. On came Kevin Long for the first time in the Premier League and he and Michael Keane looked solid enough until Long was pushed in the back in mid-air, landed awkwardly and looks like he'll now be out for some time. Before this happened there had been two goals - a schoolboy own goal from Paul Dummett for our equaliser and a good strike from Jack Colback to put them back in front. If you hadn't yet guessed which side the luck was with in this game, Colback hit the inside of the post, just as Barnes had, only his shot went in.

We had also lost Dean Marney through illness so Burnley were now in the strange position of having used all our subs in the first half and having had to reshuffle three times we now had our regular left back at centre half, our regular right back at left back, our regular wide midfielder in the centre and a regular unused sub at right back. It would be wrong to say this didn't make a difference because it did; once settled, we got better. The second half was absolutely dominated by Burnley from the off. Almost immediately, George Boyd toe poked over on the stretch when it seemed easier to score. Ings and Barnes hit the inside of bar and post respectively within seconds of each other. Ben Mee then hammered a header against the bar from a corner and there was a slight feeling that this wouldn't be our day. The domination finally told though and the deserved equaliser came. Ings, who had been wrongly booked for diving, deftly back-headed a Kightly cross past the steward in goal and celebrated far down beneath the Burnley fans who were only just watching the cross come in due to the distance/speed of light.

At that stage there was only one team in the ascendancy but as we've seen numerous times this season, the Premier League is unforgiving and most teams only need one chance and they'll make the most of it. Perez turned Steven Reid inside and out having got away down the left and his cross was completely miskicked by Armstrong. Remember the luck thing? It deserted us again as the miskick spooned across the box to Sissoko and he buried it past Tripper and Heaton to give Newcastle a late lead in a game the deserved nothing from. A cruel blow but as we've seen so many times before, this Burnley team doesn't know it's beaten. The ball broke kindly for Boyd who took it in his stride round the outside of the Newcastle defence and buried a cross-shot into the far corner under chocolate-wristed steward, silencing the already silent majority of St James' Church whilst those in the away end were higher than Hendrix in his prime.

Considering the changes we were forced into, this second half is as good as I've seen this team play, we were so dominant it was only fortune that prevented us taking a deserved three points. We're getting used to these remarkable performances but to have everything going against you and still carry the fight with the composure, determination and no little skill is a special thing. The nature of football is that nothing lasts forever so you've really got to enjoy it while it does. I'm finding it impossible not to be enjoying this and that's another odd thing. How many fans of teams in the relegation places for the majority of the season would say they're enjoying it? Perhaps it's because I've a feeling the best is yet to come.
Happy new year.