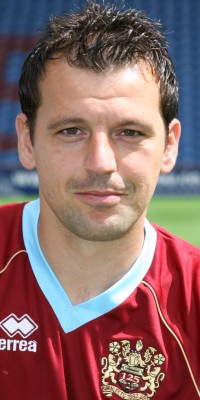 Robbie Blake - scored the winner
As the celebrating Burnley fans and the triumphant players joined in the mutual applause at the end of today's game at the not so cold Ricoh Arena the sounds of the Electric Light Orchestra's 'Mr. Blue Sky' could be heard blasting out over the public address system.
The sun might not have been shining at the final whistle, and to be fair it hadn't quite stopped raining, but we'd played well and this was without doubt a beautiful new day for the Clarets after Friday had been very much a day to forget for our club.
This report is nothing to do with Andy Gray. You will note at the bottom that his name wasn't on the team sheet. His very name caused a right hullabaloo on the Friday as he decided he didn't want to play for us, and so on to that beautiful new day, a day that saw us win our seventh away league game of the season.
It seems to be a case of one in, one out just now for Owen Coyle. Chris McCann was back from suspension, but captain Steven Caldwell was sitting out his one match ban after receiving a fifth yellow card in the FA Cup tie against Arsenal.
Robbie Blake was fit to start after having a substitute's role in the Plymouth game and he returned at the expense of Steve Jones. McCann was back for Caldwell, and that allowed David Unsworth to return to the centre of defence and Jon Harley to left back. In the only other change Ade Akinbiyi got his first league start of the season in place of the departed one.
Now I've always enjoyed my trips to Coventry, that was until they built the Ricoh. The main reason was that we did seem to win quite often at Highfield Road but here it had been a case of two 1-0 defeats.
It was a pleasant walk from our car parking place at St. Thomas' Church at Longton, taking us along the canal towpath and up to the Ricoh and we found our places behind the same goal as usual but behind the left back position rather than right back, maybe the move would bring us a change of luck.
In a somewhat scrappy opening it was Coventry who showed first. Brian Jensen gave us a heart stopping moment as he failed to hold a cross but he was soon in more positive action making a very good save to keep out Michael Mifsud, a player who was to give us a few problems. Then referee Eddie Ilderton angered the away fans with a somewhat harsh yellow card against Graham Alexander for what looked like something and nothing.
We were starting to pass the ball around nicely and with ten minutes on the clock Robbie Blake, who had wandered inside from his position on the left as we again played 4-5-1, played a superb ball inside the full back to release Wade Elliott. Our man very much in form got in an early low cross which was met by the onrushing Ade Akinbiyi.
Ade got there and directing his shot goalwards. Maybe the Coventry goalkeeper could have done better. He got to it but couldn't prevent it from going in to give the Clarets the lead.
Dimi Konstantopoulos is his name. Now we know all about Greek goalkeepers at Burnley, and mark my words this one is no better. We also know about goalkeepers who wear baggy pants, but Gabor's are very much designer label compared to these market stall pants of the Coventry keeper.
The game switched from end to end with both sides having efforts at goal and Robbie tested Konst (you know the name) with a shot from distance that went straight at him.
Then came the home side's best spell of the match, and for me the only time they got on top. It ended with them equalising. David Unsworth gave the ball away and it led to a shot that Jensen parried well. It was almost like the pinball wizard in our penalty box as shots got blocked or saved and we failed to clear our lines until the inevitable happened with Michael Doyle hitting home from close range.
We didn't take it lying down though, and certainly Wade didn't and came so close to restoring the lead with what would have been the goal of the season. He seems to have all the tricks right now and this time he won the ball around the half way line before going on a run that saw him beat one sky blue defender after another. Unfortunately his shot was straight at the goalkeeper (the same Greek bloke with the pants).
Either side could have conjured up a second but the half ended with the score at 1-1 and after some amazing decisions by the officials. Firstly the assistant gave us a corner that stunned even the Burnley players and in particular Jon Harley who had put the ball out of play.
Then referee Ilderton got in on the act again with his yellow cards. He firstly carded Kevin Kyle for what looked very much like an elbow on Jon Harley. The home crowd hushed as they awaited a red card but incredibly it was only yellow.
He followed that up by making a complete fool of himself. He decided that we were taking a free kick from the wrong place and came running over to move it. Not ten yards or anything like that, just a couple of yards at most. Robbie then moved it forward a foot or two to get it in a position from which he could take it on the very poor surface and got carded for it. No wonder players get upset at referees.
Burnley were attacking their own fans in the second half but it all started quietly. That was until Kyle decided to get into the action again. This time he lunged at Alexander. Ilderton reached for his cards again. Incredibly, as happened in the first half, Kyle got away with another yellow. Yes he had to go, but he'd stayed longer than he should have done and will still only be serving a one match suspension. One day we'll get something resembling consistency.
We took our chance. Alan Mahon came on for James O'Connor and we went 4-4-2 with Robbie going up front with Ade and Mahon on the left. Almost immediately they got a shot in that flew wide but in the very next attack Ade came very close to putting us back in front.
If Ade came close then I thought Mifsud was a certainty to give Coventry the lead as he run on to a ball over our defence. The home fans went up for a penalty as Mifsud went down but it was nothing other than a brilliant challenge from Unsworth who took the ball cleanly from the Coventry forward.
It was more than a goal saver, because within a minute of him keeping us level we'd gone back in front. Joey Gudjonsson won the ball and fed Ade. He returned the ball to Joey who then slipped it in for Robbie. He just made it look easy as only Robbie can as he calmly placed the ball into the corner of the net.
I don't think we honestly ever looked like surrendering the lead again and made the one man advantage count. We made a couple of other changes and one saw Steve Jones come on and give us a cameo in the centre.
They did have one more sortie and won a couple of corners but we were comfortable and when that final whistle blew were fully deserving of the three points.
This really was a good win. It isn't easy when you've had the sort of day we had on the Friday when you are left facing team changes at the last minute and sorting it out alongside all of the upset. You wouldn't have known as we turned in yet another good away performance and one that had each and every one of our players totally committed.
Again for me Wade Elliott was the man of the match but there were other very good performances and none more so than Ade Akinbiyi. He's been the forgotten man for much of this season but he turned in without doubt his best performance during his second spell with the Clarets. When he came off the standing ovation he received from the Burnley fans was warm and genuine, and to add to that he received warm applause from many home fans.
So yes, it probably was a Mr. Blue Sky after all, maybe even Claret and Blue. This was certainly no Gray day for Burnley.
The teams were;
Coventry:
Dimi Konstantopoulos, Isaac Osbourne, Arjan De Zeeuw, Elliott Ward, Liam Davis (Stephen Hughes 82), Jay Tabb (Robbie Simpson 87), Michael Hughes, Michael Doyle, Julian Gray (Dele Adebola 69), Michael Mifsud, Kevin Kyle. Subs not used: Gary Borrowdale, Kevin Thornton.
Burnley:
Brian Jensen, Graham Alexander, Stanislav Varga, David Unsworth, Jon Harley, Wade Elliott, James O'Connor (Alan Mahon 59), Joey Gudjonsson (John Spicer 75), Chris McCann, Robbie Blake, Ade Akinbiyi (Steve Jones 81). Subs not used: Gabor Kiraly, Stephen Jordan.
Referee:
Eddie Ilderton (Tyne & Wear).
Attendance:
17,347 (including 1,125 Clarets).