When Gray scored both goals in the recent 2-0 home win against Bolton he became the first Burnley player to score a Turf Moor brace since Sam Vokes in the 3-1 win against Nottingham Forest in February 2014.
Now he's only gone and done it three times in three games which immediately got me searching for the last time that happened at Turf Moor. Chris Eagles bagged a brace in successive home games against Hull and Barnsley in 2010 and back in 1995, starting on 4th November, Kurt Nogan achieved it three times in four games and also scored in the one between, but I've got back to the early sixties and not found anything.
Gray scored twice again in the first half, as he'd done on Saturday, but this time at the cricket field end, and had just left the field when Matt Taylor, who has an even better goals per minutes record this season, clinched the points in stoppage time.
I like playing Fulham. This win means I've seen us beat them more often than any other club at the Turf in league games. Last night's was number 19 from 23 games, the other four having been drawn. I've even seen us beat them here in the cups on three other occasions.
In fact, the last time Fulham won here in any competition was in April 1951. I always wonder how my dad reacted to that surprise defeat, it came nine months before I was born.
I'm only a couple of months short of 64 now, looking forward to finally learning what the Beatles were singing about, which really highlights Fulham's dreadful Turf Moor run. They must hate boarding the bus for this particular fixture.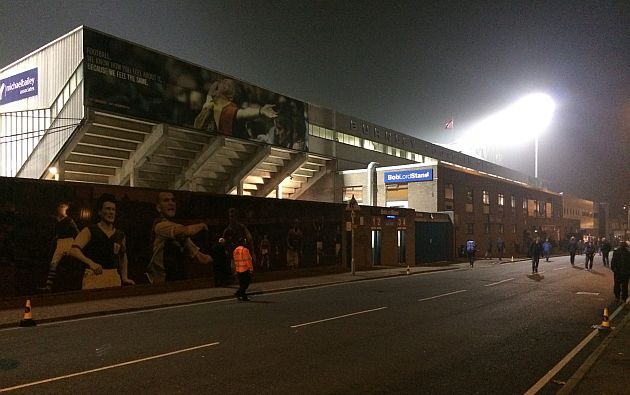 A cold night down Harry Potts Way
I was chatting to the club's recently appointed vice-chairman yesterday afternoon and we wondered how things would go. I think we were both quite pleased at the dramatic drop in temperature from the previous day given that quite often these 'southern softies' don't always take kindly to a biting East Lancashire wind.
It certainly felt like the first throes of winter last night. Even the hat came out and I was even tempted to dig out the gloves, but bravely went without them. It certainly felt cold walking down Harry Potts Way.
A lot of Burnley supporters have this belief that we can never win back to back home games when we have them three or four days apart. I suppose we do have a history of missing out but we'd already done it once this season and I was confident that we could do it again. I was expecting a tougher game from Fulham than perhaps from Huddersfield, certainly given their recent goalscoring form, but reckoned we'd have too much for them.
I don't know if there were any injury scares ahead of the game but everyone booked in present and correct which meant same again although this time with one change on the bench, Fredrik Ulvestad getting a place with Michael Kightly not in the match day squad.
Kit Symons made one change to the Fulham team with Joe Lewis in goal for Andy Lonergan who has suffered a reoccurrence of a hamstring injury.
It all started quite positively for Fulham. Similar to the recent Bolton game, they started the brighter and we struggled to get the ball from them in the opening exchanges. None of that lasted very long and we were soon into our stride.
The midfield came in for some criticism in the early weeks of the season but there can't be too many complaints right now, other from some bloke behind me last night who was insisting David Jones was crap, with the odd expletive thrown in.
Jones, alongside Joey Barton, ran the show in the first half as we got better and better and even before we took an 18th minute lead we had chances to go in front. Sam Vokes, playing as well as at any time since coming back from his injury, saw one effort just over and then another blocked.
The goal, you sensed, was on its way and that was the case. It all came from a Jones corner that Jamie O'Hara was only able to partially clear. We got the ball out to Jones again on the left and this time his cross was met by Gray who headed home from close range.
It was sit back and enjoy time. For the remainder of the first half the football was as good as we've seen all season. It surely just needed another goal and when it came it was worth waiting for.
Jones and Scott Arfield were the architects. The former played the ball to Arfield whose quick time through ball was tailor made for Gray who had anticipated it. The finish was clinical, a powerful low right foot shot from just inside the box. Burnley were two goals to the good again, Gray had got both, and the lead we took into half time was fully deserved.
Who was it that said a 2-0 lead is not a good one to have? They are wrong, it's better than 2-1 I can tell you. I was relaxed at half time. I really didn't see Fulham getting back into this one but six minutes into the second half they did just that through Ross McCormack.
That's six he's scored against us now for three different clubs; that's still three less than David Nugent has managed.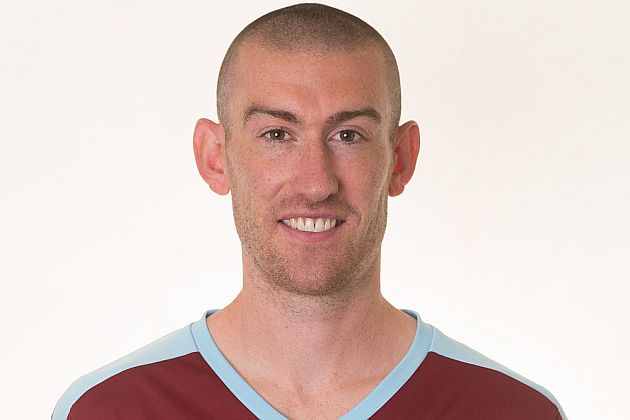 An outstanding performance from David Jones
That changed the whole feel of the game but don't be fooled by all this nonsense coming out of Craven Cottage today. They have even referred to the second half as being an onslaught in their favour. What absolute nonsense.
Within two minutes of that goal it was inches away from being 3-1. Gray got into a brilliant ball played over the top by Jones, lobbed the goalkeeper and was denied a first Football League hat trick by the smallest of margins as it came back off the bar.
Only four minutes after that and Gray was again very close to his fourth, this one just going over the top, and then only the height of defender Dan Burn was enough to keep out a Vokes header, clearing off the line after the striker had looked a certainty to score from a Tendayi Darikwa cross.
Fulham could have been blown apart by this point when they seem to have the notion that they were laying siege on our goal. They switched to a back four, bringing on former loan player Alex Kačaniklić for American defender Tim Ream.
The next change saw the arrival of the battering ram Matt Smith. You know what any side are going to do when he's on the pitch, they'll hit balls up into the air and look for knock downs from the big man.
They did just that and they did put us under some pressure then. They got forward in numbers and got the ball into our box on far too many occasions for us to be totally comfortable. But generally we defended well; in truth I don't think we'd have needed an abacus to count the number of saves Tom Heaton had to make.
Having said that, it would have been nice to have got a third and ended any unease but it was still 2-1 as the board went up showing four extra minutes. By then we'd brought on both Taylor and Chris Long for George Boyd and Gray who once more received a standing ovation from the home crowd.
Any thoughts that the four minutes might be nail biting were soon dismissed although we had just benefited from a throw in decision that should have gone the other way. Having said that, I did feel Kit Symons made something of a fool of himself berating the referee and when asked for specifics could only come up with this throw in to chuck at him.
We lost possession but Long did well to force an error that saw the ball eventually reach Barton. He did so, so well to get through on the right before crossing for Vokes who couldn't quite reach the cross. Arfield picked it up on the left and played the ball back in for Taylor.
The substitute had made an outstanding run to get into the box from the right hand side and calmly placed the ball into the bottom corner. It was 3-1; it was game over and three more points for us.
It's taken us to second in the table but it is unbelievably tight at the top. We are one of three teams with 31 points and the next two are just a point behind.
That's not our concern, ours is to focus now on the next game which is Wolves and that will see a return to Molineux for a number of our players who were there in the days of Mick McCarthy.
We are getting better. That really was, I thought, the best we've played this season, particularly in the first half. And really, don't be fooled by Fulham's whinging, we could so easily have scored two or three more in the second half. That would have pleased those moaning about the goal difference.
It's not bad is it - we win at Ewood and then come home to celebrate that with six points out of six from two games.
Gray is undoubtedly going to win the man of the match again. It's difficult to cast your vote anywhere else when he's scored twice, but I did think both Arfield and Vokes had their best games, Mee was outstanding and then there were the two in the centre of midfield, and in particular Jones.
See you at Molineux and don't forget to get a ticket if you are going.
The teams were;
Burnley: Tom Heaton, Tendayi Darikwa, Michael Duff, Michael Keane, Ben Mee, Scott Arfield, Joey Barton, David Jones, George Boyd (Matt Taylor 75), Sam Vokes, Andre Gray (Chris Long 87). Subs not used: Matt Gilks, Matt Lowton, Stephen Ward, Fredrik Ulvestad, Rouwen Hennings.
Fulham: Joe Lewis, Richard Stearman, Dan Burn, Tim Ream (Alex Kačaniklić 59), Ryan Fredericks (Lasse Vigen Christensen 78), Tom Cairney, Jamie O'Hara (Matt Smith 78), Ryan Tunnicliffe, James Husband, Ross McCormack, Moussa Dembélé. Subs not used: Marek Rodak, Luke Garbutt, Ben Pringle, Cauley Woodrow.
Referee: Andy Madley (Ossett).
Attendance: 15,080 (including 271 from Fulham).
Footnote: After further research, I can confirm that Bert Freeman was the last player to score two or more goals in three successive home games.
He scored twice in a 5-0 win against Fulham on 16th November 1912 and followed that up with another brace in a 5-1 win against Bradford.
On 14th December we beat Leicester Fosse 5-1 with Freeman scoring four.
View Short Highlights Below