Marney, who had been given a mixed reception from the home crowd, certainly seemed to enjoy his goal after he latched onto a ball from Ross Wallace at the end of an excellent move to hit a shot across debutant goalkeeper David Stockwell.
It was enough to ensure the points, although we had some defending to do late in the game and it even took us back into the top half of the table for just over a couple of hours until Derby beat Birmingham in the televised game.
There was a bit of a panic on the way to the game with a hold up of over half an hour just outside Rawtenstall because of an accident on the Edenfield bypass, but once that had been overcome it was plain sailing, under the Phil Brown bridge and into the KC.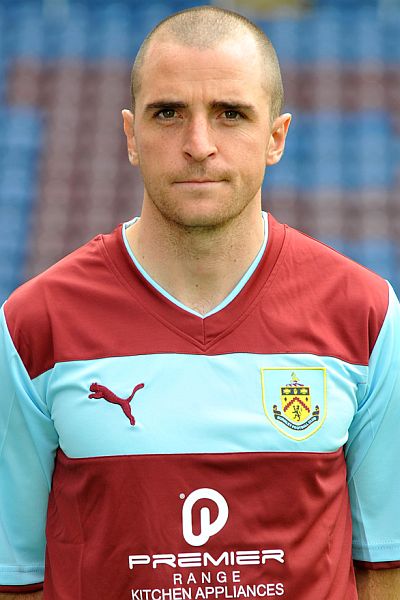 Dean Marney got the winner against his old club
This was one of the two away games I missed last season because of illness but it was still a shock to receive text messages during the journey suggesting I should stay away because we win at Hull when I'm not there. They were ignored, coming from two Bradford based Burnley supporters who are still kicking themselves for opting not to attend the Premier League game there in 2010.
Despite the hold up we were there in good time and in the ground to hear that manager Sean Dyche had made three changes to the team that had lost at home to Charlton. David Edgar was the one chosen to replace the suspended Kieran Trippier at right back and he opted to recall fit again Ben Mee and also Ross Wallace, who had served a one match suspension, at the expense of Danny Lafferty and Junior Stanislas.
All three of them more than played their part in a win that to be honest I was hardly expecting. As much as the KC is becoming an enjoyable trip for us I couldn't somehow see us making it four out of four.
In a first half when we were very much in the ascendancy and didn't have too much defending to do, Wallace stood out and he was involved in so much of what we offered in a display that was worthy of more than the one goal lead we had at the interval.
We never allowed Hull to settle on the ball. We so often forced them into errors in possession and we took full advantage with some inventive attacking play. I lost count of the opportunities we had but Martin Paterson had a shot saved, Jason Shackell had a decent opportunity and twice Charlie Austin just couldn't get to rebounds.
The first of those came when Stockdale didn't hold a Paterson shot but the second was after the goalkeeper had tipped a 35-yard Wallace shot onto the bar.
Let this not be a criticism of Austin. He didn't get a goal in this game and it is the first time Burnley have won a game without him scoring since the 2-0 win at Nottingham Forest in January. What he did give us was an outstanding centre forward performance, especially in the first half. HIs link play was outstanding at times and he was a major focus of our attacking play.
He and Wallace were our best two players during the first half and it was fitting that both should play a big part in the goal. It was an excellent team move which eventually saw the ball reach Marney around the centre circle.
He played it out to Austin on the left who in turn played the ball across to Wallace on the right. Wallace had options. I thought he was setting himself up for a shot but he also had Paterson available, coming into the box on the left hand side.
Then Marney, who had made a terrific run got into the box, Wallace played him in and the shot gave Stockdale no chance. It was right in front of the Burnley fans but Marney went to celebrate with those who were, perhaps, not quite as supportive when his name was announced ahead of kick off.
We deserved that goal. We deserved the lead, and we fully deserved to be going in at half time in front, and probably the only disappointment was that it was only a one goal lead. What a pity a last minute effort from Chris McCann went just wide of the post. A 2-0 lead would have been a much better reflection of the first 45 minutes.
When Hull re-emerged for the second half they'd changed things. Manager Steve Bruce had replaced both is son Alex and Seyi Olofinjana and replaced them with David Meyler and Robbie Brady. That meant a change from his favoured 5-3-2 system to a more orthodox looking 4-4-2.
I think it is fair to say that the game was somewhat different in the second half. Hull did put us under some pressure at times and we were never in a position to dictate the play as we'd done during the first half. At times it was crying out for us to get some more possession of the ball but we were being pushed back.
Even so, Hull weren't able to create much and that was down to some outstanding defending from the Burnley team. We'd reached the midway point in the half and I think the only time they came close was when Paterson deflected a shot onto his own post, a shot that would otherwise have gone straight into the hands of Lee Grant.
They did eventually fashion for themselves two good opportunities. With the first, Stephen Quinn hopelessly headed wide an Ahmed Elmohamady cross and then their third substitute, Nick Proschwitz, lifted a shot so far over the bar that it might have come close to clearing the stand roof.
With the pressure mounting we made our own changes. Sam Vokes and Danny Ings both came on to stretch the game a bit and get the ball further up the pitch for us. It certainly worked for a while and we created a couple of half chances.
But Hull then brought on the kitchen sink and threw that and everything else at us, and my word how we stood up to it. We defended for our lives. We closed them down. We got players back. We doubled up and the stark truth is that they did not create one single clear cut opening.
They tried shots from distance, they tried to get onto knock downs but time and again it was our players getting in first, and when they did get hold of a ball Marney got some part of his body, likely to have been his head, in the way of it.
By then we were well into the four minutes of stoppage time that referee Sutton had added on. It was, according to Dyche 'a little harem-scarem' but there was a real strength there not to allow them a shooting opportunity.
When the final whistle finally went it was yet another win at Hull and even opposition manager Bruce agreed we'd deserved it.
The players came over to take the applause from the delighted, always noisy and supportive away end. For Dyche a first away win and for the Clarets yet more sunshine at the KC and we don't want to give it up.
When did we last record four successive away wins against a team? That was a question I asked last night. This is by means a definite answer but in seasons 1974/75, 1975/76, 2001/02, 2002/3 we won league games at Coventry. The only game between those, a defeat, came in the 1999/2000 FA Cup.
As for the last time we'd won in four successive seasons at an away ground. How about Ewood Park in 1962/63, 1963/64, 1964/65 and 1965/66? Maybe that was the last time.
One thing for certain is that we've won at Hull again, taken our points total to 26 and got ourselves within three points of the play offs. The only downside was four more yellow cards, one of which was for Marney who will now sit out the game at Barnsley on Tuesday.
Keep this up Clarets - many more performances like this and we won't be in the bottom half of the table much longer.
The teams were;
Hull: David Stockdale, Ahmed Elmohamady, James Chester, Abdoulaye Faye, Alex Bruce (David Meyler 45), Liam Rosenior (Nick Proschwitz 69), Seyi Olofinjana (Robbie Brady 45), Stephen Quinn, Robert Koren, Sone Aluko, Jay Simpson. Subs not used: Eldin Jakupovic, Paul McKenna, Corry Evans, Aaron Mclean.
Burnley: Lee Grant, David Edgar, Michael Duff, Jason Shackell, Ben Mee, Brian Stock (Sam Vokes 75), Dean Marney, Chris McCann, Ross Wallace (Danny Ings 76), Charlie Austin (Marvin Bartley 89), Martin Paterson. Subs not used: Brian Jensen, Luke O'Neill, Danny Lafferty, Junior Stanislas.
Yellow Cards: Charlie Austin, Chris McCann, Martin Paterson, Dean Marney.
Referee: Gary Sutton (Lincolnshire).
Attendance: 17.782.