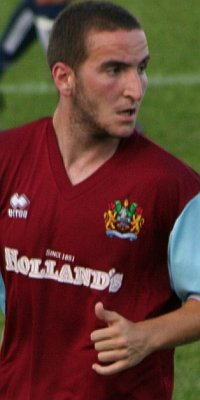 Martin Paterson - put the Clarets 1-0 up
Nervous at the beginning, probably so all the way through, elated with a quarter of an hour gone, delighted at half time, devastated in the first period of the second half, and yet so, so proud at the final whistle despite the incredible and hardly deserved 4-1 scoreline.
That was the same result as we suffered on the opening day of the season at Sheffield Wednesday and, in years to come, people will look at those two scores and compare the two games. But it has to be placed on record that these two games couldn't be further apart.
In August we were quite simply outplayed in every department by a Sheffield Wednesday side that were just too good for us on the day. That 4-1 result might have even flattered us we were so much second best.
That was not the case at White Hart Lane. We led for around half an hour of the game, we were without a shadow of a doubt the best side throughout the first half and I'm still trying to understand just how we came to lose by that scoreline.
That scoreline is how we have to remember the game I suppose at the end of the day, that result will count against us, but I don't think I'll ever stop reliving that first half after a showing that was as good as anything we've seen in this incredible season, and I thought we wouldn't better Sheffield United.
I missed the 1993 game at Spurs and so this was my first visit since January 1983 and that incredible night when we won by the same score of 4-1. I was in the same part of the ground last night although I have to say White Hart Lane does look a lot different than it did then.
It was colder too, and I can't recall the last time I was so cold at a game (maybe a reserve game against Wrexham about three years ago played at Buckley). I can't even begin to think how those Burnley topless Burnley fans were feeling.
With a vicar to my left and the Belfast section of Clarets Mad to my right, and he'll also be reporting on the game, we watched the warm up as the team news reached us. There was no surprise to see Stephen Jordan return after suspension and there was good news that Chris McCann was fit enough to start and he came in for the cup tied Steven Thompson who must still be wondering why on earth he played for Cardiff against Bournemouth in this competition last August.
Some £16 million striker came out ahead of kick off just before the teams and when Graham Alexander led out the Clarets I was ready for my fourth semi-final in this competition and feeling just as nervous as I was for the previous three, if not more so.
We started well, no we didn't we started really well. We took the game to Spurs and my word what a start. Little was seen of the home side as the Clarets pressed forward with a five man midfield. But this was a positive line up with players getting forwards and attacking the Spurs back line.
Spurs did have one attack although David Bentley brought it to an end as he made a bit of a mess of his shot which delighted the visiting fans who were quick to remind him of his previous club. That's fine lads, but stick to that; we really don't want any more Drogba incidents.
They were trying to get the ball down the right for Aaron Lennon who was superbly played by Jordan all night, and it was a move down the right that led to them winning a throw in deep in Burnley territory.
Our last Carling Cup goal, the second against Arsenal, came from a throw in, and when Joey Gudjonsson nipped in to nick the ball after Jordan had again halted them there was soon to be another goal.
Joey got it forward to McCann who played a lovely one-two with Robbie Blake before sweeping the ball across to the right for Alexander who in turn played it forward for Chris Eagles.
Eagles cleverly went between Bentley and Gareth Bale, looked up, saw Martin Paterson and got his cross to him at the far post. Pato was there completely unmarked to tap into the net from close range.
We were in front, and how we deserved it, but at this point I was expecting to have to do some defending. It didn't happen. The central midfield three, Wade Elliott, Joey Gudjonsson and Chris McCann, were running the show with Eagles and Robbie causing them plenty of problems as they got up to support Pato.
If another goal came then surely it would be us who got it, and we almost did with one effort from Robbie when he headed an Eagles cross from the right just wide of the far post.
Just on the half hour we were forced into a substitution and for me it proved crucial. Joey Gudjonsson went down with what could have been a hamstring problem. He went straight off to be replaced by Kevin McDonald who himself was returning from injury.
We got to half time and were still very much the better side. The lead could have been more than one but I think we were all happy to be in front and revelling in what really had been a fantastic 45 minutes from our team.
That I'm afraid was as good as it got and in the third quarter the game was turned on its head as Spurs hit us for four. The first of them came just over a minute into the second half from a right wing corner. Clarke Carlisle lost Michael Dawson and he headed home although it went right above Pato on the line.
Five minutes later and Brian Jensen didn't deal with a shot form Jamie O'Hara and we were behind. It was a disappointing effort from the Beast and that's something I've written a lot over the years. But not this season, and I'm certainly not going to be pointing any fingers. Let's face it, but for him we might not have even been in this game.
All credit to us, we came storming back and twice came perilously close to equalising. Firstly Pato just failed to get a shot in but the ball fell to Robbie who all but set up McCann before they hurriedly cleared.
Then Robbie received a free kick and from the edge of the box curled a shot that went literally inches wide of the post. This scoreline of 2-1 down just wasn't fair, but then two more goals made it look ridiculous. Roman Pavlyuchenko beat Carlisle on the edge of the box and shot into the corner and then Michael Duff headed a corner into his own net.
There were 22 minutes to go and now I was worried that this could be a massive score against us. It wasn't, they didn't get another, and had the officials been alert enough they might have spotted a clear penalty at the end of stoppage time for a shirt pull.
But it wasn't to be and we now have to go into the second leg 4-1 down leaving us with only the slightest of chances of making Wembley. I don't think even the most optimistic of Burnley fans would be prepared to put too much on us making it.
How do we look back at this one? Owen Coyle says the first half can be forgotten because of the errors that caused us to concede the four goals. Not for me. It is easy to point the fingers at Carlisle, Jensen and Duff, but surely we can all take great pride in that first half.
That's what I'm taking from this game, and for those who want to be critical of the way our Carling Cup run virtually came to an end, just remember Fulham, just remember Chelsea, just remember Arsenal and remember that first half against Spurs.
Then, get down to the Turf for the second leg and give the lads the fantastic support they deserve for giving us this great cup run. The last time we got to a semi-final we beat Spurs 4-1 to get there. Somehow they got their own back last night. So what, we can be proud of what our players have given us.
The teams were;
Spurs:
Heurelho Gomes, Vedran Corluka, Jonathan Woodgate, Michael Dawson, Gareth Bale, Aaron Lennon, Didier Zokora, Luka Modric, David Bentley (Jamie O'Hara 45), Fraizer Campbell, Roman Pavlyuchenko. Subs not used: Ben Alnwick, Ricardo Rocha, Chris Gunter, Adel Taarabt, Kevin-Prince Boateng, Giaovani Dos Santos.
Burnley:
Brian Jensen, Graham Alexander, Clarke Carlisle, Michael Duff, Stephen Jordan, Chris Eagles, Wade Elliott, Joey Gudjonsson (Kevin McDonald 30), Chris McCann, Robbie Blake (Jay Rodriguez 75), Martin Paterson (Ade Akinbiyi 86). Subs not used: Diego Penny, Christian Kalvenes, Alan Mahon, Alex MacDonald.
Yellow cards:
Stephen Jordan, Michael Duff.
Referee:
Martin Atkinson (Leeds).
Attendance:
31,377.