Gray, returning from injury, gave us an early lead and I think it was the sort of goal we are going to see from him often. His pace and movement got him into the box from what I thought was a ball chipped in from George Boyd, and once there he slotted it past goalkeeper Lee Camp.
That a defender actually got the touch rather than Boyd, who had brought the ball down well, is irrelevant. This was a good goal and set us up for an outstanding first half.
But with a quarter of an hour remaining we found ourselves back level. It didn't take long and Gray was involved again. Ben Mee won a throw and took it quickly to the simply outstanding David Jones. His right foot pass found Arfield who in turn played it into Gray on the edge of the box.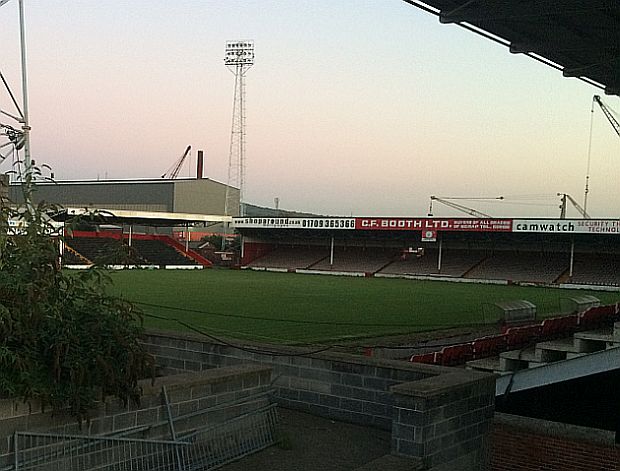 The old away fans section at Millmoor
Gray waited for Arfield before playing the return pass for his run into the box. Arfield's shot was saved by Camp but Vokes got the goal his performance deserved, getting their first to knock the ball home from close range, a real centre forward's goal.
Our trip to South Yorkshire was a good one once the plans were finally put in place. I didn't think it needed an operation of military precision for two people travelling in one car to meet up with two in another and make their way in one car, via a pub stop, to the game.
Much of Thursday was spent with messages flying here, there and everywhere with plans just about confirmed. It must have worked because we reached the meeting point within a couple of minutes of each other. It's surprising how things work so well once the senior member has stepped in to add his experience and authority to proceedings.
Our stop was at The Old Post Office at Haigh, just around a twenty minute drive from Rotherham. I'm not drinking any alcohol just now so can't comment on its quality, but the food was excellent as we've come to expect at this particular venue.
It was a new ground for us to visit and we were indebted to a Rotherham supporter who came onto the message board to give us some parking advice. We went for the Millmoor option, parking virtually outside the old ground where we last played just over eleven years ago.
It was a short walk to New York from there. One of our party, a certain jdrobbo, had launched his dolphin campaign on the message board this week. At Blackpool, just before our promotion, the overzealous stewards confiscated his dolphin. This time he had a plan.
"You're older," he said to me. "Will you take it in? They don't often search older people." How can you refuse after a compliment such as that, so I entered the ground with a still to be inflated dolphin in my pocket.
It wasn't the only one there I can confirm. There were certainly several flying around ahead of kick off but primary schoolteacher jdrobbo lost his so won't be able to take it to school next week. I'm sure he'll advise on our next dolphin trip.
Oh yes, a football match, and, as expected, Sean Dyche made two changes to the starting line up. Joey Barton, who is going to become a real cult figure with Burnley fans, was given his first Burnley start at the expense of Michael Kightly while fit again Gray replaced Rouwen Hennings.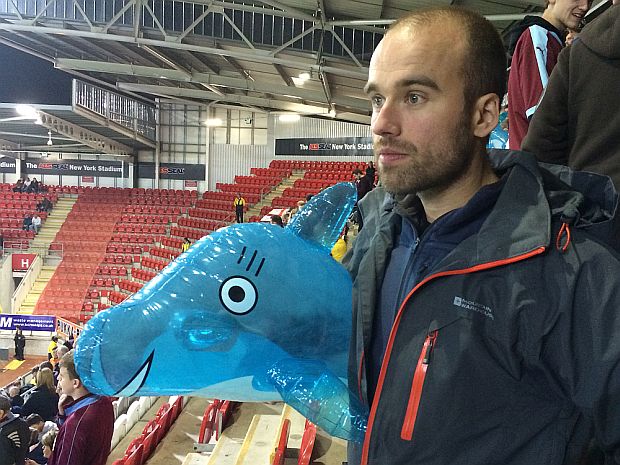 The first dolphin arrives
Kights was on the bench but there was no sign of Hennings although that was clearly cleared up. Frau Hennings has gone into labour which ruled him out of the trip. I hope she's stayed here for the birth; I had this thought that if she gave birth to a potential international footballer of the future he'd qualify to play for England.
Either way, in Lancashire or back home in Germany, I send my very best wished to Rouwen and his wife.
Gray, in effect, replaced Hennings in the match day squad and there was a return for Fredrik Ulvestad with Tom Anderson standing down.
I had this daft notion that Rotherham would give us a blasting of Francis Albert Sinatra's New York, New York ahead of kick off. They wouldn't, would they? Oh yes they would and referee Peter Bankes, ahead of the start of each half, got proceedings underway with the crooner still blasting it out.
I won't ask anyone to start spreading any news; I got that one in yesterday with my match preview, but I can report that Burnley started this game well and turned in an excellent first half performance that really should have brought us more than the one goal.
Rotherham went into the game on the back of two straight wins but it was Burnley who drew first blood in just the ninth minute. A Michael Duff free kick was hit to the left and won well by Mee in the air who found Boyd.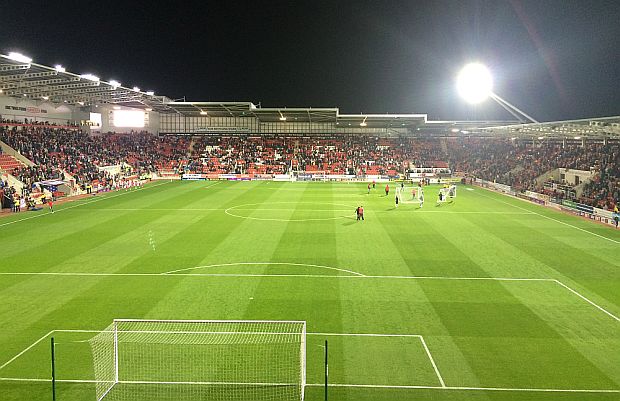 Francis Albert is just about to blast it out at the New York Stadium
When the midfielder chested it down it was Richard Smallwood who knocked the ball into the box and there was no denying Gray. He got there just before Camp who had committed and he slotted the ball into the bottom corner of the net.
Rotherham had their moments in the first half and might have equalised just before half time when Matt Derbyshire tested Tom Heaton with our captain saving well down to his right.
But they must have been thankful to only go in one goal behind. Camp saved well from both Tendayi Darikwa and Jones, there were a couple of efforts blocked and Vokes hammered a 25-yard left footer against the woodwork.
It was a different looking Burnley because we were looking a much better outfit in midfield with Barton and Jones. Barton will get the plaudits and one outrageous volleyed pass out to the right had the entire ground enthusing, but Jones, for me, was the star of this show.
At half time I didn't think we were going to have too much of a problem winning this one and for much of the second half I felt the same. But my frustration was growing at the way we were allowing them to dictate the flow of the game and we weren't offering anything like enough going forward.
Even so, when the goal did come it was a shock. We can criticise the way we defended the situation when the ball was hit across to our right, and it wasn't good enough. Joe Mattock was in acres of space and was able to find Grant Ward.
No one closed him down but once he'd hit his shot there was nothing anyone could have done about it as it flew in to Heaton's left.
We were level in a game that we really should have put to bed, but we weren't level for long before Vokes got that richly deserved winner.
This time there was no comeback for Rotherham; that never looked likely. Chris Long came on close to the end for Gray who left to rapturous applause from the almost 1,600 Burnley fans and he just had time to collect a yellow card.
But it was rightly our night in the end. We were the better side and home boss Eric Black had to console himself with the thought that they'd lost to a team he expects to see back in the Premier League next season.
We just had the short walk back to Millmoor and the organisation on the return journey, one missed turning apart, was a lot smoother.
For now, for another five hours or so, I can sit back and watch the scores come in with us back in third place. It will be interesting to see where we are when today's games finish. And then we've got another international break.
The teams were;
Rotherham: Lee Camp, Lewis Buxton, Farrend Rawson (Kirk Broadfoot 77), Danny Collins, Joe Mattock, Richard Smallwood, Grant Ward, Joe Newell (Danny Ward 71), Tony Andreu (Chris Maguire 71), Matt Derbyshire, Jonson Clarke-Harris. Subs not used: Adam Collin, Frazer Richardson, Aidan White, Emmanuel Ledesma.
Yellow Cards: Danny Collins, Richard Smallwood, Jonson Clarke-Harris.
Burnley: Tom Heaton, Tendayi Darikwa, Michael Duff, Michael Keane, Ben Mee, George Boyd (Matt Taylor 76), Joey Barton, David Jones, Scott Arfield, Sam Vokes, Andre Gray (Chris Long 88). Subs not used: Matt Gilks, Matt Lowton, Stephen Ward, Fredrik Ulvestad, Michael Kightly.
Yellow Card: Chris Long.
Referee: Peter Bankes (Merseyside).
Attendance: 9,752 (including 1,595 Clarets).
View Short Highlights Below