They'd been billed as two, big and important games against two clubs edging ever closer to us in the table, but we followed up last week's magnificent performance and win with another really impressive show to defeat Derby when, for once, our central midfielders took centre stage.
David Jones and Dean Marney have been unsung heroes for much of the season. The job they've done has been a real key to our performances since the 2013/14 season kicked off, but so often they've been overlooked in particular because of the goalscoring prowess of both Danny Ings and Sam Vokes, the eye catching performances of Scott Arfield and not forgetting some of the inspirational games we've seen played by Kieran Trippier.
Yesterday, the pair were again in excellent form but this time were noticed with Jones getting the opener with his first league goal for the Clarets, and against his former club, and Marney completing the scoring with just over twenty minutes to go.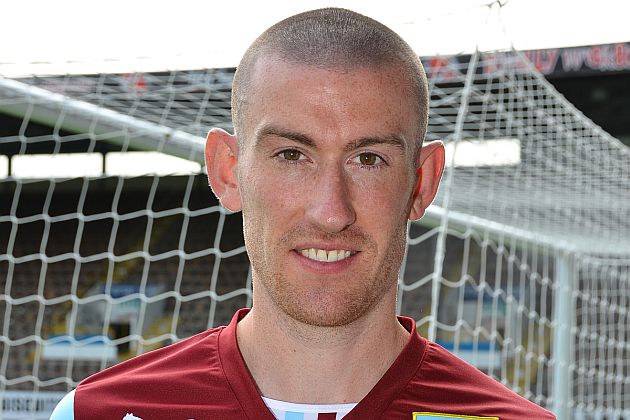 David Jones scored his first Burnley league goal, and against his former club Derby
The first was a special goal, a real goal of the season contender, the second a touch in after our tried and tested corner routine benefited from a couple of deflections. Both goals came at vital times, but when do goals not, and they left us as deserving winners against a Derby side who eventually showed us they can play a bit of football in a game where they were reduced to ten men by referee Bobby Madley.
What is it about me? As I reported last week I'm the ultimate nervous football supporter and yet, again, yesterday I was calm for much of the day. I don't know what Sean Dyche and his team have done to me but even the great Harry Potts couldn't calm my nerves before big games.
I knew we were going into another difficult game, clearly coming up against one of the best teams in the division, and a team that's been scoring goals for fun recently. Such is their goalscoring ability that Steve McClaren was able to leave Chelsea protégé Patrick Bamford on the bench.
Then came our team news. I don't think there were any surprises. It was the usual eleven, the same that had played in each of the last six games, and it was the same seven substitutes who had been on duty a week earlier.
It all meant that former Claret Lee Grant would be playing against us, and he was booed, whilst both Jason Shackell and Jones were playing against their former club Derby and both received warm applause from the travelling away fans.
In front of the biggest home crowd of the season, boosted by the efforts on our message board during the last week, the game started in a way I wasn't expecting.
The Derby players had been forced to walk further to the dressing room than in previous seasons. Under the management of Nigel Clough the team coach had driven straight onto the pitch and parked itself in the goalmouth ready for ninety minutes of their tedious football.
I wasn't expecting that from Steve McClaren, but neither was I expecting their over physical approach to the game in the early stages. Striker Chris Martin might have got more than his one yellow card for some of the incidents he was involved with and I am still amazed that Will Hughes, a talented lad, got away with some awful looking challenges.
It took us a while to find out feet in the game. Derby had taken the early initiative without threatening a goal, but we soon started to play and we might even have gone in front with in our first attack when Danny Ings, without a goal in his previous three games, shot just wide.
Derby started to look more Clough-like as they went deeper and deeper, trying to deny us the space, but I always thought we looked likely to break that down.
We were playing really well again and from two left wing attacks in a two minute period we finally broke the deadlock with Michael Kightly and Ings taking so much of the credit.
Ings received a ball from Trippier in the centre circle. His control and turn was superb as was the ball he played inside Andre Wisdom for Kightly to run on to. Kightly crossed to the near post where a Derby defender just got there in front of Vokes to knock out for a corner.
They cleared the corner but Trippier picked up the clearance and played it to Marney who rolled it back for Mee. The left-back played the ball down the left wing for Kightly who took on Wisdom. Now quite how referee Madley missed Wisdom's arm going across Kightly only he will know.
Kightly went down but then Wisdom slipped. He tried more than once to get up but kept losing his footing; it was a slapstick moment his Uncle Norman would have been proud of. It was even better when Kightly got up, got the ball again, got to the line and rolled it back for Ings.
From that moment it was pure quality. Ings chipped the ball up for Jones. He took one touch off his thigh before volleying the most exquisite of chips into the net off the underside of the bar. I compared this team to the 1970s team last week, so I'd have to say this was very much a Doug Collins moment.
Jones has been so unfortunate not to have scored previously in the league for us but this was definitely one to savour and no one could deny we were very much the better side at this point and fully deserving of the lead.
We never looked as though we might relinquish that lead until the major talking point came two minutes before half time. Martin went down in the box and referee Madley immediately pointed, and as far as I could see he pointed to the penalty spot.
I have the advantage of sitting between two experts at home games. The one on my left said 'definite penalty', the one on my right said ' definite dive'. My eyes aren't good to say one way or the other.
Madley said dive. He gave us a free kick as the ball nestled into the net when Jeff Hendrick hit home the rebound, he waved his yellow card at Martin and then the red. He had the long walk to make down the pitch; he was off.
I've seen it again and I am in no doubt, despite the words of McClaren that the referee is absolutely right not to award a penalty. Was it a dive or did he slip? Maybe the card is harsh, but this player had done more than enough already to be sent off so he could have no complaints.
And as for any whinging Derby fans having a go at the referee. Just remember the appalling penalty decision given against us at Derby this season by this particular referee's brother.
It made things very different for the second half. Derby came out a goal down and a man down and with Conor Sammon on for Johnny Russell as they went 4-4-1, and to be fair they did look a far better side than they'd done before the break.
Having said that, they didn't threaten us too much. One Simon Dawkins effort was hit straight at Tom Heaton and that came after their closest effort when Sammon received the ball from one deflection off Arfield to see his shot deflected via another deflection off Jason Shackell.
I thought it had beaten Heaton but he got just enough on it and was able to stretch again to grab it not too far from the line.
Derby's start did bring about a change. Dyche looked very animated in the technical area and there was a conference when he, Ian Woan and Tony Loughlan got their heads together. Maybe, given the events at the KC Stadium yesterday, I should choose my words better when suggesting heads come together in the technical area.
The response was, for me, a surprise one, with Ross Wallace coming on for Kightly. It more than helped and Wallace played his part in our second goal which all but won the game for us.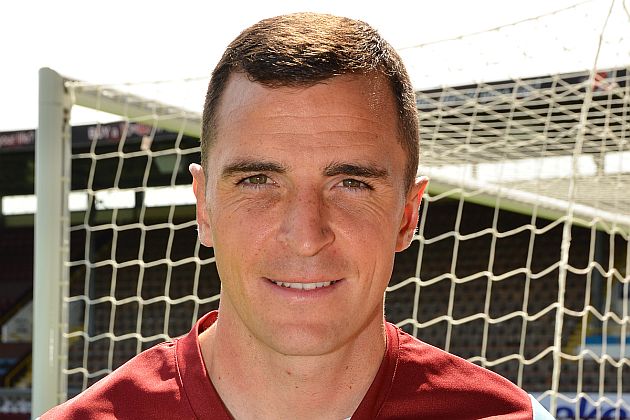 Dean Marney joined his midfield partner on the scoresheet with the second from close range
From the right he played a ball into the box for Ings that needed a defender's intervention to prevent us getting a shot in. That intervention was to concede a right wing corner. Jones took it, Duff dummied and Ings shot. This time it ricocheted ever so well for us and dropped nicely for Marney close to goal to hit home.
Derby were a beaten side. We might have added another goal soon after but at no point at all did I ever think we might concede. Substitute Bamford fell over in the box and he took a free kick around 20-yards out that came to nothing, but we'd done more than enough by this point and there was never any chance we were going to relinquish any of the three points.
In front of our biggest home crowd since the visit of Blackburn, our next opponents, in December 2012, and boosted by over 2,850 Derby fans, we'd turned in another good performance, stretched our lead at the top and taken our unbeaten home run to 21 league games. By the time we play at home again that will have gone past a calendar year.
The league table looks good this morning with a five point lead over third, but there is no reason to get too excited; there's a long way to go and a lot more points need to be won between now and the end of the season.
But it really does look good, and after a day when those two midfielders finally, and so deservedly, got their day in the spotlight.
The teams were;
Burnley: Tom Heaton, Kieran Trippier, Michael Duff, Jason Shackell, Ben Mee, Scott Arfield (Junior Stanislas 87), Dean Marney, David Jones, Michael Kightly (Ross Wallace 64), Danny Ings (Ashley Barnes 80), Sam Vokes. Subs not used: Alex Cisak, Kevin Long, David Edgar, Keith Treacy.
Yellow Cards: Dean Marney, Ben Mee.
Derby: Lee Grant, Andre Wisdom, Richard Keogh, Jake Buxton, Craig Forsyth, Jeff Hendrick, Will Hughes, John Eustace (Craig Bryson 72), Simon Dawkins (Patrick Bamford 61), Chris Martin, Johnny Russell (Conor Sammon ht). Subs not used: Adam Legzdins, Zak Whitbread, George Thorne, Jamie Ward.
Yellow Cards: Chris Martin, Will Hughes.
Red Card: Chris Martin.
Referee: Bobby Madley (Ossett).
Attendance: 17,285.