First half goals from Jay Rodriguez goal with the 'usual' well rehearsed corner routine and a goal from distance from Kieran Trippier, in his first appearance since becoming a permanent Burnley player, were more than enough to turn the tables on a Middlesbrough side who had beaten us by the same scoreline at Turf Moor back in September.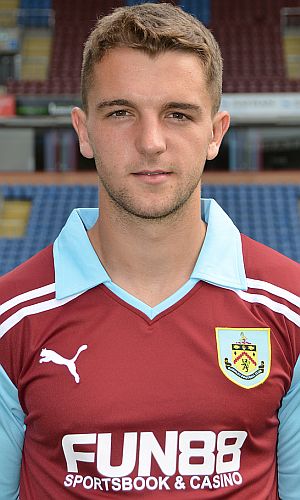 Jay Rodriguez opened the scoring
It was a stunning result against a team with only one defeat all season and at a place where historically we don't do too well. We'd lost on our two previous visits to the Riverside and not since a 4-1 win in 1982 at Ayresome Park have we returned with anything from Middlesbrough.
This latest win on the road was only our second there since September 1953 when goals from Bill Holden, Roy Stephenson and Billy Gray gave us a 3-1 victory.
In my view this was our best performance of the season. We played some exquisite football in the first half when, with any luck at all, we'd have had a bigger lead than the two goals we took into the interval.
A third looked on the cards early in the second half, but a forced change just ten minutes in meant a change tactically and we certainly ensured, with the second half performance, that there was never any danger of Middlesbrough getting back into the game.
It's been a good weekend for our club. When I left home yesterday morning around 10 o'clock I was still excited at the performance from the youth team on the Friday night. Andy Ashworth reported on that game but I have to say how delighted I was at the performance as those young lads did Burnley Football Club proud with their win against Ipswich.
Saturday, in no way at all, was a let down. The journey to Middlesbrough was a good one; we found a good pub stop on the way and on arrival at the Riverside we found the perfect parking place before making the short walk to the ground where Darlington fans were shaking collecting buckets as they did their bit to try and save their club.
We have our own problems at Burnley but they pale into insignificance when you look what's happened at Darlo. A lot of Burnley supporters dug deep and we can only hope they can rescue the desperate situation.
Ipswich and now Darlington have been referenced, but this was Middlesbrough v Burnley and when the team news came through it was certainly as expected as far as the Clarets (or all yellows on this occasion) were concerned.
Both Michael Duff and Trippier returned from the team beaten at Norwich last week in the FA Cup , coming in for Andre Amougou and Brian Easton with Easton at least retaining a place on the substitutes bench. The only other change saw a recall for Junior Stanislas at the expense of Charlie Austin who, like Easton, was named as a substitute.
That bench also saw a return for Brian Jensen. He's been out of action since sustaining a groin injury at Peterborough in September. Since, Jon Stewart has been the sub goalkeeper but the Beast was back yesterday at a ground where last season he had an excellent game including one stunning double save.
Speaking to fellow Clarets before the game, one said: "A draw will be a good result," and without doubt that's how most would have seen it, but right from the start of this game it was clear that our players believed there was more to be had.
After the harsh defeat at Leeds and the loss at Norwich we needed to get something and right from the off it was clear that a point was not on our minds down on the pitch.
It was all Burnley from the off and Jay Rodriguez perhaps should have done better with an early opportunity. There's one thing for sure, he couldn't have done any better with his next chance as he gave us the lead.
We won a corner down the right wing which Ross Wallace took. It was the trademark Burnley corner. David Edgar dummied which took Rhys Williams, probably Middlesbrough's best player, out of the game and this time Jay got the sweetest of strikes that rookie goalkeeper Connor Ripley, son of their former winger Stuart, could do nothing about.
Ripley was making his debut after Danny Coyne, who was expected to start, suffered an injury in training, and his first action was to pick the ball out of the net.
If we expected them to storm back at us they most definitely didn't and we kept on taking the game to them. Chris McCann hit a shot just wide, so did Jay Rod and Martin Paterson almost converted a Junior Stanislas cross.
Stanislas, still to score for the Clarets, then looked all set to open his account when he was put clear from a Burnley free kick in the centre circle. It was quick thinking from the Clarets to create the opportunity but as the wide man went clear it was all pulled back by the referee who, it appeared, wanted to blow his whistle before we could take the kick.
It didn't matter because goal number two came very soon afterwards. Ben Mee, back in the left back slot, took a long throw from that left hand side. It was a defender who got a head to it and another Middlesbrough player who cleared it, as far as Trippier some 35-yards or so from goal.
The right back let fly but Ripley, believe it or not, allowed the shot to go through him and received consoling words from his team mates as the Burnley players and fans celebrated the goal.
Boro had a half chance just before the break but at half time it was 2-0 and no one in the ground could have possibly denied us that two goal advantage after as good a 45 minutes as I've seen from us all season.
Nothing changed at the start of the second half. Jay might have got his second and Burnley looked very much as if they wanted to get this game put to bed as soon as possible. However, it changed, not through anything Middlesbrough did but through an injury to Stanislas that forced him off.
Last week at Norwich we had four wide players on the bench. This time there were none and Eddie Howe was forced to introduce Marvin Bartley. That saw us switch from a 4-4-2 to a 4-1-4-1 formation with Jay Rod mainly occupied down the left hand side.
Middlesbrough made their first substitution a couple of minutes later, introducing new signing Lukas Jutkiewicz. They'd failed to get the permanent transfer through on time the day before so rushed through an emergency loan to enable him to feature in this game.
What a chance he had to make his mark in front of the home fans. Burnley didn't give Middlesbrough too much in the way of chances to get back into the game but a big mistake involving Trippier and goalkeeper Lee Grant should surely have seen their new man get his first Middlesbrough goal.
We won a throw in almost in the corner in our right back position. Inexplicably Trippier opted to throw it back to Grant. The goalkeeper's touch was poor and he presented Jutkiewicz with the simplest of chances which he placed horribly wide.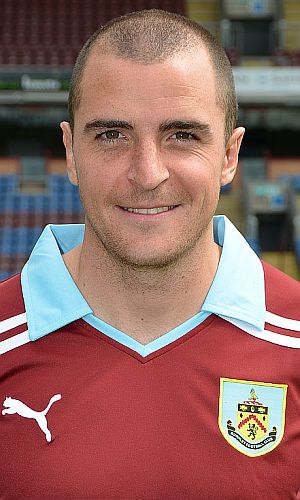 Another outstanding performance from Dean Marney
The home side had much of the possession after that but in truth offered very little as the Clarets defended resolutely and well. Other than a superb save from Grant, right at the end, I can't recall them seriously threatening to pull one back.
The only bad news was losing Paterson again, this time to a hamstring injury, and that could see both him and Stanislas out for around six weeks.
This was, without any doubt, an accomplished performance. Howe had, in his pre-match words, seemed full of confidence that this was a game he felt we could go and win. That confidence was fully justified after this performance.
It's hard picking out players in a team performance like this. I didn't give any player a rating of less than seven out of ten but for me there were two who stood out. Jay Rod was again on top form and I thought the only player to eclipse him was Dean Marney.
The midfielder has come back into the side recently and turned in some outstanding performances and, make no mistake, here was another.
I can be difficult to please sometimes but I was absolutely delighted with this performance, the way we took the game to Middlesbrough and then how we closed it down during the second half.
Unfortunately not everyone was happy. As we left the Riverside there was one Burnley fan behind me who was not at all happy with the second half performance. He said we should have just kept going forward and got more goals, suggesting the tactics of ensuring the win were completely wrong. He struggled to find anyone to agree.
What a shame we couldn't have held on to that 1-0 at Leeds. Had we done so we would have been fifth in the table, just three points behind Middlesbrough, and Leeds would have been in the bottom half.
This was a cracking performance, and if we can turn in many more like this in the next three months or so then who knows where it might lead.
The teams were;
Middlesbrough: Connor Ripley, Justin Hoyte, Matthew Bates, Rhys Williams, Joe Bennett, Faris Haroun, Kevin Thomson, Richard Smallwood (Lukas Jutkiewicz 57), Julio Arca (Tony McMahon 68), Scott McDonald (Merouane Zemmama 75), Marvin Emnes. Subs not used: Stephen McManus, Malaury Martin.
Yellow Cards: Rhys Williams, Faris Haroun.
Burnley: Lee Grant, Kieran Trippier, Michael Duff, David Edgar, Ben Mee, Ross Wallace, Dean Marney, Chris McCann, Junior Stanislas (Marvin Bartley 55), Martin Paterson (Charlie Austin 85), Jay Rodriguez. Subs not used: Brian Jensen, Brian Easton, Sam Vokes.
Yellow Cards: Martin Paterson, Dean Marney.
Referee: Bobby Madley (Ossett).
Attendance: 17,001 (including 1,213 Clarets).