It was intended to report the day out, the game, and even grabbing a selfie with Tony Livesey as the pair of us left the Bridge buzzing with delight.
It will be just that, but it will also look into the disturbing comments I've since read, particularly from Chelsea boss Jose Mourinho. They are not just out of order; they are rude, insulting and they totally discredit our football club and one of our players. This, from a man who, I am led to believe, didn't even have the good grace or manners to shake the hand of Sean Dyche at the end of the game.
I fully understand football managers get upset when their clubs are on the wrong end of what they perceive to be poor decisions; I get upset as a supporter when I see us drop points in games when the decisions have gone against us. Just two weeks ago today was a very good example when West Brom came back with two goals that should have been disallowed prior to us then having a penalty turned down for handball.
Dyche expressed his disappointment at those decisions from Mike Dean, nothing more than that. He said nothing that might have got him into any trouble with anyone and I don't believe he said anything that he probably didn't say to the referee directly when he was given the opportunity to speak to him.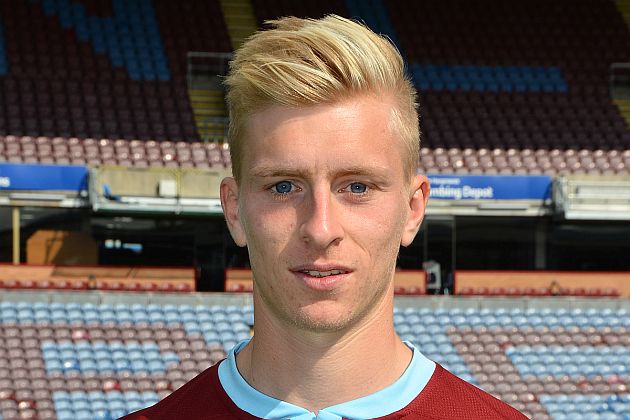 Ben Mee had an excellent game and scored our equaliser in minute 81
I think it is fair to say we did get the benefit of some decisions yesterday. Michael Kightly and Jason Shackell could both have had penalties given against them while Ashley Barnes might count himself a little fortunate not to have picked up at least a yellow card.
But surely that doesn't give Mourinho the right to make the comments he did. Ashley Barnes being charged by the FA? If the FA have anything about them they will be taking action against the Chelsea manager and maybe censuring Sky television for ridiculously giving him that platform this morning.
I don't mind him having an opinion on the incidents, not at all, but it is way out of order to start questioning Barnes' right to be called a footballer. Maybe he should have actually watched the game and seen that Barnes was one of the best players on the pitch.
My view is that the first one on Branislav Ivanovic is possibly a bit naughty but on the second one I think he's a bit unfortunate and I do agree with Dyche on the players coming in from opposite angles.
I wonder why there has been precious little comment on Ivanovic's behaviour on the first one. He was rolling around as if he'd been shot before suddenly getting to his feet to rant at referee Martin Atkinson.
As for the big talking point, minute 69 according to him who, apparently, must be listened to. Watch it again and look at the reaction of the five other Chelsea players in the vicinity at the time of the challenge.
There is no reaction; presumably that means, more so given one of them is John Terry, that they didn't see much to concern them. Their only reaction came when Nemanja Matic, who for the record I think is an exceptional player, completely lost the plot.
You have to believe they saw nothing in it because there isn't a team in the country who react more than Chelsea, and there were plenty of examples of it yesterday when they tried to put Atkinson under pressure.
On the way home I heard the tiresome Stan Collymore say Matic had every right to react and the red card should immediately be rescinded. I laughed when he then said the FA should transfer the card to Barnes.
I don't know how Dyche feels today; neither do I know how Barnes feels, but I'm bloody angry because I don't see why our football club should be spoken about in the way Mourinho has spoken about us. It is totally unacceptable.
"I prefer to say that this game had four crucial moments, minutes 30,33, 43 and 69," Mourinho said last night. Personally, I prefer to say that this game had one crucial moment, minute 81. That's when Ben Mee scored our equaliser and Mourinho had to find something to say that would deflect any criticism of his team being unable to beat Burnley. And all his darlings in the media took it all in.
We were a long way from minute 81 when my day started. Just before leaving home I did a live interview on Talksport with Georgie Bingham and Micky Quinn. It was about five or six minutes, just nicely timed before the front door opened for another long day.
It started with the X43 to Prestwich, a pick up there and off to Greenford which was one of the options posted on the message board for parking. The whole journey down was trouble free, apart from the walk from home to the bus stop with it being treacherous underfoot following the snow, hail and ice overnight.
I was outside Stamford Bridge in plenty of time and enjoyed a chat with chairman John B outside, trying to convince him that we'd get something from the game.
My only problem was getting inside. After half a dozen sniffer dogs, an equal number of ticket checks and then a search, I was informed I couldn't go in with a bottle of water. Known to be stubborn on occasions, I demanded medical assistance but was told I'd have to wait twenty minutes. I don't think they expected me to stand my ground.
Eventually one decent steward came up and just told me to go in and ignore the stewards who, according to him, had not been prepared to use any common sense.
I knew it was going to be a difficult afternoon on the pitch; just look at their team sheet and it cannot be anything but. Our team showed no changes from the side beaten at Man United but there was a welcome return to the bench for Stephen Ward who has been out with injury since the home game against Newcastle back a the beginning of December.
The game started as I imagined it might. Chelsea were getting most of the possession. At times they are mesmerising and you wonder just how you are going to get the ball from them. They are masters at keeping the ball and working openings with intricate play.
Tom Heaton had already made one save when, just before the quarter hour, they opened the door. They did actually lose possession once in the box but once they got it back, some good work from Eden Hazard finished with him pulling the ball back for Ivanovic to give them the lead from close range.
I reckoned we needed to remain level for a bit longer than that - minute 14 for your benefit Jose.
There was a passage of play soon after that had the two Burnley fans sat behind us applauding. It was fully understandable; this Chelsea team can be very pleasing on the eye.
I've covered the penalty shouts and the Barnes foul, but I think it has to be said we did really well for the remainder of the first half. We had to ensure our framework was intact but there were occasional opportunities with Barnes testing Thibaut Courtois with one effort.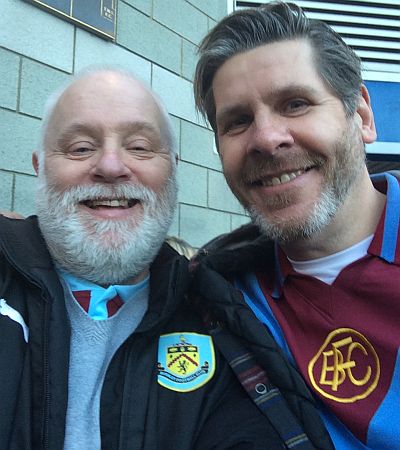 Two happy Tonys leave Stamford Bridge
I have to admit that my heart was in my mouth when Diego Costa went down in the box. There does look to be a push but it shouldn't have seen him fall in the way he did let alone go into a session of histrionics that were, quite frankly, embarrassing and laughable.
So, 1-0 at half time and were still in the game. Barnes, who, despite all the controversy, had a superb game, tested them again, this time a deflected shot bringing another good save from Courtois but we had to endure a lengthy spell from our hosts when you just thought the second goal might come.
If I was sat watching on television and it wasn't against us then I'd just sit back and admire this team who I really do believe are far and away the best in the league, but it was against us and as each attack failed to get a goal the happier I was.
Then came the big moment. He can refer to it as any number if he likes but, whatever the fool Collymore says, Atkinson had absolutely no option but to send off Matic.
"Them having only ten men won't make a difference," I said. They quickly brought on Ramires for Oscar, their second change, and we soon after made our only change when Sam Vokes came on for Kightly.
It's a long time since Sam started a league game but he has made a number of substitute appearances now and has looked some way short. He certainly didn't yesterday. I thought he did really well when he came on and looked back to the Sam Vokes we know from last season.
Pushing forward, we won a corner on the left. Chelsea never fully cleared it and it fell to Barnes who brought the save of the match out of Courtois. The big man got down to his right to turn the ball away for another corner.
Corners. We seem to have discussed precious little else in the last couple of weeks. This time I'm delighted to continue the discussion. Kieran Trippier took it and Mee, who made a late looping run was there to head home from beyond the far post.
It was, Mr Mourinho, Minute 81. When everyone has forgotten you and your distasteful rant, the record books will always show that Mee scored our equaliser in minute 81.
The Burnley fans were ecstatic and suddenly urging us on to win the game but I was more than happy to get to the 90 minutes at 1-1 only to see us having to face four extra minutes.
Mee suffered an injury during this period. Heaton threw the ball out to allow him to get some treatment. Shockingly, Chelsea did not make any attempt to return the ball. Dyche's reaction from on the touchline suggested he was not at all happy with that lack of sportsmanship. I think it was minute 90+2.
Incredibly, there was to be one last chance and it came our way. Danny Ings was played in just over the half way line. He made a great run but was pushed wide. He maybe should have looked to play in George Boyd. Instead he cut inside but saw his left foot shot go over the bar.
It would have been amazing to win but it ended all square at 1-1 and I don't think any Burnley fan can be in any way unhappy with that result.
Then came the selfie.
Then, on the way home, I started to hear all the awful stuff that has really left a bad taste in my mouth.
The journey home was a good one, apart from Collymore, and I was home just in time to see the highlights on Match of the Day and that goal of ours that won us the point. I switched off before former Blackburn pair Shearer and Savage started to spout.
What I did see was Mee - Minute 81.
The teams were;
Chelsea: Thibaut Courtois, Branislav Ivanovic, Kurt Zouma, John Terry, Filipe Luis (Didier Drogba 86), Cesc Fabregas, Nemanja Matic, Juan Cuadrado (Willian 63), Oscar (Ramires 72), Eden Hazard, Diego Costa. Subs not used: Petr Cech, Gary Cahill, Cesar Azpilicueta, Loic Remy.
Yellow Card: Branislav Ivanovic.
Red Card: Nemanja Matic.
Burnley: Tom Heaton, Kieran Trippier, Michael Keane, Jason Shackell, Ben Mee, George Boyd, Scott Arfield, David Jones, Michael Kightly (Sam Vokes 79), Danny Ings, Ashley Barnes. Subs not used: Matt Gilks, Steven Reid, Michael Duff, Stephen Ward, Ross Wallace, Lukas Jutkiewicz.
Yellow Cards: George Boyd, Michael Kightly.
Referee: Martin Atkinson (Leeds).
Attendance: 41,629.