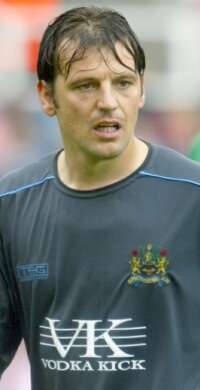 Star Geezer - Robbie Blake
It was seven games unbeaten at home, but this record was never really in doubt of continuation after a pathetic first half non-performance that would do little to encourage any increase on the recent trend of low attendances.
With tabloid allegations of Stan assaulting David May, a substitute for the game, the team never really got going and without May, the suspended Chaplow and no striker, the Clarets were clearly wanting straight through the spine of the team.
Add to that a back to the old days performance from our man in the sticks and there you have it, like a Norwegian Eurovision entry - no points. Eric Black, in his first game in charge of Coventry following McAllister's temporary step-down, was never made to sweat over his poor teams chances of collecting three unlikely points.
Stan started with a few surprises. Gone West was a thankful sub, so Roche stayed in the first eleven and alongside him was McGregor, courtesy of Stan's shenanigan's at Gawthorpe with David May. Weller got the suspended Chaplow's shirt for the day and other than that, the shake of the dice saw Little on the left, Chadwick on the right and Ian Moore play as the most forward player, though an attempt at, or on goal in the ninety minutes, was to be beyond his capabilities.
On a bitterly cold day, spoiled by a strong, swirling wind, there was little to suggest the oncoming disappointment as Clarets started much the brighter of the two sides and they could have taken the lead as early as the second minute. Weller's toe-poke wide when at full stretch was the result after good wing play from Little. Two minutes on and yet more good work from Little in the area, saw him twist and turn, just like the old days, but Chadwick could only volley over.
The overall standards of play did little to warm the crowd and with Coventry's paltry following keeping the ground morgue like also there was little to enthuse about. The paltry three hundred were up on their feet though after eight minutes as the Sky Blues struck.
With little danger in the offing, Suffo collected the ball back to goal and some twenty yards out, with enough bodies around him to snuff out any threat. Shooting on the turn saw the ball run between legs, yet Jensen was so slow to react and failed to deal with the low shot that rolled past his right side as he went down on one bended knee - an awful goal to concede.
The goal rocked Clarets, there was to be little in the way of inspiration throughout the side and for a while, the forward pass was something of a rarity. Still, if it was uninspiring form the home side, it was less so from the visitors, who were bereft of ideas and who were not to press forwards at all. Apart from Morrell, they did not even have any runners and yet McGregor needed to be alert ten minutes from the break, blocking the little strikers shot, after neat control in the box had created a half chance.
Clarets tried to reply and Moore's flick on to oh Robbie Robbie, saw a fierce shot from twenty five yards squirm through Ward's gloves only to roll the wrong side of the post. Territorially, Clarets were enjoying much the better of the game, but it went further pear shaped five minutes from the break, when the second goal went in in comical fashion.
Morrell's cross from the right was misjudged by Arthur, the ball more hit Weller than Weller headed the ball and Jensen, like Arthur, stood and watched as the ball nestled neatly in the bottom corner, without a Coventry player being near the crossed ball into the box.
The head in the hands approach from the players said it all, this truly had been a depressingly poor opening forty five and there was little surprise as the boos rained down as the teams left the field for what would be an interesting set of pep talks, Stan with furrowed brow, hastily making his way to the dressing room.
Stan's words of wisdom were clearly at his defenders and somewhat strangely, his fingers of blame pointed at fall guys McGregor and Roche. On came May West in uninspiring one to one swaps. Two nil down and desperately poor, surely it needed more than the introduction of a centre half and a full back?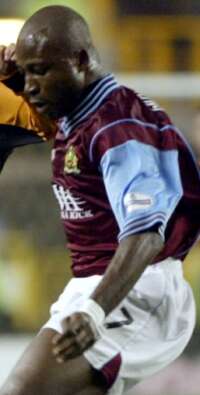 Star Gazer - Arthur Gnohere
Five minutes in and Grant's superb cross-field pass to Blake set up what proved only to be a consolation goal, his twelfth of the season coming via a left footed shot from the point of the area, past and under the desperate attempt of Gavin Ward.
Briefly, Clarets were on a roll, a little head of steam all that was necessary to get the crowd going as the rain swirled around the stadium. Morrell was booked for picking up the ball and the referee awarded a ten yard advance allowing Blake a long range pop at goal.
Grantona's effort that followed was more poop than pop and another addition to his growing "high and wide" collection as Clarets continued to enjoy possession in and around the Coventry box.
Arthur was booked for a silly foul on Morrell on the hour, once again the defender demonstrating a goldfish like attention span. Davenport's looping header needed an acrobatic effort from Jensen to tip over as Coventry threatened briefly, but the game was continuing on its poor level, lacking quality and creativity wherever you looked.
Arthur was a little unlucky, when in a rare goal mouth melee, his close range header hit the unfortunate Weller in the back. Adebola replaced Morrell and McEveley replaced the influential Chadwick, Stan maintaining his peculiar substitution policy in the game from which point Blake all but disappeared.
Pead replaced Suffo and Staunton tried his luck from thirty yards before being later booked for time wasting as the visitors went for a policy of frustration in securing the three points. There was little threat to them taking the points and Clarets had only one further chance in the closing stages this some five minutes from time.
Blake's clever step over deceived Staunton, who waited for his keeper, Ward, cold from lack of activity, stayed at home and Staunton left the boll as it rolled across the area, Camara couldn't accept the gift and missed the target from all of eight yards out, ensuring that Ward did not have a shot to save in the second half other than the goal itself.
It was a poor end to a poor game, resulting in a slip to sixteenth spot and on a day when a number of additional fans turned up following the recent good run, this performance will keep them by their firesides for many weeks to come.
Att:- 10,358
Star Gazer
Arthur Gnohere. Sent off yet again and once again for a lack of professionalism, both needless yellow cards earned from offences committed on the half-way line. Dozy Arthur never got into his defensive stride, with too many unforced errors for comfort and caught out of position for the second goal. The only thing to amaze from Arthur's day was that some joker in the stadium picked him as man of the match. It is the time of festive folly so ho ho ho to that decision.
Beer Money
He may be a good 'un our loanee Jay McEveley, but surely Clarets do not have a sufficient problems either in defence or on the left side of midfield to prioritise his signature over a striker, a position in which Clarets currently do not have any takers. This team would surely benefit from having a target man and someone who can at least have a shot on target, as Clarets attempts at, or on goal, is a real cause for concern.
Star Geezer
Robbie Blake. Quite where Clarets would be without the little one's dribbling skills, creativity and goals is anyone's guess. Never stopped trying despite being robbed of the supportive efforts of Luke Chadwick, surprisingly substituted in the second half.
Champagne Tastes
Tis the time for festive fun, so please, please, please can Stan's letter up the chimney request a striker for Christmas. It must be soul destroying for Blake, Chadwick and Little to be serving up crosses and half chances with no one on hand to finish off the good work being generated in midfield.