It wasn't plain sailing, not by any means, and we might have been even further behind during a first half that was, at times, concerning, but we got in at half time level courtesy of an own goal and went on to win it with a much improved second half performance and a match winner from Scott Arfield.
Last week, reporting on the game at Ewood, I made several references to the last time we'd won there, naming the manager, the chairman, the team and the goalscorers. So, for some consistency I must make reference to two previous games against Leeds.
I'm going back some 87 years, to Easter 1927. On Good Friday we beat Leeds 3-2 at Turf Moor and four days later won the return fixture 2-0. George Beel was our goalscorer supreme back then but he didn't play in the first game and was not on the scoresheet four days later.
Percy Richards, Jack Bruton and Joe Devine got the home goals with Richards bagging a brace at Leeds. The significance of these results is that they represented, until yesterday, the only season in which Burnley have done the double over the Yorkshire side.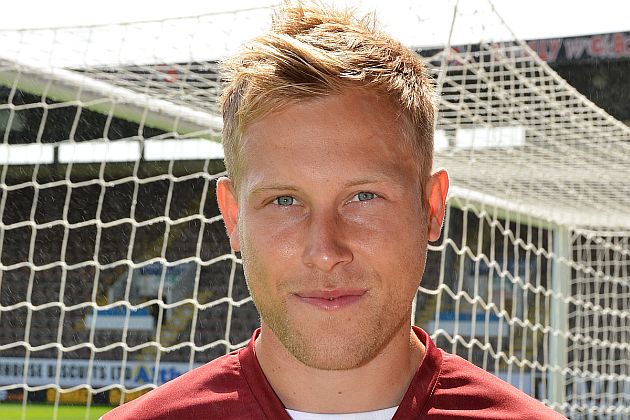 Scott Arfield scored our winning goal for the third time this season
Leeds have always been something of a bogy side. They are hardly eagerly awaited fixtures for me and even yesterday I was particularly nervous about playing them, this from me who was as relaxed as I could ever be for the home games against Forest and Derby.
The news filtering out of Turf Moor on Wednesday night and Thursday was that Danny Ings had suffered nothing serious before being substituted at Birmingham. I'd sort of expected him to sit this one out and that he did with Ashley Barnes getting his first start in Burnley colours and finding himself in a league starting eleven for the first time since he lined up for Brighton against Blackpool on 29th December last year.
There were no other changes for the Clarets with Ross Wallace getting his first home start since Yeovil in August, and Danny Lafferty was added to the bench.
Leeds opted to go with the two big men up front, Connor WIckham and Matt Smith, alongside the league's leading goalscorer Ross McCormack, a player who has caused us some problems over the years.
Defending the Jimmy Mac end, the game opened up with the three and a half thousand or so Leeds fans suggesting that Burnley was some kind of hole and they wanted to go home. Personally I'd have just opened the gates and told them to go.
They weren't all singing it. There was a Leeds fan sat two rows in front of me in the Longside Upper. His mate was just a few rows behind. He was a lot quieter and strangely settled down to watch the game on his iPhone via some link.
We didn't start well although David Jones was very close to scoring directly from the first corner of the game.
It was at the other end though where Smith forced the first save of the match from Tom Heaton although, to be fair, it was a routine save, but there was little that Heaton could do as McCormack burst through in just the ninth minute.
It was like Ewood all over again as Jones got a back pass so horribly wrong. This time he played McCormack in; the Leeds striker made ground, dinked the ball over Heaton and we all awaited the bad news as it crossed the line.
Incredibly it hit the foot of the post, just as Rhodes had done six days earlier, but there was still much to do for Jason Shackell. He'd chased McCormack back and eventually defended superbly to block any potential follow up from the Leeds striker.
It was a difficult start for us but I thought we'd seen off the worst. We'd started to get into the game ourselves and then disaster struck as we fell behind and it really was a giveaway from our defence.
Leeds won a throw in on the left which Wickham took. Quite why Kieran Trippier had been selected to defend in the air against the massive Smith I'm not sure, but Smith got the flick on and then, inexplicably, McCormack was left unmarked although his header was perfect; it flew into the corner.
Turf Moor, momentarily, went quite, that is except for those who'd suggested their preference was for an early departure.
They might have had another too, but then came the lifeline seven minutes before the interval. Dean Marney found Trippier with a superb ball down the right. With Wallace having pulled Danny Pugh inside it left Tripps in acres of space. He got the ball in towards the near post where Sam Vokes put defender Jason Pearce under enough pressure to force him to play the ball.
It was the perfect touch too from Pearce, the defender we were so keen to sign in the summer of 2012. It went straight through the legs of goalkeeper Jack Butland and nestled in the net right in front of those not keen to be there who had now been silenced.
It really was the turning point and I don't believe our visitors were ever on top again throughout the remainder of this game.
We comfortably got to half time and in the second half looked far, far better than we had before the break and around the hour Sean Dyche made what proved to be another significant substitution. At Blackburn he introduced Wallace; here he withdrew him with Junior Stanislas coming into the game as he'd done at Birmingham.
Seven minutes later he was heavily involved in the winner which owed a lot to Ben Mee. The left-back had another outstanding game. He's certainly looking much stronger these days going forward too and is becoming something of an unsung hero in this team.
The ball went out for a thrown and Mee, ever alert, took it quickly to Stanislas. The wide man held it up and then returned it to Mee who had broken forward. Mee's cross evaded Vokes to allow Arfield to get in a left foot shot.
It was blocked by a defender but Arfield reacted so quickly and this time fired in a right footer and into the corner. We were in front.
It was Arfield's sixth league goal of the season, but until watching the BBC's less than extensive coverage I hadn't realised all six had come in wins. Not only that, this is the third time he's scored what has proved to be the winning goal. He did so at Ipswich, then in the home game against Blackpool to add to this one.
By now the noise was certainly not coming from the cricket field end. The Burnley fans were roaring on their team to a level that I can't recall for some time. Dyche's 'One club mentality' with everyone pulling in the same direction was so evident. 'E-I-E-I-E-I-O, up the Football League we go' cascaded down from the Longside as the fans urged on the team.
We might have got a third. Vokes, belatedly, set up Stanislas who fired wide and then Barnes was just off target with a header although the flag had gone up for offside. I thought Barnes started quietly but I was very impressed with his second half performance.
Inevitably there was some defending to do. Leeds started to fire balls into our box from everywhere. Added to that were the long throws and we had some real defending to do. They put Heaton under some real pressure but so well did we defend that I can't recall our goalkeeper actually having a save to make.
We got to 90 minutes in front; we played through the stoppage time and when referee Simon Hooper blew for the last time the home stands lifted again, even the Bob Lord where some of the blankets were seen flying into the air.
This one had been a crucial win for me. It's all well and good playing well and winning, as we have done so well in recent home games, but to start as we did in this match, go behind and come back to win it really does augur bode (ooops, wrong manager) well for the future.
We then awaited news from elsewhere and only QPR of the other leading clubs won. Leicester beat Blackpool, as expected, but I'm not too concerned about them.
Eventually it had been another good day at the Turf. I'd enjoyed it; more so I'd enjoyed the result, and those who had offered a preference for an early departure were finally on their way. They were on their way home with the same number of points as they won when the teams met at Elland Road, precisely none.
We'd done our third double of the season; there are ten games to go. Hopefully the crowds will continue to pour in for the home games and if you can get to the away games then please do to support this team who are giving us a season, so far, that none of us could have even dreamt off.
Whilst the other Mourinho was being sent to the stand, ours was lauded by the home fans, lauded by the visiting manager, and so good is he, he was even answering phones for the media.
See you at Charlton next Saturday and a change of venue for the pre-match drink due to an error in yesterday's match programme. The chairman will now welcome fellow Clarets at the Hare & Billet in Blackheath from 1 p.m.
Come on you Clarets.
The teams were;
Burnley: Tom Heaton, Kieran Trippier, Michael Duff, Jason Shackell, Ben Mee, Ross Wallace (Junior Stanislas 60), Dean Marney, David Jones, Scott Arfield, Sam Vokes, Ashley Barnes (Keith Treacy 90+3). Subs not used: Alex Cisak, Kevin Long, Danny Lafferty, David Edgar, Michael Kightly.
Yellow Card: David Jones.
Leeds: Jack Butland, Sam Byram, Tom Lees, Jason Pearce, Danny Pugh, Luke Murphy, Rodolph Austin, Alex Mowatt (Dominic Poleon 66), Connor Wickham, Matt Smith, Ross McCormack. Subs not used: Cairns, Scott Wootton, Michael Brown, Stephen Warnock, Cameron Stewart, Noel Hunt.
Yellow Card: Jason Pearce.
Referee: Simon Hooper (Wiltshire).
Attendance: 18,109.