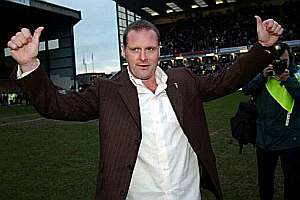 Thumbs up from Gazza
Earlier this season Stan Ternent said that he would buy the Man in the Moon if it would get Burnley promotion and he might have just done that. Even though Paul Gascoigne was confined to a seat in the stand he was still able to make an impact as the pre match atmosphere was as good as I can remember at Turf Moor for many years. Coming as it did on the back of Stan criticising the small minority of fans who chose to boo the teams departure at the end of the Norwich match it was a remarkable turnaround.
Gazza's arrival certainly overshadowed the debut of David Johnson in terms of pre match talk but DJ produced an opening game to be proud of as he ran the Preston defence ragged with his electric pace. Linking well with a revitalised Ian Moore they gave a first half display as good as anything you will see.
After only 5 minutes DJ showed his speed off the mark by forcing Cartwright into knocking a difficult bouncing ball back to Lucas in the North End goal. DJ didn't give up the chase and closed Lucas down at full pace forcing him to weakly hook the ball away but only to Ian Moore 30 yards out. Moore took the ball on his chest and lobbed a shot towards goal. From my position it looked to be sailing well over the bar but as Lucas made desperate attempts to get back it started to fall out of the early evening sky, down and down and in just underneath the bar. Delirium ensued.
For the rest of the half Preston, and Sean '5 Bellies' Gregan, were left to be little more than spectators as the Clarets turned on the style.
Grant forced a save out of Lucas with that rare beast - a Burnley on target free kick, Ball and Weller fired wide from the edge of the box and the pace of DJ and Ian Moore looked like it was frightening the Preston defence to death.
On 25 minutes DJ thought he had opened his Clarets account when he raced onto a through ball and fired in a shot which Lucas parried but could not stop. What he had done though was to take the pace of the ball and as it trundled merrily towards the corner of the net a defender got back to hack it away off the line. Within a minute of this happening he had scored.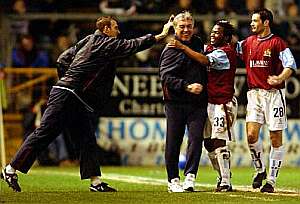 Why do they all want to kiss me? says Stan
It owed as much to his quick thinking as his quick feet. When the Clarets were awarded a free kick in midfield he didn't wait for the Preston defence to get organised but snatched the ball up, plonked it down and played it to Alan Moore before haring forward. Moore played the ball into space beyond the Preston back line and DJ's pace did the rest as he was first to the ball and as Lucas advanced rolled it past him into the far corner. He celebrated by jumping into Stan Ternent's arms as the rest of Turf Moor went wild.
In truth Burnley should have wrapped up the game before half time but when we've spent a long period struggling to create chances at home it would be churlish to complain, as this was real entertainment.
DJ knocked the ball past Lucas and chose to hurdle his body rather than look for a penalty before firing into the side netting from a tight angle. Ian Moore had a great chance after DJ flicked the ball onto him but he shot rather tamely at Lucas when he could have rolled the ball to the unmarked Alan Moore then it was DJ's turn again as Lucas pinched the ball off his toes as half time approached.
So we had to settle for 2-0 at the break as the Clarets left the pitch to a standing ovation after what had been a tremendous performance.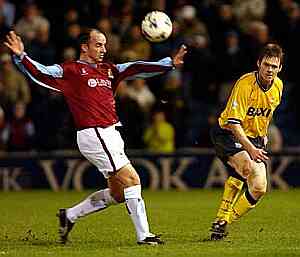 Look no hands from sub Paul Cook
Of course the second half was never going to live up to the first and the Clarets played only in flashes whilst trying to contain a much improved Preston. Burnley did hold them off reasonably well but on 2 occasions had to be thankful for the brilliance of Beresford in keeping out a shot from Etuhu and a diving header from Cresswell.
At the other end Ian Moore went on a great run through the defence but just failed to get his shot away and Kevin Ball twice fired wide from promising positions.
Glen Little came on to a fantastic reception on the hour following his horrific injury against Norwich and showed some nice touches especially when joined late on by Robbie Blake.
Of course it wouldn't be Burnley if we weren't subjected to a nervous last few minutes and with 5 minutes remaining Etuhu fired over another great cross, which Anderson controlled on his chest before beating Marlon with a low shot into the corner.
The good thing was that Preston rarely threatened after that with Blakey and Blakey playing keep ball and Alan Moore almost made it safe following a brilliant run though his shot had all the pace taken off it by a foul from behind which referee Paul Durkin missed. To be fair to Mr Durkin it was nice to see a ref who quietly controlled the game without wanting to be the centre of attention but I suppose he couldn't be with Gazza still sat in the stand could he?
After 4 minutes of stoppage time his final whistle of the night brought a huge cheer from fans who had not seen a league win at Turf Moor in over 3 months. The points were vital no matter how we got them but to do it in such an exciting fashion made it doubly enjoyable.
Someone once said something like 'There is no finer human experience than feeling the warmth of the sun on your skin after a long hard winter' and they probably have a point. After all it was nice to spend the weekend with Burnley bathed in pleasant late winter sunshine but is it really any better than beating Preston 2-1 in light drizzle with one of the top players in the country itching to get on the pitch for you?
'If you believe they put a man on the moon' as REM sang you can probably believe that the sun shone in Burnley and the Clarets signed Gazza but I'm still having trouble getting my head around that last one.