We battled for over an hour with ten men after Kieran Trippier had ridiculously been sent off and even went in from with a superb finish from Charlie Austin, but an 88th minute equaliser was followed by a 97th minute winner for the home side.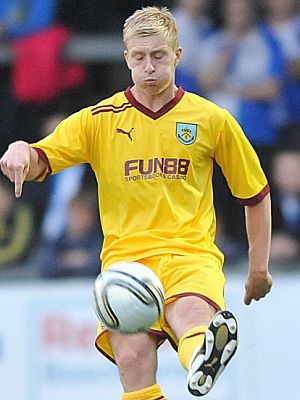 Ben Mee was outstanding in the centre of defence
To say it was hard to take is an understatement. This is the seventh time we've conceded costly late goals in games this season. Two of them, in the Carling Cup against Burton Albion and Barnet did no more than force is into extra time but they've also brought about league defeats against Reading, Birmingham, Portsmouth and now twice against Leeds.
This really was the most difficult of them to accept. I recall checking the time as Leeds won yet another corner. We were well past 87 minutes by then and I was just beginning to think we might get all three points.
When that corner came over it was turned into his own net by Jay Rodriguez (and not Brian Easton who has officially been credited by the Press Association with an own goal) and suddenly we were having to settle for a draw.
The board went up for five extra minutes and as we went into the sixth (not the seventh as recorded) Leeds won it with a gift. You'd have thought they'd won the league title with the way they celebrated but in truth this Leeds team is not a good one and Bates' requirement of Premier League football next season they are going to fail.
Leeds' boss Simon Grayson had promised changes having lost 4-1 two days previously at Barnsley whilst our team selection was hit by illness. I'd expected Charlie Austin and Junior Stanislas would come in to the reckoning, potentially for Martin Paterson and Keith Treacy and thought Marvin Bartley might win a recall.
Austin and Stanislas were both in there but there was no sign of Paterson, Treacy or Bartley with both Zavon Hines and Alex MacDonald surprisingly called up to the subs bench. News quickly came through that both Treacy and Bartley were ill whilst Paterson, who was not even on the bench, was being rested.
The game had a scrappy opening but there is no doubt that it was Burnley who came closest to breaking the deadlock. We probably should have done with only a few minutes gone when Austin was played in by Jay Rodriguez but the recalled striker made something of a hash of his shot which went high and wide.
Austin was very much in the thick of the action. He had another deflected effort well saved by home keeper Andy Lonergan and was then involved in an ugly incident just in from the touchline. It was a poor foul by the Leeds player that went totally unpunished by referee Mark Brown.
"Just you watch, he'll get his card out at the first opportunity for a Burnley player," I said in the aftermath of that incident. Brown had already worried me with some of his decisions and he was just about to take centre stage.
The game had never really got going but with the very next foul he yellow carded Kieran Trippier and just a few minutes later repeated the act after delaying for quite some time as the crowd bayed for a red.
Eddie Howe has said he had no problem with the first card and I have to agree with him totally on the second. He didn't think it was a foul and he believed this referee was too easily swayed by the crowd. Trippier had just twice been pulled up for fouls and saw himself sent off
For half an hour we'd looked comfortable but now we were facing a much more difficult afternoon against a Leeds side for whom Andros Townsend on the left was the only player offering anything.
I thought we'd make a quick substitution with Andre Amougou coming on for Stanislas but instead we opted for dropping Ross Wallace to right back, but we eventually made the change which allowed Amougou to partner Ben Mee in the centre of defence with David Edgar moving to right back.
We needed to get to half time at least without conceding and in truth we did that with no problems whatsoever as we went 4-4-1 with Jay Rod now on the left and Austin the lone striker.
The second half was strangely delayed to allow referee Brown to enjoy the playing of 'Marching on Together'. He seemed to be tapping his feet to it as he waited, waited and waited until it had all ended before decided to get things underway.
In the second half it was very much a defensive operation. Often we even had Austin coming back defending. We went deeper and deeper and the ball just kept on coming back. We weren't really looking to get on the ball but seemed to be inviting them on to us.
We defended well, but we had our fortunate moments as Leeds got ball after ball into our box. We got blocks and challenges in and conceded so many corners you would have needed the scoreboard from Headingley to keep count.
Grant made two outstanding saves to deny the home side and there was an increasing concern that they would get a goal.
Then, out of the blue, the goal came at the other end. Apart from one lung bursting run from Wallace we'd hardly broken into the attacking half of the pitch but suddenly we had men forward. Leeds headed the ball out but Chris McCann won it and headed down for Charlie who finished superbly with a shot into the bottom corner across the helpless Lonergan.
We'd something to defend now and defend we did. It was now virtually one way traffic towards our goal and with just over a quarter of an hour to go we brought on Sam Vokes for a clearly tiring Austin who had worked his socks off.
At times the players of both teams seemed to be congregating in our box and it really was a case of hanging on. We almost did it.
In the 88th minute, with just over two minutes of normal time remaining, Jay Rod turned a right wing corner into his own net. How on earth they've credited it to Easton only PA will know. He was nowhere near it.
It was a heartbreaker. We were so close to a rare Elland Road win and it had been snatched from us right at the death. Sadly, there was worse to come. We got through the first four minutes of stoppage time with no worries. I feared Leeds would have one last chance and they did as the ball fell to Lloyd Sam on the right hand side of the box.
HIs shot was saved by Grant at the expense of a corner with referee Brown astonishingly awarded a goal kick. If that was astonishing it was less so than the nonsensical decision to then yellow card Grant for time wasting.
Leeds came forward one last time and Townsend hit a speculative shot from outside area. It was straight at Grant but he spilled it and Ross McCormack was first there to tap the ball into the empty net.
Grant had played well but this was a horrible mistake and it had cost us. We were incredibly coming home with nothing after a fantastic rearguard action.
We'd battled so well and for so long against the odds and deserved far more than that but I suppose in the end there is little you can do when facing a referee hell bent on ruining the game. Was the game too big for him? I'd say that would be letting this incompetent official off lightly and he was incompetent at best.
As for our players. They were heroes, the lot of them. They gave us absolutely everything as we battled to get something out of the game and in some ways it would be unfair to single any of them out. However, I have to offer special praise for the two central defenders, Amougou and my man of the match Mee.
The only good news to come out of it is that Trippier won't miss a league game with his one match suspension forcing him out of next week's cup tie at Norwich.
Brown left the field yesterday with a smile on his face. He won't be worried. He'll probably think he's done well and he'll be there again next week refereeing another game.
As for Burnley, had we just hung on we would now be sat in a play off position. It was hard to take, really hard to take.
The teams were;
Leeds: Andy Lonergan, Alex Bruce, Patrick Kisnorbo (Lloyd Sam 17), Darren O'Dea, Aidan White, Andros Townsend, Adam Clayton, Zac Thompson, Danny Pugh, Luciano Becchio (Mikael Forssell 70), Ramon Nunez (Ross McCormack 74). Subs not used: Alex McCarthy, Michael Brown.
Yellow Card: Danny Pugh.
Burnley: Lee Grant, Kieran Trippier, David Edgar, Ben Mee, Brian Easton, Ross Wallace, Dean Marney, Chris McCann, Junior Stanislas (Andre Amougou 36), Charlie Austin (Sam Vokes 74), Jay Rodriguez. Subs not used: Jon Stewart, Zavon Hines, Alex MacDonald.
Yellow Cards: Kieran Trippier, David Edgar, Ben Mee, Lee Grant.
Red Card: Kieran Trippier.
Referee: Mark Brown (East Yorkshire).
Attendance: 27,295 (including 1,601 Clarets).