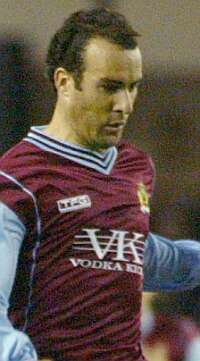 Graham Branch - back in at the back, the only change after Preston
It seems it doesn't matter if the players play badly or if the manager and his coaching staff select the wrong players or don't get it organised at the back. It is apparently all because Barry Kilby won't put money in.
There is no doubt that we are in serious trouble here and could well be facing a relegation fight and I am sure that the Chairman and his directors have made some horrendous mistakes that have cost the club very badly indeed.
But to suggest he won't put money in or won't put enough in is nothing other than a complete joke. If you really think that then I suggest you take a long close look at Burnley Football Club because you simply do not have a clue what is going on.
It was another defeat though and it was another defensive shambles that brought it about. Incredibly most of the culprits from last week kept their places and the only one to miss out was David May who was replaced not by Mark McGregor nor by Jay McEveley but by Graham Branch who returned to the centre of defence for the first time since the heavy defeat at Ipswich. Other than that it was the same side that had conceded five at Deepdale six days earlier.
We got the best of the conditions in the first half with the strong wind and driving rain behind out backs and took the game to Crewe from the off and could have been in the lead in the opening exchanges as Richard Chaplow got on the end of a ball in from Glen Little with just three minutes gone.
Crewe keeper Clayton Ince made a superb reflex save to keep out Chappy's effort and he was back in the action again as the ball rebounded off him to Glen whose shot from 20 yards was tipped over.
We were being put under no pressure at all as wave after wave of Burnley attack kept the Crewe defenders alert and Ince had plenty to do as shots were fired in from all angles.
Glen had started on the left wing but his afternoon was to be a short one and he was substituted after just fifteen minutes after picking up yet another hamstring problem. Luke Chadwick replaced him in a straight swap.
It is somewhat difficult to work out just how we didn't manage to get in front at some stage during that first half and Ince was probably the busiest player on the pitch as he made saves from virtually every Burnley player on the pitch – and that with never once giving the impression he might be capable of actually catching the ball.
But he is agile and he did stop them and with his defenders all playing well they were able to keep it at 0-0. There were scrambles, last ditch tackles, badly hit shots but most of the goal bound efforts were from long range.
"We are going to go in level at half time," said one disappointed supporter that we hadn't been able to break them down but we weren't even to have that luxury. Just eight minutes before the break Crewe won a corner and when Arthur made a complete mess of the clearance it was left for Dean Ashton to hit the ball into the bottom corner.
It should have been difficult to believe but not any longer, the one thing you can always guarantee is that we will give goals away. And it was the only goal of the half and the Clarets left the field to a chorus of boos as the half time whistle blew.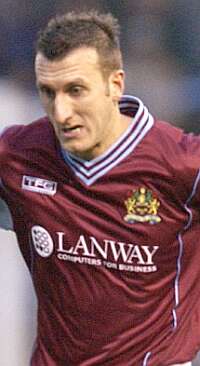 Glen Little - off after just 16 minutes with another hamstring injury
It was going to be more difficult in the second half with the conditions and so it proved. Although we had much of the possession again there was never anything like the sustained pressure of the first half.
But if we thought it was going to be difficult pulling a goal back it became doubly difficult with a trademark Burnley concede just ten minutes in. I'm sure there cannot be a side in the league that can give goals away as bad as this as often as we do.
This was one for the scrapbook and although some will say it was a misunderstanding between our two central defenders I am going to put this one down to Graham Branch, with defenders aplenty I wonder just what he is doing leading our side from the back.
Somehow the ball managed to bounce off both of them in the end it left Steve Jones with a free shot on goal as Arthur appeared to have a tantrum and Branchy just once again buried his head into his hands.
Something had to be done and so it was as Stan decided to introduce more defenders. With Chadwick already on he was left with three defensive subs and the unusable O'Neill and so up stepped Jay McEveley.
There was a stunned silence initially from the big Burnley following when the number 20 was held up signalling the end of the game for Chaplow but that soon turned to a chorus of boos.
McEveley went to left back with Mo Camara moving forward but it made little difference and so we brought on another defender, this time Mark McGregor for Dean West. What initially looked like full-back for full-back was nothing of the kind as we went to three at the back (McGregor, Gnohere and Camara who was back from his short midfield duties). McEveley went on the left wing and Branch up front.
We did get a couple of shots in and continued to push forward but never threatened to get back into the game. And we wouldn't but for a needless challenge by Tonkin on Chadwick that earned us a penalty with just 90 seconds of normal time remaining.
Robbie is back on form with the spot kicks and made no mistake. With the fourth official set to indicate and extra two minutes and Burnley ready to throw everything forward could there be another goal?
Of course there could, there's always chance of that when we are defending. A long ball forward, an appalling attempt at playing an offside trap and Steve Jones was through one-on-one with Jensen. He made no mistake and it was 3-1 and then the nonsense started in the away stand.
We are now perilously close to the relegation places, just four points from them. And with the way we defend anything is possible. Nothing has changed from last season and 46 goals conceded in 25 games tells its own sorry story.
We are giving ourselves a mountain to climb too often in games simply because we are incapable of keeping clean sheets and continue to give away the most ridiculous of goals.
We were beaten at Preston less than a week ago when we were much the better side, today we have learned nothing and gone and done it again against a Crewe side that must wonder just how on earth they got this Boxing Day present.
I'm worried, extremely worried as I look at the league table but I'll stand my corner against anyone that chooses to point the finger of blame at the Chairman. Unless of course it was he who demanded that his money was spent on this current set of defenders.
We really must get back to winning ways, we have to start collecting points again. Now down with the Watfords and the Palaces we must not be fooled into thinking that it is going to be easy staying in Division One.
But we can make it easier for ourselves over the next few weeks by tightening it up at the back and giving our forward players a chance.
As someone said though, "We never win away on Boxing Day". That's not strictly true – we did in 1972, and that was the last time.
The teams were,
Crewe: Clayton Ince, Billy Jones, Steve Foster, David Wright, Anthony Tonkin, Luke Varney (Gary Roberts 83), Michael Higdon, Kenny Lunt, Justin Cochrane (James Robinson 56), Steve Jones, Dean Ashton. Subs not used: Ademola Bankole, Paul Edwards, Allan Smart.
Burnley: Brian Jensen, Dean West (Mark McGregor 71), Graham Branch, Arthur Gnohere, Mo Camara, Paul Weller, Richard Chaplow (Jay McEveley 59), Tony Grant, Glen Little (Luke Chadwick 16), Robbie Blake, Ian Moore. Subs not used: Lee Roche, Matt O'Neill.
Referee: Trevor Parkes (Birmingham).