On walking to the ground, the good news was that the recession is over, as there were punters in the James Hargreaves Bathroom Centre and the second hand car lot next to the Golden Fish. Never mind the psychobabble from the simply odd Robert Peston this is the real measure of consumer confidence.
Once inside the ground it became clear that there was a very poor turn out of Noddy Holder lookalikes in the away end, I would gauge about 600 to 700 which was surprising given their decent start and good record at the Turf. There's always been an affinity between the two clubs recently, as we have followed similar paths since the mid eighties, their fans are always welcome on our message board particularly the delectable ladywolflaura, however all Clarets were keen to put one over on them and give the new manager the best possible start.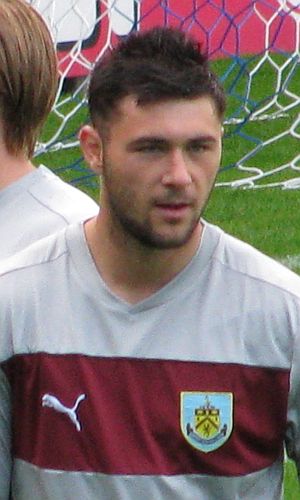 Three half game drought over for Charlie Austin
After the fantastic "Times Like These" video, the teams strode out with our spearhead Charlie carrying his baby boy who was proudly wearing a Clarets shirt with Daddy 23 on his back. It seems that he's a chip off the old block as he didn't want to leave the pitch and so had to be carried off in floods of tears. As it turned out I'm sure that Baby Austin would also have caused Christophe Berra a few problems judging by his ineptitude in the following 90 minutes. His Dad is in terrific form and Stale Solbakken was mindful of his threat pre match warning his players not to allow our construction expert any room in the box. There's no doubt that he's the best ex builder seen in Claret, since the one time Sunderland hero Gary Trowell pitched up at Turf Moor.
First up though was a minute silence whilst the Last Post played in memory of the fallen and the Claret legend John Connelly, as usual, this was impeccably observed with 7 members of our 59-60 side standing on the touchline along with our board of Directors.
There were a few surprises in the first Dyche line up with David Edgar playing in midfield and Pato taking up a wide left berth, Wolves meanwhile opted for a four four two with Kevin Doyle and Sylvan Ebanks-Blake forming a worrying front two. It was my first view of the scary Stale Solbakken who very much reminded me of the Star Trek monster Balok who gave me the fright of my life as a kid when Spock put him on visual on the bridge. A huge white head with staring eyes (google it and you'll see what I mean). I can't see any circumstances where he will be the page 7 fella in the Tipton W.I monthly newsletter.
It's fair to say that both sides made a circumspect start with both teams keeping their shape, it was noticeable that Edgar was lying deep alongside Stock in front of the back four with Dean Marney operating in and around Charlie with instructions to quickly close down the Wolves back line, whoever scouted Wolves for us, had it bang on as their distribution from defence was woeful.
From my vantage point in the Bob Lord I mentioned to my wife Karen that Pato hadn't been involved and that it wasn't working for us, cue Ben Mee who immediately produced a Dan Maskell to send Pato haring clear of the floundering Kevin Foley to thrash a left footed angled drive through Ikeme into the corner, it was a really top drawer ball from Mee. Kevin Foley had a first half not seen since Chris Gunter put in one of his many shockers at our gaff, evidenced by him later being robbed by Marney who took the ball too close to Ikeme who blocked his effort.
I was now expecting Wolves to escape their lethargy and pose a threat but it simply didn't materialise, mainly due to our lads diligently sticking to their prescribed jobs. Ben Mee was keeping the wannabe gangsta rapper Jermaine Pennant quiet who spent the afternoon planning his 98th tattoo. This panto villain got some serious grief from the Longside Lower as Wolves were booting towards the Cricket Field stand in the first half, the only danger man appeared to be the excellent Bakary Sako who flashed a right footer hard and low across goal just before the break which just eluded the on rushing Ebanks-Blake.
So half time and ready for the Golden Gamble where yet another meal for two at the Rose and Bowl disappeared into the ether and so attention turned to Bertie Bee hammering Wolfie the Wolves mascot over an assault course. Wolves appeared for the second half and visibly upped the tempo as the Star Trek chap had obviously given them a half time dressing down, the real question was, could the Clarets cling on to the lead ? Well it got better as we rode out an early bout of possession to force our only corner of the game. Wallace took an outswinger which found the Burnley astronaut in space once again, to rocket a header into the bottom corner to the keeper's right. The drought of 3 long halves without scoring was over for our goal scoring phenomenon who is ripping this division to pieces and worryingly for other Championship outfits he's still improving, what a player !
Wolves continued to huff and puff and only a piledriver from Sako which thumped off the post and rebounded to Ebanks-Blake who promptly fell over the ball had us worried. It was to be Charlie who missed the next golden chance as he had loads of room 12 yards out but stroked his shot too close to the keeper. The standard of Wolves passing from the back was best exemplified by Christophe Berra who rivalled Ibrahima Sonko's "display" of passing for Reading, simply awful.
The Wolves fans knew the game was up and started singing about wanting to go home and that Burnley was a sh….hole, of course this is understandable when you live in an area of such stunning beauty as Wolverhampton, a world heritage site, tourist trap and Venice of the Midlands.
After 7 minutes added time for an injury delay for Ross Wallace who was unfortunately stretchered off, the ref handed our Ginger hero his first three points and we all went off to enjoy our Saturday night whilst the Wolves fans sang Take me back ome. The marketing men at Turf Moor missed a trick by not prompting a mass um-ba-ba after the game by playing Malcolm McClaren's superb "Double Dyche" but maybe next time eh ?