They were the real positives; a goal for Charlie within a minute of his return to action from a hamstring injury and that late surge that got us one goal and almost a winner, but the football proved, overall, to be disappointing on what was a shocking playing surface.
What looked, for over half the game, as though it was going to be a third successive away win finally ended with us relieved to get that point but there is no doubt that we will have to play better than this if we are to push ourselves any closer to the top six.
The news ahead of kick off was that Charlie was straight back in. He hadn't played at all since coming off early in the home defeat against Leicester on the last Saturday of 2012. Also back was Michael Duff. He's missed the last two games but got an instant recall. David Edgar and Sam Vokes were the players to miss out and both took places on the bench.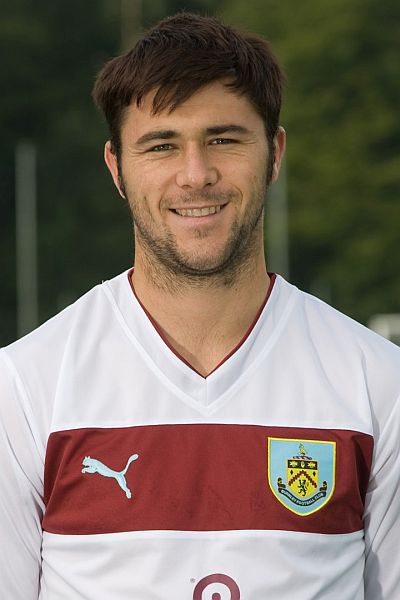 A first minute goal for Charlie Austin on his return
Someone suggested to me that we hadn't been playing Charlie so as to put off potential bids. "It's not hard to believe," he said and he was surprised to hear me reply: "It's impossible to believe." You would have to seriously question anyone who intentionally left out one of the division's best strikers for five games just to put off potential bidders.
Charlie was back and celebrated his return with a goal on just 55 seconds. Ross Wallace floated a cross in from the right but it was all about Charlie's movement as he got in front of the defender before finishing expertly right in front of the Burnley contingent who were enjoying the rare opportunity to stand.
It was just the start we wanted but if anyone thought it was the beginning of a classic then they were to be very disappointed. It was soon evident that players of both sides were having problems with the pitch. Passing the ball with any accuracy was proving to be somewhat difficult yet that was easy compared with trying to bring the ball under control.
We were the better side. We rarely looked troubled although we didn't, unfortunately, cause the Peterborough defence enough problems. When the home side did offer any threat it was usually via Lee Tomlin who is hardly the slimmest player in the Championship.
I suspect most managers would shudder at the site of a professional footballer who looks as though he's been involved in a few pie eating competitions but he is a favourite at London Road.
The half time lead was fully deserved although had we managed to get a second goal I'm sure we'd have gone in at half time with the game all be wrapped up.
With the players safely back in the dressing room and the substitutes warming up, we were treated to one of the better moments of the afternoon as the Peterborough mascot got himself into a bit of trouble.
I've seen all different kinds of wildlife when it comes to football mascots, from our own Bertie Bee to that annoying duck just down the M65, but this was a walking mattress that clashed, and I use the term clashed very carefully indeed, with a Beast.
The Beast was goalkeeper Brian Jensen who tackled the mattress leaving it down on the ground. Brian Stock, the closest player to it was helpless with laughter as the mascot was unable to get up.
A few weeks ago, in innocence, I'd have described it as a Stuart Hall moment (i.e. It's a Knock Out) and eventually the mattress was rescued by stewards who helped it back to its feet. It disappeared up the players tunnel quicker than you could say 'Time for bed'.
With the entertainment over, the players returned and the game changed completely from what we'd seen in the first half. Peterborough, now attacking the Southport beach end (plenty of sand but no water) got themselves right back into the game.
Lee Grant was forced into what was probably his first real save and then they flashed a couple of shots wide of the post. Things went worse too less than ten minutes in when Duff was forced off with a calf strain.
Peterborough themselves made a double substitution. On came Nathaniel Mendez-Laing, who had caused us problems at the Turf, and debutant Alex Pritchard and they helped them to turn the game on its head with two goals in four minutes, and both from full back Tommy Rowe.
The first came after a scramble in the box following a right wing corner. The ball smashed against one Posh player and landed for Rowe to hit home. Four minutes later he got on the end of a ball after Edgar had slipped and now, instead of looking at three points, we found ourselves staring at a defeat.
There was no instant comeback and for much of the remaining 20 minutes or so we didn't really offer too much. Sam Vokes had come on just before the goal and we made our third change just a few minutes later with Martin Paterson coming on for Austin.
We were in the ascendancy but a goal really didn't look as though it was on its way, that was until five minutes from time when we did draw level.
Danny Lafferty and Chris McCann linked up well down the left flank which ended when Lafferty played a ball through two defenders for McCann. The midfielder got into the box, came in almost on the line and played the ball across low for Paterson to hit home from just a few feet out.
Roared on by not far short of 1,000 fans, Burnley pushed for a winner. Five minutes of time was added and it was mostly Burnley going forward, and we so, so nearly won it.
In the fourth of those added minutes we won a free kick down the left for a foul on Junior Stanislas. He took the free kick himself and it was a peach of a ball in. Paterson got to it and for all the world looked as though he'd headed the winner. That was until Bobby Olejnik just got to it to make a superb save at the expense of a corner.
There was just time to take the corner but it came to nothing and referee Andy D'Urso, who restored everyone's faith in refereeing after the nonsense of last week, brought it to an end.
After a run of three successive wins we've now picked up just one point from two games against teams a lot lower than us in the league. It's not the sort of return that is going to edge us too much closer to the top six although we are placed exactly where we were before the Birmingham game, in seventh place and four points behind sixth.
It's going to be very difficult to get in there, and if we are to then we must start winning games like these. In the end, a draw was a disappointing result from a disappointing game of football.
One positive; having watched that yesterday it makes you thankful for the playing surface we now have at Turf Moor. It took me back to this time three years ago when we faced the likes of Stoke, Wolves and Blackburn on a Turf Moor pitch that was in a big mess.
We're on our travels again next week, but just down the road to Bolton this time. For some reason this doesn't seem to be as big a game as it was at the start of the season. Now that augurs well.
The teams were;
Peterborough: Bobby Olejnik, Michael Bostwick, Gabriel Zakuani, Nathaniel Knight-Percival (Alex Pritchard 55), Mark Little, Grant McCann, Joe Newell (Nathaniel Mendez-Laing 55), Tommy Rowe, Lee Tomlin (Jack Payne), George Boyd, Dwight Gayle. Subs not used: Joe Day, Shaun Brisley, Davide Petrucci, Jaani Gordon-Hutton.
Burnley: Lee Grant, Kieran Trippier, Michael Duff (David Edgar 54), Jason Shackell, Danny Lafferty, Dean Marney, Chris McCann, Ross Wallace (Sam Vokes 68), Danny Ings, Junior Stanislas, Charlie Austin (Martin Paterson 73). Subs not used: Brian Jensen, Luke O'Neill, Brian Stock, Keith Treacy.
Yellow Cards: Kieran Trippier, Jason Shackell.
Referee: Andy D'Urso (Billericay).
Attendance: 6,648 (including 956 Clarets).