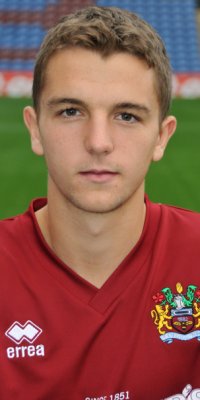 Jay Rodriguez - 120th minute winner
It crowned what had been his best performance yet for the first team, after coming on as a second half substitute for Robbie Blake, and there's no doubt on this sort of form he'll soon be a regular member of the first team squad.
The goal, in the last minute of extra time, gave us the win we deserved in a cup tie that never reached any heights, but it finally got us that first win since the 2-1 victory over Bristol City on the Saturday before Christmas and ended a run of five games since that had earned us just the draw in the original tie.
Turf Moor was obviously not the place to be, only 3,760 turned up and looking back I think that could have been the second smallest attendance we've ever had for a home FA Cup tie. One definitely lower was the 3-0 defeat against Rotherham in the 1997/98 season but that was shown live on Sky.
Just before getting into the ground the team news reached us. Clarke Carlisle was in for the suspended Michael Duff and Robbie Blake was on the bench with Steven Thompson coming in. But it wasn't the case in the end with Blake playing after Martin Paterson pulled up in the warm up.
Adam Kay came onto the bench at the last minute to ensure we had seven there, but again there was no sign of Dutchman Remco van der Schaaf.
The formation was more like that at Spurs, with Joey playing in the holding role behind Wade Elliott and Chris McCann and Chris Eagles back out on the right hand side.
I'm not sure what can be said about the first half. It was hardly attention grabbing football. We looked like a side that had gone five games without a win with its confidence shot at whilst I'm not too sure how much intention QPR had of winning the game.
There was further bad news with McCann forced off after twenty minutes, and it was his replacement Alan Mahon who had the best effort of the half with an angled shot that Radek Cerny got down to well enough to save.
All in all it was pretty dire stuff but I suppose at least, with the change in the weather, we weren't sat there frozen watching it.
We did try to step it up in the second half, although in fairness we still didn't looked as though we might score. Then it all went wrong when a mistake from Mahon let in QPR and the most inept of strikers Samuel Di Carmine gave the visitors the lead.
Manager Owen Coyle had a real go at the assistant over the goal, but I'm not sure why. Having said that he'd got little right all night and there was even worse to come from him.
I'd suspected this could be a game where one goal would win it, and not for the first time this season we found ourselves 1-0 down. And it could have been worse two minutes later. This time Elliott made the mistake but this time they hit the shot onto the bar.
Had that gone in I don't think there would have been any return, but it didn't and just a few minutes later we were level. The ball dropped for Joey on the edge of the QPR box and he hit a shot goalwards. It looked a goal all the way but was blocked on the line. Thompson picked up the rebound and cleverly lifted the ball and in it went off the underside of the bar.
As I got up to celebrate I spotted the assistant's flag go up (not the one mentioned above) and thought he'd disallowed it. But the flag was to confirm to referee Colin Webster that the ball had crossed the line.
To be fair the game lifted after that although in the next action we got yet another suspension when captain Steven Caldwell was yellow carded for pulling back his opponent. No complaints, as Caldwell picked up a sixth yellow card of the season.
We'd seen little evidence of any goal attempts until the two goals but it all changed. Thompson had a header just wide and for QPR Martin Rowlands broke through with time running out only to blaze over the bar.
Then, in the very last minute, I thought we'd won it. Coyle had brought on both Jay Rodriguez and Alex MacDonald, and it was Macca who had a shot that was turned in by Eagles. The celebration lasted all of two seconds before the flag went up for offside and that meant extra time. Just what our squad needed.
Burnley at this stage would have been thankful though having gone behind whilst QPR must have wondered how on earth they were still in the game given the level of their performance.
The first half of extra time saw us play the same way as we'd done in the second half, towards the cricket field stand. MacDonald had a shot at goal that was routine for Cerny but the heat stopping moment came just before the break when QPR had the ball in the net.
Rowlands looked to be yards offside when he run clear but as he got onto the ball there was no flag from the inept official. Coyle was already incensed but Rowlands was allowed to go on and he made absolutely no mistake with an emphatic finish.
The ball had already hit the net, the QPR players were celebrating, then out of the blue up went the flag for offside. I suppose at the end of the day he got it right, but it really was shocking how late the decision was. Coyle had yet another go at him for the decision, the QPR bench went barmy and even the fourth official decided it was time for a word with him.
All level at half time, fifteen minutes to go. Eagles should have won it but blazed over and then out of the blue QPR could so easily have won it. Full back Damien Delaney's shot took a wicked deflection that left Brian Jensen with no chance. Long before the ball hit the net I realised we were probably going out of the cup.
Now you will need to ask the Beast just how he got to it because I certainly have no idea. It really was an astonishing save. Not only did he get to it he even kept it in play. With the ball cleared and Burnley on the attack the crowd were still on their feet chanting 'Beast'. Absolutely amazing save, as good as anything I've ever seen. He hadn't had much to do for most of the night, one decent save and then that. I hope to see it again to try and work out just how on earth he saved it.
And how vital it was. By now we were discussing who would be taking the penalties. Alexander, Mahon and Eagles obviously who had all scored at Chelsea, but who else? Would Wade take one again. We'd also decided they would be taken at the Jimmy Mac End.
Then, with the fourth official set to tell us there was to be one extra minute in stepped Jay. He latched onto a ball over the defence and there he was one-on-one with Cerny. He made no mistake, putting the ball into the bottom corner and then going straight to Ade Akinbiyi on the touchline to celebrate.
He's making a habit of this in cup ties and how he deserved it last night. He was on for some fifty minutes or so because of the extra time and make no mistake he played ever so well during that fifty minutes. Even without the goal I would have been praising his contribution.
This time there was no Fulham manager coming up with some excuse that a defender had slipped, another excellent finish from the young striker who is beginning to look like a first team player.
He doesn't get my man of the match vote though. That was between three players, the two full backs and Thompson. They for me were our best players by some distance. The sponsors went for Stephen Jordan and I can't do anything but agree with them. It was another outstanding performance from the left back.
Overall though it wasn't the best of performances. I did think we got better as the game went on. But what Burnley needed more than anything else to lift the confidence was a win, and that's exactly what we got.
Despite having had to play for another two hours whilst Preston have had a rest in midweek it does mean we go to Deepdale with more confidence than we might have done. And of course it means we'll be Boing boinging down to the Hawthorns a week on Saturday for a fourth round tie.
Make no mistake, the best team won last night, and the best team by some distance.
The teams were;
Burnley:
Brian Jensen, Graham Alexander, Clarke Carlisle, Steven Caldwell, Stephen Jordan, Joey Gudjonsson (Alex MacDonald 84), Chris Eagles, Wade Elliott, Chris McCann (Alan Mahon 20), Robbie Blake (Jay Rodriguez 69), Steven Thompson. Subs not used: Diego Penny, Christian Kalvenes, Adam Kay, Ade Akinbiyi.
Yellow Cards:
Steven Caldwell, Alan Mahon.
QPR:
Radek Cerny, Fitz Hall, Damion Stewart, Kaspars Gorkss, Damien Delaney, Matteo Alberti, Gavin Mahon (Romone Rose 79), Emmanuel Edesma (Hogan Ephraim 55), Martin Rowlands, Mikele Leigertwood, Samuel Di Carmine (Heidar Helguson 85). Subs not used: Reece Crowther, Peter Ramage, Matthew Connolly, Gary Borrowdale.
Yellow Cards:
Damien Delaney, Matteo Alberti.
Referee:
Colin Webster (Shotley Bridge).
Attendance:
3,760 (three thousand seven hundred and sixty).