I'm not sure, in fact I'm certain, I cannot name the last ground where we won on five successive visits. We are on four at Derby and back in the 1960s, from 1962/63 to 1965/66, we won on all four occasions against Blackburn at Ewood Park.
I firmly believe in this horses for courses nonsense, the one that saw Leicester win yet again at Burnley and the one that has seen us record wins at two of our favourite grounds this season, the other being Stoke's Britannia Stadium.
Yesterday's came via a long awaited Ings goal. He hasn't found the net since we went to Man United in February. He's come in for some unacceptable criticism from some quarters, even some supporters suggesting he wasn't trying. My take is that he's been trying too hard as the frustration levels grew. He's always said he plays best with a smile on his face but that smile has recently been replaced with a frown born out of the ever growing frustration at not getting a goal.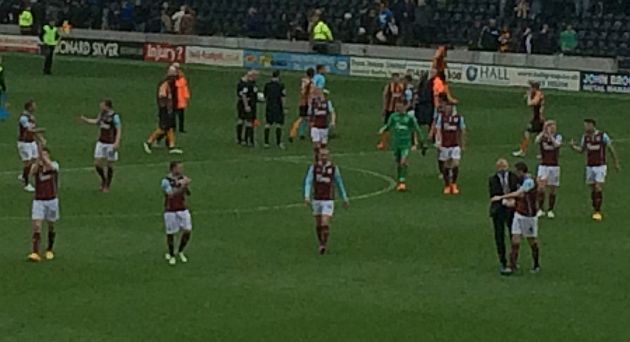 Sean Dyche and the players salute the fans after the final whistle
It pin balled a bit in the box following a left wing corner but when George Boyd got to the line and pulled it back for Ben Mee, the left back's cross was headed by one Hull player, touched by another and into the path of Ings who turned well, hit home a left foot shot past Steve Harper before gleefully running over, along with some of his team mates, towards the Burnley fans in the corner who were loving every second of it.
On the far touchline, Michael Kightly was executing his own celebratory dance as he stood waiting to come on, presumably for Matt Taylor, whilst an extremely annoyed Michael Dawson was pointing fingers in vain at those who had kept him off the pitch.
It was saddening to hear afterwards from some media that the only reason we scored was because he was off the pitch. On BBC radio, they were blaming referee Martin Atkinson for getting it wrong. I suppose being Atkinson, we could have described it as Minute 62.
But they haven't seen the truth. Dawson was bleeding from the nose and there was blood on his shirt. He messed about, clearly reluctant to leave the field until a replacement shirt had been found. He was time wasting and Atkinson was far too patient before finally deciding the game had to continue. Dawson was fortunate not to be given a yellow card.
Interestingly, once the goal has been scored, he is not stood on the touchline waiting to come on. He still has no replacement shirt on because he was still actually receiving treatment.
I was delighted to be there to witness it because there were times during the morning when I wasn't certain I'd get there.
Just before leaving home to get the X43 for my car pick up in Prestwich, I spotted a thread on the message board from Leisure who was telling us that the M62 was closed between junctions 22 and 24 due to an accident.
Once on the bus, the usual text to confirm I was on time was replaced with a phone call to discuss options. Because of the pick ups, we went via the M60, M67, Woodhead Pass, M1, M18 and finally onto the M62.
Thankfully, it was fairly plain sailing all the way although the traffic over Woodhead travelling in the opposite direction, some of it trying to carry Sunderland fans to Everton, was horrendous. Many Sunderland fans didn't make it.
As for Burnley fans; I hope no one missed out on getting there although there were a lot of late arrivals. We were finally parked up just after two. Due to being later than expected we parked in the park and ride; the problem then being the bus journey, past Boothferry Park, another decent ground for us, to the KC.
But I was in my seat (that's the thing you stand in front of for ninety minutes) in good time; in fact the first of our group of seven to arrive, some of whom always try to be as late as possible and others who realised that a flat tyre can cause a delay.
We all arrived to some familiar news; it was the same team as had started the previous game. There were changes on the bench though; no Steven Reid, Ross Wallace or Marvin Sordell. They were replaced by Stephen Ward, Fredrick Ulvestad and Sam Vokes.
At kick off, both of the teams were in need of the points to try and avoid the drop. For Burnley, however, it had, for me, gone beyond the desperate position. I know three wins from the last three games would give us a chance but I had resigned myself to relegation by the time the final whistle blew to signal defeat against Leicester two weeks ago.
That being the case I was fairly relaxed ahead of kick off. I'd sort of dismissed interest in Sunderland's 2-0 win at Everton and, to be honest, the atmosphere in the away end in general was like that.
It was the Hull fans who needed to be nervous. That Sunderland win had seen them drop into the bottom three but they were hoping it would be just for a couple of hours more.
There were just over ten minutes gone when I received a text from a friend who was unable to be at the game and was also unable to keep up with the game from where he was. "How are we playing"" he asked with just over ten minutes gone.
I told him that it had been a nervous start with little happening for either side, but it was Hull who probably stepped things up from there. They tried to get at us down the flanks. Robbie Brady on the left is potentially their most dangerous player and with Ahmed Elmohadamy coming down the right it was there they hoped to provide the pressure.
But generally we did well in containing them and there was little, if anything, to concern Tom Heaton too much with probably his biggest worry coming when Jason Shackell headed the ball away from him when it looked an easy catch.
Ashley Barnes forced a save at the other end but the nearest we did come to a first half goal was when Hull won a free kick and dead ball expert Brady hit the bar with Heaton beaten.
Still, it was 0-0 at half time and it had not been one of the best halves of football I'd seen all season. Generally though I thought we certainly looked good enough defensively but at the other end those minutes without a goal were adding up.
Things changed in the second half. Barnes tried an overhead kick that went just wide and was then inches away from getting onto a superb left wing cross from Taylor. I thought Ings had a good shout for a penalty as he came in from the left before going to ground, but nothing was given.
Then came the goal. One section of the ground, the corner housing the Burnley fans, erupted. You'd have thought we'd won the league rather than just taken the lead in a game that, by this time, was academic in terms of trying to stay in the league.
It was deserved and we might have had another. When Barnes bundled the ball in you knew Atkinson would give a free kick for a foul on the goalkeeper. It wasn't a foul, but they are always given, and then Hull could have been down to ten men had the free kick been given against Dawson as Ings got the better of him. Nothing was given again but the referee couldn't have had the best of views, but for assistant Child it was an easy decision.
Hull didn't threaten us too much, but they did get another free kick that Brady hit against the bar. Maybe it was our day, and so it proved. Hull didn't offer too much more. We defended well. Dyche got Ward and then Michael Keane on for Taylor and then Ings.
I'd been relaxed for most of the afternoon but when the board went up for four extra minutes I became all nervous. It was merely that I didn't want to let this one slip away and absolutely nothing happened in those four minutes to concern us at all.
Eventually Martin Atkinson, who has refereed all of our three away wins in the Premier League, brought this third one to an end and the away end erupted again.
I saw a photograph showing Sean Dyche applauding the fans with Michael Duff, who wouldn't have played had the fool Jon Moss had his way, Shackell and Keane all with faces like thunder. What's happened I thought, but these lads had just been relegated.
It hardly crossed my mind as the celebrations continued and it was when I was walking away from the ground when it all sunk in. A Hull fan came and shook my hand and said well played. He said that he thought Hull would join us but anyway he hoped we'd be soon back in the Premier League.
So this was the day we went down. At least we went down fighting and produced (or probably I should use the word delivered) another fine performance.
We can't ask any more of our players. Again they had given us absolutely everything and this time nothing went against us, no idiotic red card or anything like that.
We've two more games to enjoy still and I'm going to make sure I enjoy them. I just hope there are no traffic problems on the M6 two weeks today.
It was all bittersweet in the end - a win that actually counted for nothing.
But I'm so pleased we got there, I wouldn't have wanted to miss this latest KC sunshine win.
The teams were;
Hull: Steve Harper, James Chester, Michael Dawson, Paul McShane (Nikica Jelavic 57), Ahmed Elmohamady, Jake Livermore (David Meyler 57), Tom Huddlestone, Stephen Quinn, Robbie Brady, Sone Aluko (Abel Hernandez 66), Dame N'Doye. Subs not used: Allan McGregor, Leroy Rosenior, Alex Bruce, Andrew Robertson.
Burnley: Tom Heaton, Kieran Trippier, Michael Duff, Jason Shackell, Ben Mee, George Boyd, Scott Arfield, David Jones, Matt Taylor (Stephen Ward 76), Danny Ings (Michael Keane 88), Ashley Barnes. Subs not used: Matt Gilks, Fredrik Ulvestad, Michael Kightly, Sam Vokes, Lukas Jutkiewicz.
Yellow Card: Danny Ings.
Referee: Martin Atkinson (Leeds).
Attendance: 24,877.