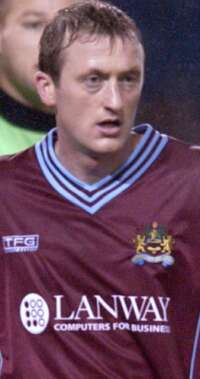 Tony Grant - outstanding performance
I'm sure for the neutral it was an exciting game to watch whilst I'm sure the Preston fans will have gone home happy with their 5-3 win over the Dingles, bragging rights assured at least until the return match at Turf Moor.
But the Burnley fans don't know what to think having seen the Clarets play as well as they have played all season going forward. We simply for long spells outplayed North End yet came away with nothing after the most incredible ninety minutes early this afternoon.
It is pantomime season just now and if the ninety minutes wasn't enough we even had the after match farce of Burnley manager Stan Ternent resigning, being sacked and remaining manager all in the space of a few minutes.
"He's resigned," said one radio station. "Oh no he hasn't," said another. "Oh yes he has," said Sky Sports News. "Oh no he hasn't," said Stan himself.
But never mind that how in heaven's name have we lost in the first place. It's all fairly simple to me, there are players in the side who are simply not good enough. Many people know I am a critic of goalkeeper Brian Jensen. I watched him for a number of games before making up my mind and since I have repeatedly warned that he would cost us dearly. Recently I was asked if I would eat my words when he proved me wrong, I was also told we hadn't seen the best of him yet.
Well after today I am just hoping that Father Christmas brings Stan a new goalkeeper because I do not want to see Jensen in goal when we get to Crewe on Boxing Day, he's a liability.
It would also help if there were two full backs as well in Stan's stocking (preferably one right and one left) because the keeper was hardly given any help at all by the dreadful Fred West and Mo Camara. Eddie Lewis was given so much space to play in by West this afternoon that he could have had his own game whilst Camara proved yet again that he is no defender.
Between them David May had his worst game in a Burnley shirt and that left our best defender Arthur Gnohere fighting something of a losing battle.
Now to the football and how well we played. After a nervy first ten minutes we got a grip on the game at times looking just too good for Preston, so much so that it was something of a shock when we fell behind. It was though a foretaste of what was to come.
Ricardo Fuller beat May just over the half way line. It came after Gould had saved from Richard Chaplow. Fuller then run in a straight line towards our goal before slotting home. The worrying thing is that nobody did anything to try and stop him.
We recovered well though and when another Chaplow shot was saved by the keeper it brought about an equaliser as Ian Moore hit home the rebound. That signalled a period of pressure from the Clarets with the football as good as anything seen all season and it is somewhat difficult to believe that we weren't able to get our noses in front.
Moore, Blake, Little all came close and then Preston defender Michael Jackson got in quickly to rob Chappy just before half time. The interval was spent discussing just how many we might win by so much on top were we but the second half almost turned it into a Throw One In afternoon.
Nothing changed for a while with us still on top with Preston just hoping to catch us on the break. In one Preston attack there appeared to be no problem as Fuller crossed from the right and yet we failed to deal with it and suddenly the home fans were on their feet as the ball squirmed in.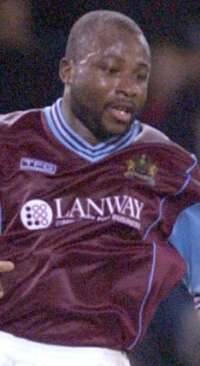 Arthur - our best defender and scored again at Deepdale
They weren't in front long though and Arthur, back where he was crowned King just two years ago, was at it again and got his head onto a Robbie Blake free kick to bring us back level. At this point the home side should have been reduced to ten men with Cresswell, one nasty piece of work, surely deserving a second yellow for the foul.
Now come on Burnley, this has to be won. May heads against the bar, Gould makes a stunning save from Moore and the ball just eludes Chappy as it becomes one way traffic.
But we should no better because all Preston need to do by now is mount an attack, we'll do the rest. And we did and for the third time we found ourselves behind. This time Camara chose to go AWOL and Fuller got his second from a Healy cross. I'm sure I heard the words 'Towneley defending' from our dug out.
It really was incredible, we were still on top and when Blake got into the box he was taken down by Alexander just as he was set to equalise. A clear a penalty you will never see and of course having prevented a goal scoring opportunity Alexander gets a red card. Not quite, in fact as Preston hoof the ball 100 yards up the pitch referee Dean forgets to even talk to the offender.
After some shameful time wasting by Fuller and Gould it is all square again as Robbie makes no mistake from the spot. It's all Burnley now and as the ball is worked in from the right Glen Little is presented with a fantastic chance – it is going to be 4-3. And it is but it takes another 20 seconds and it is at the other end. Glen shoots tamely straight at Gould who clears and again we don't bother to defend.
Surely there's not going to be a fourth comeback. Stan finally takes of the Laurel and Hardy of full back play but has to leave the keeper on (big mistake) because he is going to have one final moment, one as bad as any all season as he just about gives them a fifth.
It's all over now and a result that is hard to believe and hard to take. Blake, Little, Chaplow, Moore have played ever so well. Grant has been outstanding, the man of the match by some distance in my view.
But they have been let down by some horrible performances, really horrible.
News breaks that Stan has resigned, it is met with mixed feeling outside the ground. It is then confirmed that it is nothing other than a rumour, he is going nowhere. But whatever he plans to do he cannot do it with this squad, it quite simply is capable of being relegated and we have to ask if we are prepared to take that risk. Local radio announced that Stan blamed Jensen for four of the goals, he obviously is as impressed with him as I am.
Surely when we line up at Crewe there are going to be some drastic changes made and hopefully that is not just a recycling of the current squad. We need new players in crucial positions or this habit of conceding goals for fun that we have developed over the last few years will go on and on with the inevitable departure at some time from the division we fought so hard to reach.
The teams were,
Preston: Jonathan Gould, Graham Alexander, Michael Jackson, Chris Lucketti, Marlon Broomes, Dixon Etuhu (David Healy 58), Brian O'Neil, Paul McKenna, Eddie Lewis, Richard Cresswell (Pawel Abbott 72), Ricardo Fuller (Claude Davis 90). Subs not used: Andy Lonergan, Michael Keane.
Burnley: Brian Jensen, Dean West (Graham Branch 84), David May, Arthur Gnohere, Mo Camara (Jay McEveley 85), Paul Weller (Luke Chadwick 76), Richard Chaplow, Tony Grant, Glen Little, Robbie Blake, Ian Moore. Subs not used: Lee Roche, Mark McGregor.
Referee: Mike Dean (Wirrall).