Questions about Brighton, under new boss Oscar Garcia, had been asked in increasing terms, an opening day defeat to Derby with a first round exit to Newport in the League Cup had worried fans. An away win at Birmingham had merely stopped a three game losing streak. Was Oscar the man to solve this? How would they cope with only one striker available?
Contrastingly the Clarets had arrived at the game in good form, three straight wins after an opening day draw. Though this would be a test it was one Burnley could be confident in rising to, it would be a game in which either team could make a real statement.
Burnley lined up with a settled back four, in midfield Wallace's injury saw Treacy given a start and Arfield occupying the left flank. Up front Ings looked to drop deeper with Vokes offering a target to vary things up.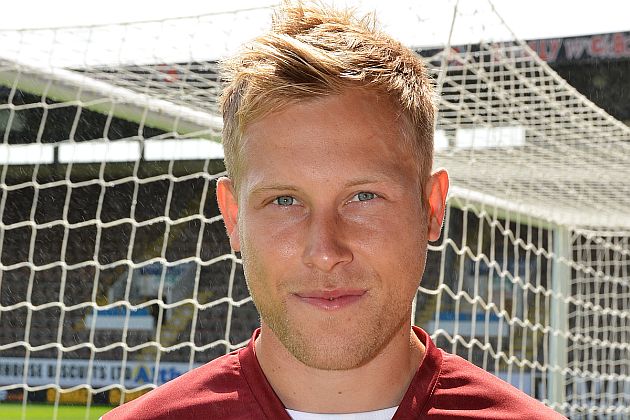 Scott Arfield's early effectiveness evapourated
The opening stages of the game gave optimism for both sides, a mistake by Trippier saw Ulloa scuff his shot whilst a nice move resulted in Ings going close. Ulloa, the large centre forward, looked to operate in the channel between Long and Trippier, winning the ball and looking for Buckley or other supporting midfielders. Our forwards weren't faring as well, Ings was dropping deeper but not found apart from the odd high ball. Vokes looked isolated. Arfield was trying to tuck in and occasionally swapping with Treacy, but the Clarets lacked the fluidity going forward.
That said some joy was being had, a nice shot by Arfield resulted in a series of corners. The first looked for near post, the second a short one which saw Treacy cut inside and shoot. The third (resulting from the effort) an out swinger. It was good to see the variation in set pieces, something that Dyche has obviously been working on and something that Treacy can be used to good effect at.
It wasn't until near the half hour mark that the warning signs started to show. Ulloa had been getting into the game and looking for the ball in the channel between Long and Trippier. Presumably targeting this area was designed to try and pin back Trippier or at least to make him think twice about making runs forward. Long had looked relatively comfortable but this was soon to change when Ulloa robbed Long, broke down the right and squared the ball.
Ironically Ulloa had been on the end of a similar delivery when Burnley had last played at the Amex, Ulloa had blazed it over. Crofts, now arriving in the box, was more clinical and slotted it past Heaton who could do little about it.
This set the tone and Brighton took heart, Ulloa was running the show and in stark contrast to his opposite number, Vokes, who was either getting poor service or simply not being able to get the better of Greer and Upson. The early effectiveness of Treacy and Arfield had evaporated and the central midfield pair of Jones and Marney were not winning the midfield battle. Things were looking ominous.
As half time approached things picked up, finding the feet of Ings was certainly more effective than firing at his head, a series of crosses looked to open up the Brighton defence. Even a Brighton player chipped in, heading a clearance back into the box. Sadly nothing was to come of it. Not to be outdone by a bizarre header Long then contributed his version, a header back to the keeper was way too short. With Buckley looking to profit Heaton ran out of the area and tripped the player. The yellow card seemed controversial, I think most teams would expect a red if it had happened to them. This single yellow would prove significant later on.
Half time arrived and the subs warmed up, earlier on it had been great to see Duff warming up on the sidelines. The Clarets' subs kicked the ball around whilst the Brighton subs did a short-passing session. I'm unsure if we do such a thing at Turf Moor but it was another example of contrasts between the clubs. One club with a new stadium, an ex-England centre back and seemingly vast financial resources. The other a club whose financial status had been the topic of discussion and players injured.
The second half started as the first had ended, Brighton were still targeting the same channel with Ulloa chasing down Long at any opportunity. At the other end Ings was getting into the game, or at least attempting to when not getting kicked. Treacy was trying to cut in on his left and find that top corner, sadly it simply wasn't happening. Even an inventive free kick from Jones (presumably trying to repeat Ernie Hunt's goal from Coventry in 1970) did little to lighten the mood.
Ten minutes into the second half and the Clarets were down to ten men. Heaton had been doing well with short goal kicks and quick passes out to the defence, however, a comedy of errors ensued in which everyone had their part to play. From where I was it was hard to make out but it looked as if Heaton went to throw the ball out to Tripper following a Brighton attack but managed to simply toss it up into the air before catching it again (the Brighton player who was involved apparently admitted later on twitter that it touched him before Heaton caught it). Doubtless the event will be viewable to all and much debated but the referee gave Heaton a second yellow. Off trudged Treacy to be replaced by Cisak.
Burnley shuffled things and Ings dropped into midfield, it would be tough but at 1-0 the game is never safe as many a fan will agree upon. Burnley did show some attacking intent, perhaps more than with 11 men, Brighton brought on Lua Lua to specifically attack the left flank and Ulloa was now happy so sit more in the centre, though Shackell had still left him to be marked by Long.
Ulloa was rewarded for his work with a goal in the 70th minute, Buckley crossed and Ulloa finished with a fine header past the diving Cisak. The last 20 minutes were going to be very tricky for the Clarets and I don't think I was the only one hoping that this wouldn't turn into a rout of sorts. Thankfully the Clarets avoided this fate and the final section of the game was more a keep-ball passing exercise by Brighton with Burnley working hard to ensure the damage stayed at 2-0. Indeed it could have been 2-1 in the dying seconds Vokes finally got a header at goal, only straight at the keeper.
I mentioned contrasts earlier and this final chance was as significant to me as the rest. I'm confident Ulloa would have scored. Vokes was the opposite of his fellow target man, but to be fair he had a solid centre pair marshalling him. I spoke to clarets and Brighton fans after the game, Brighton now hope this can spark their season on. Clarets seemed understandably downbeat and I had a hard job to keep positive on the way home but it's important to keep things in perspective. Next up are PNE at home and I'm confident this result will spur the lads on to a result. UTC.