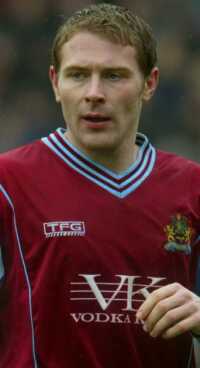 Ian Moore - at his best and another FA Cup goal
The be all and end all for Burnley this afternoon was to win and go through, the right result with the possibility of a money-spinning tie was paramount. It didn't matter how we won it as long as we did win it, a fluke own goal in the last minute after a poor performance would have sufficed.
As it happened we won easily and didn't rely on any fluke at all as we scored three excellent goals that would all be worthy winners of our Goal of The Month vote with surely one of them set to win it.
There was no sign of the excitement to come in the first half-hour and it was as dreary as anything we had seen all season, it is difficult to recall anything really happening of any note. But then it all came alive and how.
We hadn't had an effort on goal but then it all changed right on that half-hour when Mo Camara got in a superb cross from the left that was met by Ian Moore who gave Gills' keeper Bertrand Bossu no chance with his header.
It was so similar to the first goal in the win at Mansfield when Mooro's header came from a Jay McEveley cross.
Gillingham appeared to lose it completely and both Tommy Johnson and Darius Henderson were booked for bad fouls on Glen Little at either end of the pitch. But we must thank Henderson for his foul because it brought to the game a piece of absolute genius.
The free kick was not too far from the right hand corner of the box but Gillingham's wall could do nothing to prevent Robbie Blake hitting the ball round then to score of the inside of the post with the keeper stranded.
I'm sure Robbie must have been watching Bolton v Villa this week because this goal was just like Jay Jay Okocha's stunner. It was just brilliant and lifted the whole ground with the exception of Gillingham's former Blackpool full back John Hills who then decided he was going to try and cause someone a serious injury.
Somehow, and ridiculously, he escaped nothing more than a free kick against him for an assault on Glen Little right on the half way line. Then thirty seconds later crunched straight into the back of Robbie Blake and did become the third Gillingham player to be booked in a five minute spell.
But what can we expect with the nasty Andy Hessenthaler in charge, he seems to encourage it when he's not trying to referee the game.
Gillingham did decide to get men forward and twice Brian Jensen reacted smartly to prevent them getting shots in before Hessenthaler himself should have been the next in the book for a blatant trip on Glen before petulantly trying to pull his shirt off.
There were no more goals in the first half but it came to an end just as Mo and Barry Ashby clashed with Ashby appearing to striker out at the Burnley full back.
The half time whistle blew and finally we got ourselves some exciting half time entertainment courtesy of Stan Ternent. He made a beeline for the referee and was clearly pointing at the touchline where Hills had tried to rip Glen's leg off, the one that had gone unpunished.
The referee got himself back up from his two assistants but Stan was like a dog with a new bone as he gave Laws a piece of his mind. The crowd appeared to be enjoying it and in the end it required two police officers to come onto the pitch to help escort the referee to the tunnel away from the furious Burnley boss.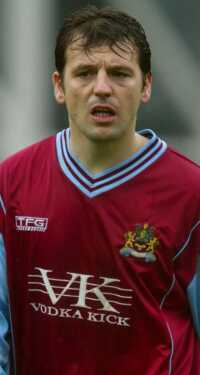 Robbie Blake - two more goals and one of them a stunning free kick
After the interval Stan had to make his way into the directors' box having been sent off by Laws with Sam Ellis now leading the line in the Burnley technical area.
Mooro should have got his second after riding a challenge on the edge of the box but his effort lacked conviction and the keeper was able to save and then Gillingham, for the first time in the game, had a few minutes on top but never looked close to getting through the centre of our defence so well were David May and Mark McGregor playing.
The tie was virtually wrapped up when Blake got his third from close range, a goal that owed so much to the Moores. Alan received the ball in the centre circle and beat his man with ease before playing a delightful ball down the right hand side for Ian. He got past the defended to hit over the perfect cross with Blake doing the rest.
It was time to relax now and dream about who we wanted in the next round but a Gillingham goal soon brought the nerves back. It was a disappointing goal for Jensen who had done nothing wrong all afternoon, he failed to hold a cross and it dropped kindly for Henderson to hit home.
But the visitors never looked as though they might get back into it and they never really troubled us again and if there had been another goal then it would almost certainly have come Burnley's way.
A comfortable win in the end and another appearance in the fifth round for the second season in succession and incredibly that hasn't happened since 1965.
Ian Moore was given the sponsors' Man of the Match award and who am I to argue? This was Mooro at his best and it is difficult to disagree although there were other outstanding candidates. Tony Grant again run the midfield where the returning Richard Chaplow had a disappointing game, David May and Mark McGregor were both in top form at the back and then there was Robbie Blake.
I'll go for Mooro but that wonderful free kick goal almost tipped it Robbie's way even though he stupidly got himself booked that will mean he is suspended when Gillingham next call.
Who cares though? We are through, we are in the last sixteen and we now wait until Monday to find out who we play.
I know the club are desperately short of money and I know a trip to Old Trafford would be of enormous help. I know Barry Kilby will be sat watching the draw on Monday hoping for Manchester United v Burnley. I though would prefer something a bit easier and would not complain if Brian Flynn was bringing his Swansea side to the Turf.
We'll bring you the draw news just as soon as it happens. If you are watching we are ball number 10.
Two cup runs in two years, now all you young supporters will be beginning to understand about the magic of the FA Cup.
Today's teams were,
Burnley: Brian Jensen, Lee Roche, Mark McGregor, David May, Mo Camara, Glen Little, Richard Chaplow, Tony Grant, Alan Moore (Graham Branch 66), Robbie Blake, Ian Moore. Subs not used: Nathan Abbey, Dean West, Arthur Gnohere, Luke Chadwick.
Gillingham: Bertrand Bossu, Nyron Nosworthy, Barry Ashby, Chris Hope, John Hills, Andy Hessenthaler, Paul Smith, Tommy Johnson (Matthew Jarvis 84), Danny Spiller (Leon Johnson 79), Darius Henderson, Alan Pouton (Kevin James 62). Subs not used: Danny Knowles, Andrew Crofts.
Referee: Graham Laws (Whitley Bay).