In the end it was an 11th place finish and perhaps that's appropriate for manager Sean Dyche. He's presided over 33 league games since becoming Burnley manager of which 11 have been won, 11 drawn and 11 lost.
That all ensured we finished the season with one less point than a year ago although that one less point has been enough, in this most ridiculous division, to see us finish the season two places higher.
Yesterday was an afternoon that struggled to lift us from our slumbers in the first half but improved enough after half time to get the crowd going and two goals, the first from substitute Junior Stanislas and the late second from Martin Paterson, gave us the win that lifted us into the top half and, of course, ensured we came out as Lancashire's top team.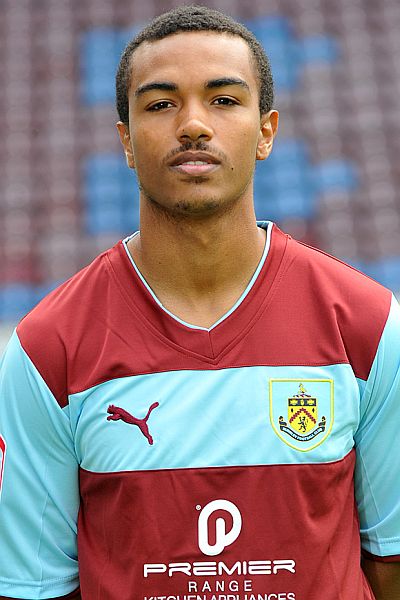 Game changed when Junior Stanislas came on and gave us the lead
Stanislas started it with a 25-yard shot just a few minutes after he'd replaced the disappointing Brian Stock. From my vantage point it looked a superb finish. From the other side of the ground it was evident there had been a deflection and Junior himself said of the goal: "I just hit it and it got a big deflection that took it past the 'keeper, but I'll take it, they all count."
You should have kept quiet Junior, half of the crowd thought you'd scored a worldy.
The second, three minutes from half time, was a close range header from Paterson, turning in an on target effort from Danny Lafferty that would almost certainly have been cleared off the line. It was a goal that then allowed Dyche to give Luke O'Neill a league debut and make one other substitution to allow Brian Jensen to come on with the BEAST chant ringing round the ground.
It was all played in front of a crowd of almost 13,000 in an atmosphere that was far removed from the goings on at a number of Championship grounds.
We'd made two changes to the team that had won so well at Wolves, both of them forced on us. Kevin Long returned for the suspended Michael Duff and David Edgar's place in midfield was taken by Brian Stock as Dyche looked to continue with the formula that had helped us get that late point against Cardiff and take all three points at Molineux.
With Joseph Mills not included on the bench it gave an opportunity for two of our younger players, Steven Hewitt and Cameron Howieson to be named, both having just returned after loans.
Much of the first half was how you would imagine it to be, an end of season game with nothing to play for. It lacked goalmouth incident and had Sky been giving us any stats you would have found a large percentage of play having been concentrated in the middle third of the pitch.
Most of the interest was coming from elsewhere with news of Championship goals but in front of us there were a couple of headers over the top from Ipswich's Patrick Kisnorbo while at the other end Sam Vokes' header way off target was probably our best effort.
It was dull stuff from both sides but I'd say Ipswich had the edge. However a 0-0 scoreline at half time was a good reflection of what had gone on.
The second half started in similar fashion although both goalkeepers were called on to make routine saves, and I mean routine in the opening minutes. First Lee Grant, and then Scott Loach, from Paterson, saw balls tamely hit straight at them, but at least they were saves and more than they'd been asked to do in the first half.
Then we, the game, got the lift it needed with the first substitution of the afternoon. It saw Stanislas replace the woefully out of touch Stock as the Clarets shifted to a more attacking formation.
He'd been on the pitch for only a few minutes when he opened the scoring. Ipswich conceded possession close to our technical area and the ball was picked up by Chris McCann.
The midfielder played a quick ball to Stanislas who turned, took one more touch before unleashing his shot from 25 yards. It flew into the left hand corner giving Loach no hope of keeping it out. It did look an outstanding strike, and it was, but I was surprised to get early news from the other side of the ground confirming the deflection off a defender.
It changed the game and we were soon on the look out for a second and Paterson all but got it a minute later only to be denied by Loach. The goalkeeper also saved from Vokes before Stanislas tried his luck again, this time firing just over.
Ipswich finally found a response and twice they came close to drawing level. They forced Grant into a couple of saves and were denied another shot at goal after a block inside the penalty box.
But we saw that off and came back at them in the closing minutes. McCann was just wide, Marney might have done better with a pull back and then, as we pressed towards the final whistle we won a corner on the right.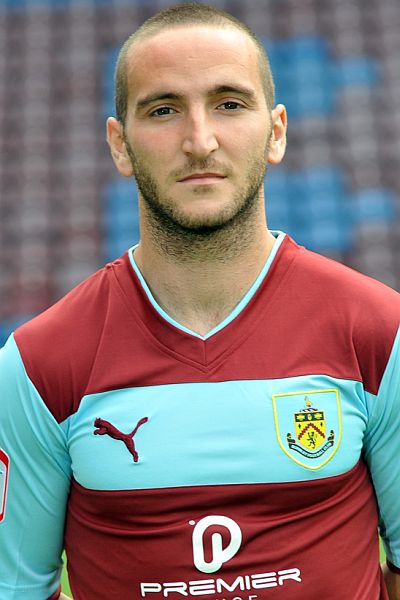 Martin Paterson scored our first and last goals of the season
Ings hit it beyond the far post where Lafferty got up to head goalwards. It looked to be heading straight for the defender on the post but Paterson got onto it just in front of goal and headed it away from the defender and in.
Just about immediately came the sight of Jensen getting ready to come on. First though, O'Neill came on for Kieran Trippier and then the goalkeeper swap. It was Jensen's first league appearance since the last game of last season. The fans even wanted him to go up for a corner in stoppage time but sensibly he stayed on his line and got just one touch of the ball before referee Russell ended it all.
All that was left was the traditional walk around the pitch with the kids joining their dads as has now become norm. It was a bit subdued but went well enough and that was it, another season at an end.
We know there are going to be changes in the summer but by the time I'd got home I'd learned from various fans that Grant had signed for Derby, that Trippier was going to Nottingham Forest, McCann was signing for any number of clubs, Keith Treacy, who was not in the squad again, was returning to Nottingham Forest and Paterson would also be leaving.
Dyche has got some major work to do in the summer if all that speculation is true. Some of it I suspect is absolutely the case, some of it might just be from the world of fiction.
But we can build from a top half finish, from being above Blackburn for the first time since 1980 (or 1979 for those who consider the 1980 one to be somewhat hollow) and with a finish just as it started, with a 2-0 home win.
Paterson started it all off at the Cricket Field End end against Bolton and he ended it all in the same way at the other end, scoring our last goal of the season, although this time with no whinging from Owen Coyle.
It's 13 weeks to the next league game, ten weeks to Cork. I need the break and I'm sure most of us do. It felt good yesterday to go into the game relaxed and it feels good to go into that break with a win.
The teams were;
Burnley: Lee Grant (Brian Jensen 90), Kieran Trippier (Luke O'Neill 89), Kevin Long, Jason Shackell, Danny Lafferty, Brian Stock (Junior Stanislas 54), Dean Marney, Chris McCann, Danny Ings, Martin Paterson, Sam Vokes. Subs not used: Marvin Bartley, Steven Hewitt, Cameron Howieson, Ross Wallace.
Yellow Card: Brian Stock.
Ipswich: Scott Loach, Richard Stearman, Patrick Kisnorbo, Tommy Smith, Tyrone Mings, Carlos Edwards (Elliott Hewitt 80), Liam Hyam, Anthony Wordsworth (Jay Tabb 83), Aaron Cresswell, Frank Nouble (Jack Marriott 61), Daryl Murphy. Subs not used: Arran Lee-Barrett, Luke Chambers, Guirane N'Daw, Lee Martin.
Referee: Mick Russell (Hertfordshire).
Attendance: 12,820.