It was a match where present and past Burnley number 10 wearers were the prominent players. On the pitch Danny Ings and Martin Paterson made the goalscoring headlines in front of a crowd of 14,047 which included Steve Kindon who played for both teams, and which paid tribute to Paul Comstive who sadly passed away this week.
Going into the game Burnley held the last remaining unbeaten home record in the division, and only having won 2 of their last 10 games home and away. At the same time only 2 of those had been lost, but after the red-hot form and fluent football of earlier in the season recently it had felt like we'd lost a little of our momentum, whilst still proving very resilient and difficult to beat. Huddersfield came into the game unbeaten in the last 3, and on the back of a 5-1 thrashing of Yeovil. They'd only scored 9 goals in 11 games away from home all season, but also only conceded 11. Having won their last 3 meetings against us, and with that unbeaten Burnley home record to threaten, they came into the game feeling it was a good time to cause another upset.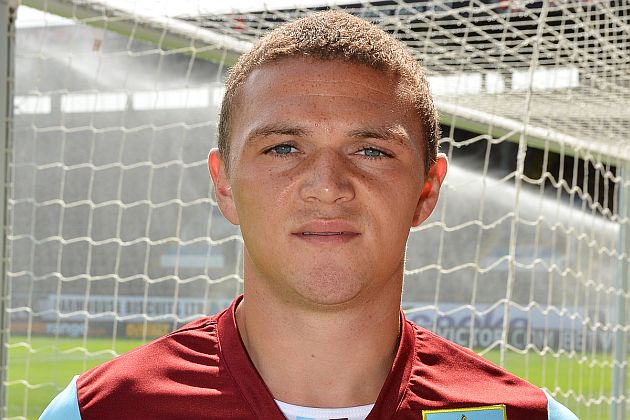 Kieran Trippier is the best in his position outside the Premier League
For the Clarets the only change from the Wigan game saw the return of Ben Mee at left-back, in place of Daniel Lafferty. Keith Treacy retained his place, and Scott Arfield faced his old club. Huddersfield were once more missing top-scorer James Vaughan through injury, although his replacement Danny Ward was fresh from scoring twice against Yeovil. Martin Paterson received a justifiably warm round of applause from all sides as his name was announced before the game. Clarets fans generously recognised a player who was an integral part of our promotion-winning side in 08-09, made his mark in the Premier League either side of long-term injury, and never gave less than 100% in a Burnley shirt.
Before the game began there was a minutes applause to celebrate the life of Paul Comstive, who died at the weekend, at the age of just 52. At the time he played for us, Paul was probably my favourite player. I remember the Glenn Hoddle likenesses despite the fact we were watching 4th Division football – tall, number 10 shirt, skilful on the ball, and a good passer. I remember surging runs with the ball through midfield, curling free-kicks, headers, all types of goals in fact from midfield, and some great games. Maybe in contrast to any perceptions of Hoddle and more of the level he played at, Paul was strong, could tackle, get in the faces of the opposition and match up in any physical confrontation. He did play higher, but really had all the attributes to play much further up the leagues. Our thoughts are with his family and friends, whilst we remember a couple of years where he made a key contribution at the start of our re-emergence from the shadows of the Orient game, and more than a century of appearances. That includes particularly our run to meeting Wolves at Wembley, and his performance on the day when he was unlucky not to score at least once, as the woodwork denied him. I stand to be corrected, but I believe on this day 28 years ago he played at Turf Moor for Wrexham as we beat them 5-2, although I also recall he was playing left-back and was sent off. He saw much finer days at Turf Moor playing in a claret and blue shirt though and it's a shame his stay at Burnley was relatively brief, but a reflection of the man that fans of his other clubs have also been so quick to pay tribute to him.
To the game itself, and despite being played in less than ideal conditions, with a swirling wind, it started as positively as possible for the Clarets. The ball was cleared out of defence, then hooked on again from the halfway line down the left-hand side by David Jones. Danny Ings beat the Huddersfield offside trap to run on to the ball, and having outpaced the Terriers defenders, approached the goal at an angle and slipped the ball under 'keeper Alex Smithies to give Burnley the lead on 6 minutes. Smithies did get a touch on the ball, but not sufficiently to deny the Clarets top scorer who notched his 18th Burnley goal of the season.
Burnley continued their momentum and threatened to quickly score a 2nd goal. Sam Vokes had a chance through the middle but fired over the bar on the half-volley, and then Arfield latched on to a rebound to fire a fierce right-foot shot wide when it seemed likely that anything on target would find the net.
On 20 minutes however Huddersfield got themselves back into the game against the run of play. A corner from Adam Hammill came right across the 6-yard box with Terriers defender Murray Wallace able to prod the ball back for Paterson to nod the ball in to the corner, whilst Kieran Trippier tried in vain to keep it out. It was probably almost inevitable that 'Pato' would score on his first return to Turf Moor since leaving, but his muted celebrations were intended to show respect for his former club. It signalled the 3rd consecutive game he's scored in for his new club, and is now maybe just starting to show the form he's capable of after what has been a difficult start for him since signing in the summer.
Just before the half hour Huddersfield were forced into a change as Joel Lynch limped off to be replaced by Anthony Gerrard, however despite the setback of finding themselves level again, the Clarets continued to create chances. Firstly Jones cut back onto his left foot from the right-hand edge of the area, and curled a shot to the far corner. Smithies dived to his right to keep it out at the expense of a corner.
Shortly after, Ings collected the ball midway in the Huddersfield half and ran at the centre-backs, firstly beating Gerrard, before being upended by Wallace 25 yards from goal as he took the ball past him. Some fans were calling for a red card, but with Ings heading slightly away from goal a yellow card was probably just about right, not that inconsistent referee Coote got that much right all afternoon, to the annoyance in particular of the home fans. From the resulting free-kick, and with the wall seemingly nowhere near 10 yards away, Jones this time struck the crossbar with an excellent effort which deserved better.
The Clarets didn't have long to wait though as they re-took the lead in the 41st minute. Dean Marney found Trippier in space on the right hand side of the area with a superb pass, and he stretched to cut the ball back to Ings who controlled and fired powerfully into the far corner from 12 yards for goal 19 of the season. There was just time for Marney to time a run through the middle to perfection and latch onto a ball, before mis-kicking and handling just when it seemed he might score. However, the Clarets went in at half time 2-1 up, and looking good value for the lead.
My daughter Ellie plays a little score-forecasting game with my Dad before each match, and has been earning regular pound coins for correctly predicting scores and scorers recently. It's fair to say she's usually predicted Burnley home wins and Danny Ings goals, but that's what we've become accustomed to seeing in reality anyway. She'd said beforehand today that it would be 2-1 with Danny Ings scoring both, so was on course again for a nice little earner. I felt however there were more goals in this one, and her chances of winning a pound or two this week were less certain.
As the 2nd half began the game opened up further as Huddersfield got more men forward, leaving gaps for Burnley to break out quickly. The Clarets had chances to extend their lead but failed to capitalise. Vokes had a shot on the turn which provided an easy catch for Smithies, before Arfield surged forward but failed to time the final pass with Vokes and Treacy waiting. Vokes then found himself free at the far post but initially with time elected to bring the ball down rather than head for goal and the chance was lost. He then outmuscled a Terriers defender and pulled the ball back for the onrushing Marney to stretch with his left boot and slide the ball wide of the left-hand post.
Huddersfield replaced Jonathan Hogg with the tricky youngster Duane Holmes and came back into the game. I live in West Yorkshire and have some Huddersfield-supporting friends who confirm Holmes is definitely one for future stardom, and despite his youth and small stature he showed some quick feet and good touches shortly after coming on. Huddersfield won a couple of corners and following a talking-to for Michael Duff and Paterson from the referee after some 'handbags', 'Pato' followed up with a foul on Duff and was booked.
The Clarets then created further chances. Vokes outmuscled a Terriers defender and pulled the ball back for the onrushing Marney to stretch with his left boot and slide the ball wide of the left-hand post. Danny Ings then manufactured a hat-trick opportunity for himself as he took a header from Arfield and flicked it over the head of Gerrard before shooting powerfully over the bar from the centre edge of the penalty area with just Smithies to beat. Ben Mee was then forced off with a recurrence of his thigh injury, to be replaced by Daniel Lafferty, before Marney was shown a yellow card for a foul on Adam Clayton.
The substitute Holmes then created a chance for Oliver Norwood to shoot, but his effort was saved comfortably by Tom Heaton, before at the other end Ings cut onto his left foot and drilled a shot just past the near post, and into the side netting.
Heaton wasn't really being called into action but Huddersfield were seeing plenty of the ball, and the Clarets needed the third goal. It came in the 79th minute with a bit of magic from Kieran Trippier. He collected the ball midway in the Burnley half and galloped forward, exchanged a couple of passes before Vokes chipped over the Terriers defence and as Trippier continued his run he found himself one-on-one with Smithies. He got to the ball first but was pushed wide, before clipping the ball in from a narrow angle off the underside of the bar for a finish a top striker would be proud of, and 3-1 to the Clarets.
Any hopes that was 'game over' were dashed as Huddersfield creditably put in a final surge. Both sides made changes, with Brian Stock and Junior Stanislas replacing Dean Marney and Keith Treacy, whilst Sean Scannell replaced the impressive Hammill for the visitors. Ings headed just wide of the far post for Burnley, but Clayton and Norwood were now controlling midfield as Huddersfield pushed forward in numbers. A couple of crosses flew past the Clarets 6-yard line as Burnley retreated, and Huddersfield got back to 3-2 in the 89th minute as Paterson got his 2nd of the game, sliding in to convert Paul Dixon's excellent cross from the left. A similar cross shortly after saw Terriers right back Tom Smith almost score at the far post, but Lafferty did just about enough to put him off.
A nervy end, with 4 minutes added time was slightly alleviated by time spent in the corner at the Huddersfield end, before the referee finally blew for time and a 3-2 win for the Clarets. With Derby losing at home it meant a return to 2nd place in the table, and an extension of our unbeaten home record.
Star Burnley players for me were Danny Ings, who was back to his energetic, goalscoring best, Kieran Trippier, who continues to prove he's the best in his position outside the Premier League, and Scott Arfield, who was a constant threat going forward. For Huddersfield I was also particularly impressed with Norwood and Clayton, two very neat and tidy midfielders who link the play so well, and Hammill and Holmes who were a tricky threat. Also a word for Martin Paterson who will be personally pleased to get 2 goals on his return to Turf Moor, and gave Michael Duff plenty to think about all afternoon.
A word also for the Turf Moor crowd who backed the team throughout an entertaining match, and went home pleased to see the Clarets again continue this (unexpected) promotion push.
A couple of additions to the squad, a bit of luck with keeping our star men fit, and 2014 could be a very special year indeed. Up the Clarets!