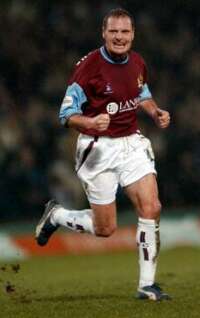 Gazza in a Claret shirt
Gazza certainly didn't disappoint in what I thought was a very good performance by him; the problem was that all we scored was Freddie's 'one goal'. If the champagne corks were popping after Gazza's arrival then things had sadly turned a little flat by the end of 90 minutes which was a shame as this was a game that Burnley should have won but I didn't really care.
The game started in a similar vein to the Preston match with the Clarets coming to life after a quiet first 10 minutes that had seen Gazza warmly applauded for knocking two 5 yard balls to a fellow Burnley player.
It was then that he gave us a golden glance of his capabilities as he curled a quick free kick to the top corner that Coombe in the Bradford goal did well to turn away.
DJ and Ian Moore then started to slice their way through the Bradford defence. A beautifully worked move saw Ian Moore released in the clear down the right of the box but rather than shoot he chose to square it for DJ who was bundled off the ball as he was about to score. It was a clear penalty but referee Mr Bates, who turned in a frustrating performance all night, simply pretended that it hadn't happened.
On 20 minutes though DJ got his just reward with the type of goal we have not seen at Turf Moor for some time. Little swung over a corner, Cox headed down and there was DJ to poach one from in front of the keeper turning the ball over him and high into the net. 1-0 and with Gazza getting into his stride with some neat passing it was surely just a question of how many we would score.
As it happened Bradford almost got on level terms within the minute as Beresford was forced to acrobatically tip over a header from Jess. Shortly after this there was more confusion in the Clarets box and Wetherall amazingly put wide a diving header from close range when it looked easier to score.
At the other end Ian Moore had a great chance but elected to flick the ball rather than blast it allowing Coombe to save but the ball ran back to Moore who made a hash of his follow up.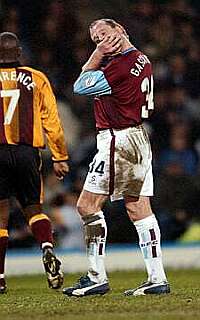 Gazza adjusts his head
On the half hour Gazza repeated a trick he first tried at Italia 90 by shooting for goal from an indirect free kick. You may remember that he 'scored' in the last minute of the group match against Holland only for it to be ruled out because no one had touched it. His effort tonight sailed just over the bar.
Moore and DJ were still combining well and as half time approached Moore again set him up in a carbon copy of the earlier penalty incident but from a more difficult angle he could only force the ball wide.
Half time and it really did feel like a kind of magic with the Clarets on top, Paul Gascoigne pulling the strings in midfield and the Clarets well on their way to another win.
Unfortunately Bradford hadn't read the song sheet as they came out fired up and began to press the Clarets back increasingly taking advantage of the hole on the left of our midfield.
Ashley Ward and Mitchell Thomas were having a fantastic battle with the referee completely unable to work out who was fouling whom. He had already booked Mitchell in the first half for a foul by Ward and he didn't show any sign of improving in the second period. Ward was certainly a handful but although he won his fair share of balls Bradford were not really creating anything despite their increasing territorial superiority.
Things didn't improve when Glen Little appeared to limp off on the hour to be replaced by Robbie Blake and it was difficult to work out who was playing where upfront.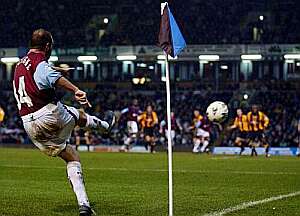 Gazza whips in a corner
Gazza almost brought the house down with a brilliant free kick on 65 minutes when he curled a shot towards the top corner from a wide position, which Coombe did fantastically well to tip away.
There were few signs that Gazza was tiring as he stung Coombes hands with a shot from the edge of the box and he started to look like the Gazza of his prime, head up, spinning on the ball, always on the look out for that something special and for a 10 minute spell it was Bradford's turn to be pinned back in their own half but still it was that 'one goal' and it was a case of 'the waiting seems eternity'.
Just when I thought we had seen off their fight back it they made it 1-1 with a goal as ugly as you are likely to see anywhere. For the umpteenth time the ball was lumped forward to Ward but this time his half knock down fell to Jorgensen who scrambled the ball home at the second attempt.
12 minutes remaining to get the 2 points back and the introduction of Andy Payton almost achieved it. Payton had come on for Gascoigne who maybe had tired a little and with his first touch he hit a 20-yard drive inches wide with Coombe beaten.
As time ran out Kevin Ball was still full of running and he broke forward into the box with the chance to win the game. He put in a shot on target from a narrowing angle, which Coombe saved, and just when it looked like the rebound would run for Payts it was hacked away for a corner.
With almost the last move of the game Briscoe crossed for Payton who looked a certain scorer but the ball was a fraction high and The Predator could not keep his header down.
These were certainly 2 points dropped against a Bradford side that played well enough when they could stop pushing and complaining but in a strange sort of way the result was immaterial. Paul Gascoigne was playing for Burnley. I'm sure I'll care more about the result if we miss out on the play offs by a point or 2 but Paul Gascoigne was playing for Burnley.
I suppose Freddie had it right when he sang 'One shaft of light that shows the way, no mortal man can win this day' and so it proved but I really did think that Gazza was a kind of magic.