It beats Millwall and Scunthorpe
Report of match Brighton & Hove Albion 0 Burnley 1 played 17th December 2011
Reporter Michael Collins
Noting CT's detailed match report I will look at one or two other issues from the weekend, besides the football.
I know Brighton quite well and I was looking forward to it. It is a pretty decent seaside resort with plenty to see and loads of accommodation.
I thought long and hard about car versus train, and in the end went for the 'iron horse' from London Bridge which got us into Brighton station at about 12.30pm.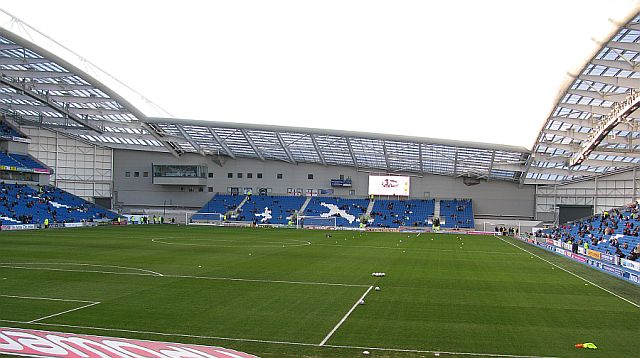 The lop- sided Amex Community Stadium
There were a couple of pubs just outside so we had 90 minutes there - both full of Brighton fans, few Clarets about - [some decent Harveys best bitter] my mates arrived, and we headed for the ground.
Sorting tickets and train for Falmer was a bit painful, and involved some queuing, but I've faced worse.
The ground is well set up, semi rural environment near Sussex University...attractive stadium from the outside - certainly a step up from the Goldstone and Withdean.
On the inside I liked it also, but it is lop-sided and unbalanced. The West stand is very impressive, three tiered and they made some noise in there as did the Brighton fans generally.
I thought our fans did ok today bearing in mind the weirdness of the match...and 18,000 vs 980 fans..what do you expect?
We were in comfortable seats as we unbelievably saw BAHA self destruct in the first ten minutes, with two sent off. I [with hindsight] thought they were both justified. Cue angry crowd, angry manager. From then on we played it patient and played keep-ball. I guess that's what any coach would tell a team to do and I guess EH did the same.
For me it didn't really work that well, as we scraped a 0-1 win. If 11 footballers play 9 footballers for 80 minutes I would expect more goals. Brighton were happy for us to have the ball out wide [left or right] which meant that centrally around their goal, there were even numbers of players....and we couldn't find a way through. Yes of course I'll take the points, and it's another win on the road, but the opposition worked their socks off and stayed in the game throughout, nearly scoring two or three times near the end. How can nine players successfully attack 11 players?
Cheers Mr Pawson.
The final whistle went and we went for a pint - our bar stayed open until six...they were selling Thwaites bitter until it ran out...fair play to them We then went in one of the Brighton bars which stayed open until seven, and both sets of fans mingled in good humour.
The congestion outside at Falmer station necessitated the late bars...I had my ten-year-old with me so didn't go daft with the drinks. I saw some old mates at the match which always perks me up. Went back into town on the crowded train chatting to a number of Brighton fans who could not have been more friendly and helpful. They are proud of their new stadium and their 'new start'.
Went down the seafront into Harry Ramsden's - there are loads of places to eat in Brighton, spoilt for choice.
We still had nowhere to stay so went in search. I went in a big hotel and asked the bloke best price he could do me for a twin room - £119.99 was the reply but he went away to check on a reduction. He came back in and said £79.99 which included a very good room and unlimited breakfast next day - juices, fruit, continental cheese and meats, cereals , croissants, omelettes, waffles, hot drinks, full English, the lot.
This was the Old Ship Hotel on the front. Well happy with the hotel. Then took my son on the Pier for an hour....then back to the hotel. The mates I was with were on the town until late.
Next morning back on the promenade/pier and shops for a while.... plenty of shopping opps.Met the lads in the Railway Bell, just outside the station on Sunday lunchtime while waiting for a train back to London.
I would definitely recommend the away trip to Brighton particularly if we play them in August/September or April/May [cos it was flippin' cold this weekend] and you have to stay over at least one night, possibly two.
It beats Millwall and Scunthorpe trust me.
Competition:

npower Championship

Date:

Saturday, 17th December 2011

Kick off:

15:00

Venue:

Falmer Stadium
Brighton & HA

0 - 1
Burnley

Trippier 32


Match Finished
| 47.2% | Possession | 52.8% |
| --- | --- | --- |
| 8 | Goal Attempts | 11 |
| 3 | On Target | 8 |
| 5 | Off Target | 3 |
| 2 | Corners | 14 |
| 5 | Offsides | 3 |
| 6 | Fouls | 10 |
| Referee | Attendance |
| --- | --- |
| Craig Pawson | 19,641 |
Brighton & HA cards shown
6 mins
Romain Vincelot
Violent conduct
12 mins
Ashley Barnes
Violent conduct
38 mins
Mauricio Taricco
Dissent
Burnley cards shown
19 mins
David Edgar
Unsporting behaviour
39 mins
Martin Paterson
Unsporting behaviour
Click here to see a full list of the football results from Saturday, 17th December 2011.