In fact my first visit was in 1992 to watch them turn over Leeds in the League Cup (Cantona missing a one-on-one a notable highlight). Earlier that year I'd seen my first ever Clarets game, a thrilling 0-0 at Barnet. Still it introduced me to a player who remains a hero of mine, Aidy Randall and the team shirt I wore today dated to that season.
As I sat in my seat and looked around I made a note of the changes in the ground since that game at home to Leeds, the current stand for away fans built over what was an old style terrace and the East Stand finally seeing work started on it. I remember sitting in the old stand before it was finally deemed unsafe and watching Watford beat Burnley in an FA Cup Quarter Final in 2003. Though not playing on that day a certain Sean Dyche was on Watford's books. I chewed over that point as I watched the players go through their warm ups. Which of the current squad might end up as managers?
The Burnley treatment table had seen the cobwebs blown off it in recent weeks and the line-up looked to make the best of what could be brought together. Baird continued at right back, Edgar came in the centre and Treacy made a start. Initially posted on the left I was concerned that Anya, a very spritely wing back might make use of the space undoubtedly afforded to him. But it was obviously something which Dyche had acknowledged, not much gets past him.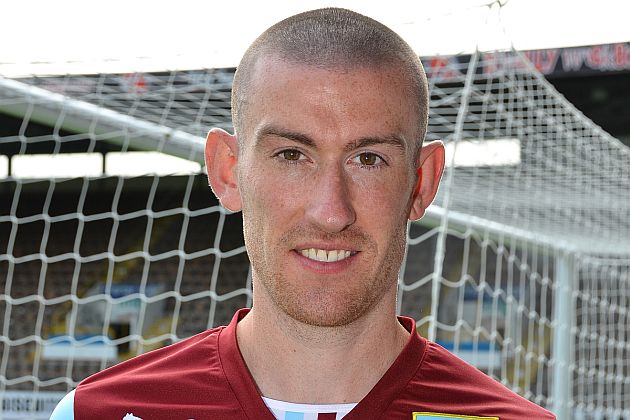 David Jones had run the game until being substituted
The game started and from the outset it was clear how both sides had set up. Watford were keen to keep things through the middle, Deeney the main attacking outlet for the hosts with Burnley looking to attack down the flanks. Treacy on the left cutting in and Kightly keeping very wide on the right. Jones was holding in the centre and Arfield held the attacking duties. Exactly what Edgar's role was remained a mystery, when Deeney dropped deep he didn't pick him up and for most of the game he played in limbo, with little confidence. Watford were to suss this out and rather than close him down opted to close down Jones who was his first pass option.
In the 9th minute Deeney came alive, dropping deep and given far too much time. A glorious shot from 25 yards out flew past Heaton, Burnley players had a collective head-scratch. A great finish but it was a very basic goal to concede, where was the screening midfield? Actually, where was Edgar?
It was up to the Clarets to show some fight back and do so without the normal strike force. A few minutes later a cracking move saw Treacy give a glimpse of that quality we know he has but seems to ration out very sparsely. A devilish cross to the near post was met by Barnes, the away support erupted and the hoots of joy were turned into howls of annoyance as the linesman raised his flag. Was it offside? At the time of writing I haven't had the chance to watch it again but the lack of appeals from the Watford defence seem to indicate that the linesman may have got it wrong. If so it wouldn't be the only decision to go against the boys in claret.
The let off for Watford seemed to inspire them, they stepped the game up and again Deeney picked up the ball deep before firing wide. Burnley needed to do something about him otherwise the game could be lost by half time. Deeney's display was of a target man on form and who had a full season behind him. Upfront for Burnley was Barnes, a player who divided the Brighton fans but was also much more versatile than simply a target man. At Brighton his scoring record hadn't been affected by playing across the front line in a number of positions, from leading the line to just behind the front man and even on the wide right of a front three. The lack of games wasn't showing and Barnes was an irritation for the Watford defence, perhaps salvaging some confidence from the disallowed finish.
Contrastingly behind him was a player with little confidence, Edgar was clearly out of sorts. Jones was doing his leg work for him and he didn't seem to know what he should be doing between the Burnley stalwart and Arfield. As we approached the middle of the first half Dyche fine-tuned his system, Arfield swapping with Treacy. Kightly was still out on the right and the Watford formation seemed happy conceding the ball and territory in front of their left back. A Trippier/Kightly combo would have made hay in such a scenario but Baird is a different type of defender. Very good technically and able to read the game well he was to later make two vital decisions but at this point the relationship with Kightly was bearing some fruit. The Watford full back was being pressed back and Kightly had the measure of him. One run and cross being given, again, offside.
Watford were sitting on their lead, happy to defend very narrow and looking for the second goal on the break. In the 35th minute it nearly came, a cross from the right found Pudil, the Watford player, with at least a target to hit. Thankfully it was dragged wide. Watford's pain was to continue in a very different form, a seemingly innocuous clash saw Battocchio on the floor. Watford carried on and eventually the ball was kicked out, the phsyio ran on and several minutes later he left on a stretcher.
The delay robbed the game of any impetus, both teams looked for half time which soon followed. Burnley were not out of it by any means and if anything were the most creative. Treacy still looked less mobile than you'd want but the occasional flash of inspiration was there. Arfield was containing Anya, which brought Mee into the game and Kightly was finding some good lines to run. Barnes had worked like a Trojan, the disallowed goal had seemingly made him more dangerous, rather than deflate him. It wasn't just a half time cuppa which I found warming, I had a firm feeling that we'd get a goal.
The second half started with an attacking attitude from both teams, defending deep and trying to counter was just not working for the Glory Boys. The opening exchanges saw another nice move down the right allow Arfield a shooting chance which was put wide. Soon Deeney found himself involved and a cross was brilliantly blocked by Jones who seemed to be everywhere. A Burnley attack resulted in what looked like a certified handball in the area by a Watford defender. The ref disagreed, it was another decision from the officials which had the claret faithful roaring. We needed and certainly deserved a break.
Watford were defending very narrow and Treacy couldn't find any space, perhaps in part due to this or Treacy's fitness Dyche brought him off and sent on Wallace. The idea was still to stretch the Watford team wide though initially Wallace stayed in the centre. Within a few minutes Wallace found himself in an ideal free kick position, unfortunately he was unable to get it over the wall, another handball appeal which seemed borne out of frustration. At the other end Watford showed their first decent attacking move, Baird was to make the first of his key decisions and tracking his man back got in first to clear and prevented a clear tap in. The sense of optimism I had at half time was being slowly eroded and the vital second goal looked as if it would go to the home side.
With 15 minutes to go Jones exited with what seemed a slight knock. He'd run the game and been everything a midfielder could be, making blocks, keeping the distribution quick and providing a platform for the whole team. Dyche decided to throw caution to the wind, Edgar moved upfront and Wallace/Kightly pushed higher and wider. We were going 4-2-4 with Arfield playing in front of Stock, perhaps Edgar could become an unlikely hero? Burnley continued to hit the flanks and the increase in tempo had the Watford team unsure, or at least uncomfortable with conceding so much territory on the flanks. A great cross from Kightly was met by Arfield and Almunia pulled off a great save to deny him.
It was now Watford's turn, having moved Anya upfront the full back took advantage of some indecision in the defence. Breaking forward the full back rounded Heaton and could only slot a tepid shot toward the open goal. The Burnley fans all stood and watched as it rolled towards the net, all of us wide-eyed and feeling helpless. Thankfully we were saved, not for the first time the ever-alert Baird was back to clear. We breathed a collective sigh and all sat down. This was getting tense. Had Watford blown it? The footballing gods are a fickle bunch, hopefully they'd give the fans who'd travelled the distance something to go home happy with and with five minutes to go they finally gave in.
Another move on the flanks allowed Baird to find Arfield in the centre of the goal, a fantastic first touch allowed him to execute a textbook finish low and beyond Almunia. The Burnley fans erupted, could we go on and take all three points? Dyche seemed to appreciate what the point would stand for, especially given the results around us. Edgar dropped back, though ahead of Arfield and Stock in the middle. The notion surely for him to act as an outlet but still get back and defend. Upfront Barnes had kept his work rate continuous, a fine jump and header dropping just over the bar. With both sides looking happy with the draw the ref blew the whistle, we had drawn.
In its simplicity it's a single point, but in football everything is about the context. It was a point when those around us had slipped again, it was a point when key players were absent. A single point which to me represented the belief Dyche has fostered in the team, to go a goal down and still fight back. Promotions may be made of high scoring wins, but they are as much about the team ethic and ability to step up and adapt when those slings and arrows come your way. This was the point and every Claret on the pitch had won it and as importantly helped make it.