I've been ill all week and I really didn't think I was going to make it to the North East. Maybe I shouldn't have gone, and I'm certainly paying for it today, but I am so pleased I did; I wouldn't have wanted to miss this for the world.
It's a long, long time since I last set foot in St. James' Park. It's over 32 years ago to be exact and the ground was a bit different then to how it looks now. I'd been warned that the away fans accommodation was somewhat high but even with that warning it was a shock when I stepped out to look down at the pitch.
As I looked across I could see the Tyne Bridge some distance below. The view was perfect with no fog on the Tyne. I could see Gateshead and probably half of County Durham as well. It was perhaps appropriate that the music being played on my arrival was The Who's 'I can see for miles'.
I wondered how on earth I was going to get up there to be honest. I'd climbed some steps outside just beyond the Wor Jackie statue and that had been too much for me, but once I'd got past the excitable springer spaniel I was ushered towards the lift that brought me out at the level 7 concourse - yes level 7.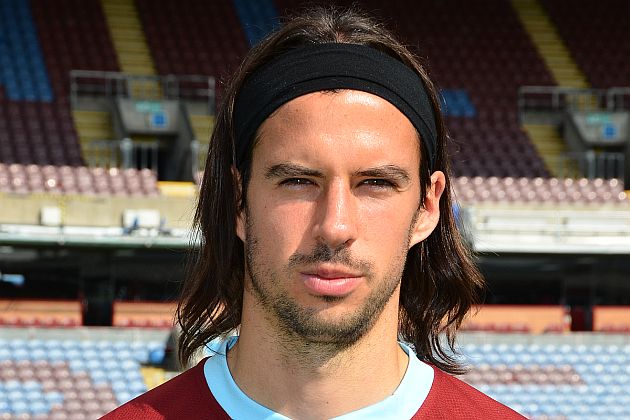 George Boyd scored the third equaliser to ensure a point - and this one was definitely onside
Some of us had travelled up on the day, others in our group had spent the previous evening in Newcastle. Apparently the welcome had been warm and genuine in the pubs both on the night before and ahead of the game although I can report that one prominent Burnley supporter was asked to leave one of the pubs. It was co-chairman John B and he was asked to leave the Newcastle Arms because they don't permit the wearing of colours. I wonder if they just allow black and white.
Whilst never being overconfident ahead of any game, I do think the way we've continued to improve this season means we can have some confidence no matter where we play, even more so after City last Sunday.
The 'same again' team news was good news but if anyone had told me ahead of kick off that we would hit the woodwork four times and that we would be forced into making three substitutions in the first half, I reckon I'd have made my mind up that it wasn't going to be our day.
By half time we trailed 2-1, we'd made those three changes and completely reshuffled the team and you wondered just how on earth we might stay in the game, let alone push on and frighten the Geordies to death.
We might have taken the lead in the very first minute of the game. Poor play from Newcastle gave us the ball but Danny Ings was quick to take advantage. He turned and played in Ashley Barnes to the left of goal and the striker smashed his shot against the near post.
If it looked a bad miss from up in the gods then it certainly wasn't when I saw it again. It's a good effort from Barnes and so close to giving us a lead within seconds.
It certainly didn't prompt a good start from us and they were the better side in the opening exchanges. They made it pay too with a goal on the quarter hour. It was a bad one for us to give away but Jason Shackell allowed Steven Taylor to get above him from a right wing corner and head home.
That was it for Shackell. His long run of not missing a minute's play was over. He's been on the pitch for the duration of every game since he missed Eddie Howe's last home game in charge. Not this time, he walked over to the bench who were immediately getting Kevin Long ready.
Long, on his Premier League debut, forced just one other change to the line up. He went into the right centre of the back four with Michael Keane moving to the left.
Incredibly, Long's first action was to help set up our equaliser. It was nothing spectacular, just a ball played up the field that Newcastle decided to play head tennis with. The last, and most significant, header came from Paul Dummett and it looped over goalkeeper Jak Alnwick and nestled into the net.
We were only level for just about seven minutes when Jack Colback struck from outside the box, his shot flying into the bottom corner. I thought Dean Marney might have got out to him quicker but he didn't and then turned his back as the ball went through his legs on the way into the net.
Marney, by this time, was wearing the captain's arm band, passed on by Shackell, but soon after we saw him remove it and hand it to Kieran Trippier. Suddenly Michael Kightly is getting ready and Marney, apparently feeling unwell, was on his way off.
Kightly took Scott Arfield's place wide with Arfield taking up the central midfield role alongside David Jones.
Surely nothing else could go wrong. Well, yes it could. We were still about ten minutes from half time when Long jumped to head a ball clear. He won a free kick for a push but he landed badly and just twenty minutes after coming on he was being stretchered off. I'm not a medical expert but it didn't look good and there are, I believe, some concerns about this one.
There was a summit meeting in the technical area with Sean Dyche and his backroom staff before Steven Reid emerged, ready to come on as our third substitute, and that facilitated a number of changes.
He went to right back with Trippier switching to the left. Keane returned to his original position to the right of centre in defence with Ben Mee moving alongside him. The two wide midfielders, George Boyd and Kightly switched sides too.
We managed to get to half time with no further damage, in fact we played well in the closing minutes which included four minutes of stoppage time. Even so, I wondered what on earth we might be subjected to in the second half.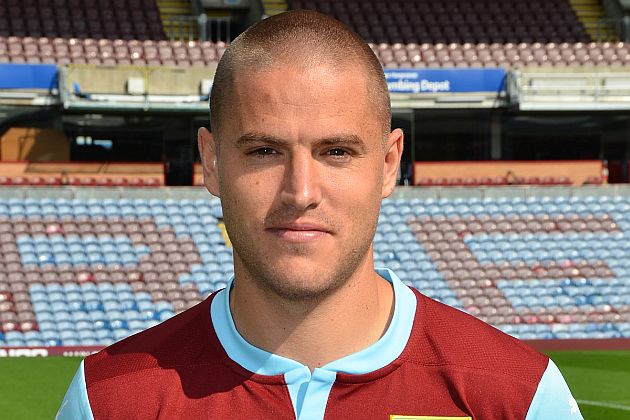 Outstanding after coming on for Dean Marney
That second half proved to be something else, and if there were any justice then we would now be celebrating our second away win of the season. We battered them and even acting boss John Carver admitted they had no idea how to stop us.
A brilliant Ings shot hit the bar; Barnes followed up and headed against the foot of the post. Mee headed a corner against the bar. The frustration was growing. It was hard to believe we were still behind in the game. Ings was even carded for diving. I'm not so sure on that but he certainly wasn't fouled.
Then, finally, it came. We won a throw on the left from which Kightly, who played as well as I've ever seen him play, crossed for Ings whose deft back header sneaked in at the far post. It was a brilliant finish from Danny.
Could we go on and win it? We were certainly playing well enough, but on a day when just about everything possible was going wrong there was one more hammer blow to come via some superb play from Ayoze Perez on the left. Even then they had some good fortune for the ball to reach Moussa Sissoko at the far post before he hit home.
All the good work, all the brilliant work of the second half had been for nothing. Surely even this Burnley team didn't have anything more to come back with.
It did and with four minutes of normal time remaining we drew level for a third time. Ings held the ball up well, laid it off to George Boyd who got into the box on the left hand side and fired a shot in that Alnwick could only get a hand to.
From up in the gods it looked initially as though he'd saved it but I can assure you level 7 went wild as we celebrated, and it is a bit nervy jumping up and down so high up.
That was it. If any team was going to win it then surely it was us but it wasn't to be and at least we came out of this with a point from this 3-3 draw.
Dyche really marched onto the pitch. From television pictures you can see he was upset at what he thought he'd heard from Carver and you could then see him shouting 'well done' to his players. For us the march out was so positive that it was clear how impressed he'd been with that performance. He applauded the fans before making his way off, leaving his players to take the final curtain call.
I hate this 'Shows how far we have come as a club' comment you so often hear, but who'd have thought just a short time ago that we'd have been playing league games at the Etihad and St. James' in the space of days and coming home unbeaten.
This, I thought, was better than City because of all the circumstances. I know Dyche isn't one for rushing his subs but to have none available to him for over 50 minutes of the game is far from ideal. To have to constantly reshuffle your team because of injuries must have a huge impact.
But his players gave him absolutely everything yesterday. I bet we've run more miles than every other Premier League team and I bet Boyd is up there at the top. Don't think, however, that this was a performance of nothing but grit, work rate and endeavour. We played with a real quality and some of our play in the second half was breathtaking.
It was one of those games where you just had to be there. It was one of those games where you just can't stop talking about it and where you want to keep watching the highlights.
Apparently we'd even had Mark Lawrenson purring about our performance on the BBC during the afternoon, shame his Match of the Day colleagues couldn't be as complimentary.
It was a day when we showed that no matter what hits us we will keep going and going and going. We've got a group of players here at Burnley that we can be so proud of. No wonder I'm bursting with pride after that performance.
Once upon a day we used to nick all the good Geordie players ; yesterday we showed the Geordies what a canny team we've got again.
What a brilliant performance to start the year.
The teams were;
Newcastle: Jak Alnwick, Daryl Janmaat, Steven Taylor (Mike Williamson 60), Fabricio Collocini, Paul Dummett, Cheick Tiote, Jack Colback, Yoan Gouffran (Massadio Haidara 71), Moussa Sissoko, Ayoze Perez, Emmanuel Riviere (Adam Armstrong 57). Subs not used: Freddie Woodman, Davide Santon, Vurnon Anita, Remy Cabella.
Yellow Cards: Daryl Janmaat, Mike Williamson.
Burnley: Tom Heaton, Kieran Trippier, Michael Keane, Jason Shackell (Kevin Long 17, Steven Reid 37), Ben Mee, George Boyd, Dean Marney (Michael Kightly 32), David Jones, Scott Arfield, Danny Ings, Ashley Barnes. Subs not used: Matt Gilks, Ross Wallace, Lukas Jutkiewicz, Marvin Sordell.
Yellow Cards: Danny Ings, Ben Mee, Kieran Trippier, George Boyd.
Referee: Mike Dean (Wirral).
Attendance: 51,761.