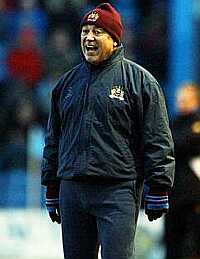 Stan gives someone an ear bashing
Though there was plenty to be disappointed about at Turf Moor on Saturday sometimes you have to take it on the chin, file it away under lessons learnt and get back to business. Yes, I am aware that I sound like Stan Ternent but I am still very much a believer.
The game was played in what felt like a force 10 gale which was tearing into the Jimmy McIlroy stand then bouncing straight back out again resulting in a wind that never quite seemed to know which way it was blowing at pitch level.
As a 10 year old in these conditions you would be given firm instructions to 'keep the ball on the deck', strange then that professional footballers should start hoofing it into the air at every available opportunity. This led to a game that the charitable would describe as 'poor'.
The Clarets created few chances in the first half though on 3 occasions the ball was rolling invitingly to Burnley players in the box just asking to be smashed into the net but every time there was a moments dithering and the chance was gone.
Gareth Taylor probably had the best chance when played through into the box but his lack of pace off the mark enabled Pressman (a man not exactly noted for his own turn of pace) to smother the ball at his feet.
I've never liked teams with long throw experts and although Wednesday's Leigh Bronby is only of slight build he can't half chuck a ball. Although the Clarets actually dealt with them fairly well the nervousness of the crowd is tangible with a keeper not exactly noted for dominating his box.
I'm actually a big Michopoulos fan but I thought he was badly at fault for the first Wednesday goal on 33 minutes as Kuqi flicked on a long goal kick on the edge of the area he should have been out to pounce on the ball. Instead he waited for the defence to deal with it before looking surprised that it had bounced through to him and, off balance, he fell to the floor and could only palm it up for McLaren to volley gleefully into the net. At the time I had no idea of the name of the scorer as despite having a close up of his back at one point the name on his shirt was unreadable as were all the Wednesday names.
For Burnley nothing was going right and the only positive was the form of Alan Moore who made countless darting runs but all too often found few options to pass to. This was not helped by the fact that in the first half Kevin Ball was playing on the right of midfield and he was showing no inclination to get out wide. The absence of anyone to play wide right with Little and Weller out is a worry.
It was Alan Moore who had the Clarets best effort of the half as his 25 yard effort skimmed off the top of the bar as half time approached.
Seemingly Stan recognised our problems on the right by putting Brad Maylett on at half time which allowed Briscoe to replace Branch at left back and for Ball to go back to his central role. Branchy has always struck me as very much a player who needs some confidence and at the moment it is clear he has none, particularly at left back.
Maylett is another who seems to be lacking in the confidence department and although he did give us the width all too often he either failed to create anything or was simply muscled off the ball. Tony Shandran has looked more than useful playing on the right for the reserves and I'm still not sure why he doesn't get a go.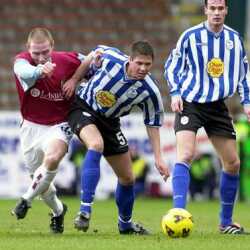 Ian Moore battles away
Ian Moore was strangely quiet but far too many high and inaccurate balls did not help him and the best chance on the ground fell to Taylor but he could only shoot weakly at Pressman after Maylett had set him up.
The Owls had gone back into their shell and seemed content to waste time rather than look for a second. The Clarets did start to get back into things for a while though there were some disturbing scenes when Wednesday's Marlon Broomes went down with what immediately looked like a bad injury if the gestures to the bench of the first Wednesday players on the scene were anything to go by.
You do expect a few catcalls on these occasions, it is the same the world over, but I was personally ashamed that some Clarets 'fans' found it necessary to hurl abuse and objects at Broomes as he was stretchered from the pitch and down the touchline. Whatever else Broomes may be he was clearly very badly injured and was deserving of the round of applause that used to be the norm on these occasions.
Back to the action and Kevin Ball threatned to score with a header at the far post from a pinpoint Dean West cross. If Bally had actually scored with his head it would have proved that we were actually watching the match in a different universe.
With, what on my watch was nearly 20 minutes remaining, the Clarets were quite literally handed a lifeline as Westwood needlessly stuck up a hand to knock the ball away. To great surprise we discovered that Gareth Taylor had been given the honour of becoming our 4th penalty taker of the season. You didn't really believe he was going to head it did you? No, he banged it high into the net for what was his first goal scored with his feet for almost a year.
Then there were signs that Burnley could go on and win the game as Alan Moore crossed for Taylor to head goalwards before Dean West followed up only to see Pressman block his shot. Taylor was again set up but was again slow off the mark in a race with Pressman who saved at his feet but picked up an injury for his troubles.
After a lengthy spell of treatment he was pronounced fit to carry on before collapsing again on the instructions of the Wednesday trainer and he too was stretchered off to be replaced by substitute keeper Roberts.
The sad thing is that Roberts kit did not need washing as Wednesday completely dominated the last 5 minutes of normal time and 7 minutes of injury time.
The Wednesday winner had an air of inevitability about it but it could so easily have been avoided. Firstly Alan Moore gave away a needless corner when attempting to play the ball back to Dean West when Moore himself was in a far better position to clear. The corner resulted in a goal kick which Nik, and I don't blame him for this, rushed to take being encouraged to do so by an impatient crowd. As a result his kick didn't even reach the half way line and the Clarets defence was exposed to a simple through ball which former Clarets target Kuqi latched on to.
You just knew he was going to score and, though Nik has made a habit of pulling off late saves in these situations, there was no stopping his fierce shot just inside the post. The Wednesday celebrations lasted about a minute yet referee Pike never thought to add this to the time we were already playing. This was though the same Mr Pike who twice allowed Kuqi to stand over a Clarets free kick the punishment for which should be a booking and a 10 yard advancement of the kick.
Still unable to get the ball out of their own half the Clarets then gave away a penalty as Arthur upended Kuqi who was through once more. It was fortunate indeed that the weak Mr Pike only showed him the yellow card. Kuqi scored an injury time penalty for Stockport County at Turf Moor recently and it was clear he wanted to take this one but Sibon pulled rank and stepped up to be suckered into putting the ball just where Nik wanted and he made a good save.
Despite the fact that the penalty had taken another minute to take and we still hadn't played the advertised 7 Mr Pike couldn't blow his whistle fast enough and it was all over as Nik cleared downfield. We wouldn't have scored of course but it would be nice if ref's could play the right time.
For those of us who believe we expected to win this game and it is understandable to be disappointed with both the result and the manner of the performance but let's look forward.
The Clarets have 18 games left, we are in a far better position than anyone imagined at the start of the season, we cannot be relegated and I believe that it is time for everyone to get behind the team big style. At the very worst we're going to end up with another season of football in a division we have had only a passing acquaintance with in the last 20 years. All complaints, grumbles and moans should be kept for after the game and we should concentrate on getting right behind all 11 players for the full 90 minutes in the stadium. Fans are sometimes described as being worth an extra point or two and as the business end of the season approaches there is surely no better time to start earning them, about that there is not a trace of doubt in my mind.
I believe, I believe, I believe.