For me it is a special day as it is my Birthday, I now know that it is also the Birthday of Bertie Bee. Hip Hip, Hooray and three cheers from the stadium at half time for Bertie. Prior to the game I did a little bit of homework and found out that the last time we won on the 12th April was in 1982, a run now of seven defeats and two draws.
How we didn't win today is one of the conundrums of this Beautiful game. We had more of the play , more chances, more possession and played the game on the front foot high up the pitch, Middlesbrough defended deep and their main outlet was a left foot long ball from Ledesma onto Graham. For thirty minutes they hardly set foot out of their own half. Two corners and a blocked shot the sum total of their efforts.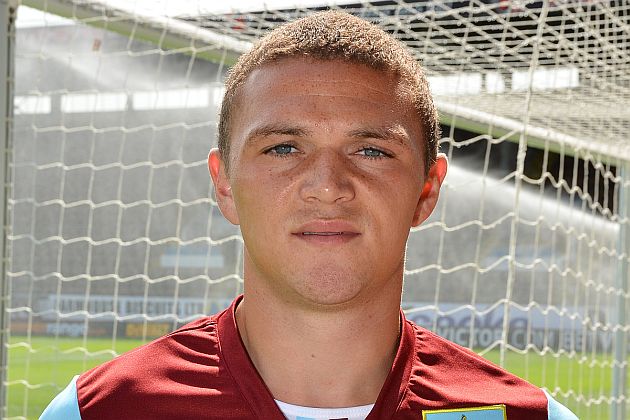 Kieran Trippier was the main source of attack down the right with Michael Kightly
Burnley on the other hand had numerous chances. After a slightly uneventful first ten minutes, at least on the pitch, the game itself was picking up, everything was coming down the right through Kightly and Trippier. A Kightly cross created a chance for Barnes, it was blocked, the ball came out to Arfield who set up Jones for another shot that again was blocked. It was to set the pattern for the remainder of the game. Another ball from Trippier to Ings in space at the edge of the box, Ings goes for a 'worldy', the ball goes high and wide.
Arfield gets a shot away, the ball breaks for Mee, a cross to the far post and Kightly heads against the bar, momentum is building. A break by Middlesbrough, cross from Adamoh and Tomlin fires wide, back to the Burnley end, Ings has a shot well saved. A blocked shot and another shot that went high and wide from Ings. Momentum still with Burnley, but it was about to change, a good save from Heaton from a Danny Graham effort, two corners, a goal mouth scramble, another save from Heaton and another corner. A shot from Butterfield, that went wide, a harum scarum five minutes before half time, showed what Middlesbrough were capable of, we had been warned.
Half time.
The dance troupe dressed in bright tangerine entertained us, hope those in tangerine at Blackpool are as un-coordinated next week. The stadium announcer looking nervously at his watch as proceedings went on and on. The reason being that a special golden gamble draw was to take place in the corner of the Jimmy Mac and Longside stands. By the time the dancing had finished most people had finished their half time break and were coming back to their seats to see Barry Kilby, David Eyres and Gary Parkinson involved in the half time draw. It was Gary's first time back a Turf Moor, it was a wonderful few minutes, with both sets of supporters in unison getting behind their one time player. Completely contrasting with the behaviour of a few Middlesbrough fans. who decided to disrupt the minutes silence for the Hillsborough Anniversary at the beginning of the match.
Momentum - for five minutes prior to half time it was all Middlesbrough, the second half began with Burnley again on the front foot, gaining a corner, after a scramble in the box the ball, was cleared, Scott Arfield mis-controlled, Lee Tomlin stole the ball, drove forward, passed to Butterfield who calmly slotted past Heaton.
What followed was a procession of Burnley chances and almost a replica of the first half, goalmouth scrambles, blocked shots, resolute defending, decisions not going our way and great goalkeeping. A Trippier shot, over. Ings shot blocked, a cross from Kightly headed over by Ings, a ball from Trippier, a shot by Ings, another shot wide. Sixty minutes gone. The personal battle between Ayala and Barnes was beginning to heat up, Shackell had a header blocked, a quality ball from Duff resulted in an Ashley Barnes header and another good save from Konstantopoulos.
A goal was coming (surely) a free kick just outside the box. Trippier territory, another save, another corner. Mee this time heads over from the Jones corner. Twenty minutes since Middlesbrough's goal, all Burnley, twenty minutes to go. The game was being disrupted, lots of niggling free kicks, time wasting, substitutions and the referee talking to the players about shirt pulling, but not actually doing anything about it, the game was fragmenting, playing into Middlesbrough hands and a reminder of what we can expect when we get to the Premier League.
Ten minutes left, double substitution Wallace and Stanislas on for Arfield and Kightly, arguably ten minutes too late, both tried to affect the game and get that breakthrough, the pattern however didn't change. All Burnley, still no goal, chance after chance, shots from Wallace, Stanislas and Ings, a solitary shot from Graham producing another good save from Heaton. A series of corners, bookings for Leadbitter and Ayala, a foray forward by Heaton for another corner and a second booking and a sending off for Ayala, most importantly and unbelievably, no goal.
Beaten but unbowed, fans looking at one another in disbelief, it was a very good performance, acknowledged by the crowd at the end, although ultimately it was about the result. On another day it could have been four or five, it wasn't. It was a day for ifs, buts and maybes. The day of destiny awaits, unleash the dolphins and bring on Blackpool.