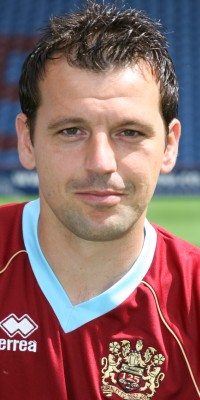 Robbie Blake - scored the winner
Back in April last year the Pilgrims turned in an inept performance at the Turf enabling us to win for the first time in twenty games, so with a home run without a win stretching back to October you really couldn't have chosen better opposition.
They don't like coming to Burnley. They haven't won here for over thirty years and the last time they scored a goal at Turf Moor was hardly a joyous occasion for them. We won 2-1 and stayed up whilst putting them down in the last match of the 1997/98 season. And I haven't even mentioned play offs.
I don't think anyone would have believed that Owen Coyle would have to wait over seven weeks to sample a home victory, but that's exactly what he did have to do. Away wins haven't been a problem, three out of five, but at home it was a different matter.
The news wasn't good coming out of Turf Moor ahead of this game. We already knew we had two players suspended in Kyle Lafferty and Chris McCann and would be without a number of players through injury. Add to that the fact that Robbie Blake wasn't considered fit enough to start and his likely replacement Ade Akinbiyi was ruled out with a back injury and it left us a bit thin on the ground.
Not for the first time recently Jon Harley was moved into the centre of midfield with David Unsworth returning from suspension to play left back. Steve Jones got his first start of the season on the left hand side whilst Joey Gudjonsson was in the starting line up for the first time since August as was Brian Jensen who was somewhat strangely preferred to Gabor Kiraly in goal.
We lined up in a 4-5-1 formation, or given the game went it would be better to suggest it was 4-3-3 with Andy Gray as the lone striker with Wade Elliott and Jones either side of him.
I'd heard suggestions that Plymouth might not be too adventurous. That was hardly a surprise with Paul Sturrock in charge. I can still readily recall last season's trip to Sheffield Wednesday when he went out and played for a 0-0 draw at home against us. On this occasion they turned a lack of adventure into a fine art.
Having said that they had the first chance. Jensen came and got nowhere near a cross leaving them with a free header, but they made a hash of things and that was it as far as Plymouth were concerned, their attacking play was over and done with for the afternoon with just a couple of minutes gone.
We sat back and admired the mastery of Arsenal last week as we went out of the FA Cup, but this week it was all about us and we attacked relentlessly from start to finish. The only surprise of the afternoon was that we had to wait over an hour for that much needed and very welcome goal that signalled our first three points at home since the win over Norwich.
The goal did signal the win even though there were still twenty-four minutes to go, simply because this Plymouth side could have played until next weekend and still wouldn't have had an attack, never mind a shot at goal.
A side set up like this isn't always the easiest to beat. Usually it needs an early goal to open up the game. That didn't happen but at times we were irresistible and put Plymouth under enormous pressure. Wade down the right hand side was in such good form that I almost felt sorry for their left back Lee Hodges.
We constantly looked to get at them down our right. That was partly due to Wade's current form and partly down to the fact that Jones was having something of a difficult afternoon down the left.
After that early scare it was Wade who had our first effort on goal. He hasn't scored since that wonder striker at the packed Stadium of Light last April but he put this effort inches over the bar, the ball landing on the top of the net, but it was his wing play that was the talking point.
Joey Gudjonsson was in sparkling form in the midfield and he found Elliott with cross field balls time and time again. Each time they seemed to find the winger with unerring accuracy and constantly we were putting them under real pressure.
More than once he set up chances. Joey, Jimmy O'Connor and Andy Gray all fired in shots following crosses from the right whilst the two best chances went begging. Gray failed to reach a low ball across the box whilst Jones managed to head a decent chance some six yards wide of the post.
Gudjonsson is going to get his first Turf Moor goal soon, make no mistake about that. Again he hit in a shot from distance. This time there was no goalkeeper to get in the way of it, just the bar.
The half time whistle came with the score 0-0, but if this had been boxing it would have been stopped long before then. Plymouth must have left the field with the widest of smiles on their faces surely unable to believe they were still level.
The second half started in much the same way with the Clarets well on top but Coyle was ready for a change. Just as Jones made a real hash of a run down the left we saw Robbie Blake getting ready to come on. His mere presence on the touchline was almost enough, as the fourth official spent an age getting the numbers correct we managed to get the ball in the net.
Jones was the scorer but the assistant's flag had been raised for offside. It was his last contribution of the afternoon although the fourth official didn't get his numbers right, revealing that Jones was to be replaced by number 21 Garreth O'Connor. But it was definitely our number 20 coming on.
He was soon in the thick of things and came close to setting up Gray with one astute ball and just ten minutes after coming on he made the most telling contribution. Inevitably it came from the right and Elliott. Again he got the better of Hodges with a superb piece of skill before playing the ball in low for Robbie who made no mistake with a shot on the turn into the corner.
At last a goal and we were in front. Usually I'd think we would need a second but against this lot I wasn't too sure. We nearly did get a second though and this was all Robbie's work. He picked the ball up and moved forward before unleashing a shot from at least thirty-five yards out. It was heading for the top corner but Luke McCormick got a hand to it to save.
Plymouth didn't bother trying to rescue things, they looked content to lose this one 1-0, and we just continued to go forward time and again. We didn't have one moment to worry us as we moved into stoppage time. Plymouth did push a couple of men forward then but they didn't even come close to worrying us.
It was 4-0 last April and quite frankly this could have been the same scoreline or even more. But who cares? We needed a win at home and we finally got it. The two home games this week couldn't have been more different. Six days earlier we'd had the cup tie against Arsenal where both sides went out to play, this time it was us against a side whose sole intent was to try and get a 0-0 draw.
Plymouth failed and deserved to fail. They'll point to the excuse that they weren't at full strength but that doesn't wash because we'd more players out than they had. They'll go on about having to sell their striker this week - yes Plymouth we know all about that, it's happened to us.
It was a difficult game for us in so much that it is never easy against a side who have no attacking intent, who just want to come and spoil the game. It can get even more difficult, and certainly more frustrating, when you don't get an early goal.
But we didn't make it difficult for ourselves and we didn't get frustrated. We just went out there, we passed the ball and we dominated the game. We just continued to do what we were doing, confident that we'd get a goal from it. And finally it came. Any other result than a Burnley win would just have been a complete nonsense.
What a pity this fixture didn't come up at the end of November - we wouldn't have had so long to wait for the win then. Thanks Plymouth, you never let us down.
The teams were;
Burnley:
Brian Jensen, Graham Alexander, Stanislav Varga, Steven Caldwell, David Unsworth, Wade Elliott, James O'Connor, Jon Harley, Joey Gudjonsson (John Spicer 90), Steve Jones (Robbie Blake 56), Andy Gray. Subs not used: Gabor Kiraly, Stephen Jordan, Garreth O'Connor.
Plymouth:
Luke McCormick, Paul Connolly, Marcel Seip, Gary Sawyer, Lee Hodges, Nadjim Abdou (Dan Smith 84), Luke Summerfield, Lilian Nalis (Yoann Folly 74), Peter Halmosi, Jermaine Easter, Lukas Jutkiewicz (Rory Fallon 74). Subs not used: Romain Larrieu, Jake Moult.
Referee:
Anthony Taylor (Wythenshawe).
Attendance:
14,162.