I'll argue the case that this wasn't a game we should have lost. For me we were the better side, but, as is always said, goals win matches and we didn't get one to ever get in front whilst conceding twice in the second half.
Leroy Fer got the first and former Claret Charlie Austin, clearly a man on a mission, predictably scored the second from which there was no way back for us as our performance disintegrated in the closing quarter of an hour.
I suppose Charlie and/or Danny Ings was always likely to be a talking point. It was even the case before I left home. I did an interview on Talksport around 7:20 and was, needless to say, asked about the two strikers by Micky Quinn.
The end of the interview was the cue to leave and it was a trouble free journey down and, thanks to steve_f on the message board, we found a perfect destination in South Ruislip for parking and to travel, via London Underground, to Loftus Road, and more importantly back which got us way in front of where we would have been had we driven as close to the ground as possible.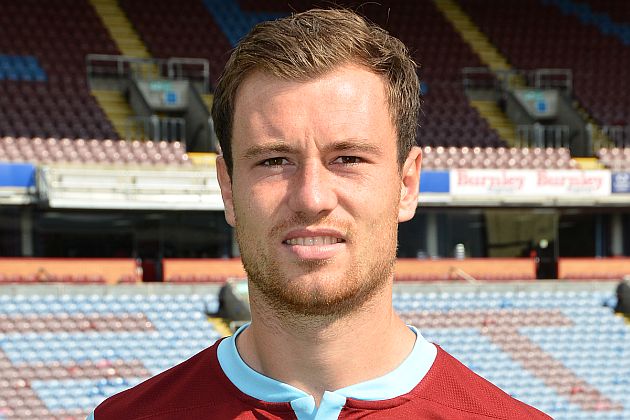 Ashley Barnes was as good as anyone on the pitch for Burnley
It's not often the temperatures are lower in London than they are in Burnley, but yesterday was just one of those days. It was bitterly cold under the cloudless skies and, with no sign of under soil heating at Loftus Road there were areas of the pitch that looked quite white even before kick off.
Both teams made one change to the line ups from Tuesday. For QPR, Bobby Zamora came in for Niko Kranjcar whilst Ben Mee was back for the Clarets with Stephen Ward's injury now confirmed as a hairline fracture in his ankle.
Loftus Road hasn't been too bad a place for us in recent years. The last time we lost there was on the day that Steven Caldwell made his Burnley debut with both Andy Gray and Steve Jones returning from injury. All three of them came on as substitutes in what was an awful performance.
Since then it's been wins and draws with an Andrew Cole hat trick and a last Burnley goal from Alan Mahon to add to a great Robbie Blake goal and the excellent performance of last season in the 3-3 draw.
For much of the first half there was no evidence that the good run was going to come to an end. Yes, QPR had a couple of opportunities, but we were undoubtedly the better side and should have gone in with a lead at half time.
That we didn't was down to us not making the most of our opportunities. Ashley Barnes, who I thought was as good as anyone on the pitch for us, missed the first chance and later in the half only last ditch defending from Richard Dunne prevented Danny Ings from testing Rob Green after he'd been played in down the left by Barnes.
Rob Green - the goalkeeper who once let a Kevin Ball shot creep in after it had bounced at least half a dozen times. Rob Green - the goalkeeper who has had some very difficult moments playing for his country, with most who have an interest in England recalling the 2010 World Cup.
The very same came to QPR's rescue yesterday on two separate occasions. The first one was after he'd tumbled over his own player with the ball dropping to Scott Arfield. The Clarets' midfielder hit his shot at goal only for it to hit the recovering Green in the face and bounce away.
All credit to the goalkeeper for this one. His reactions were good and got him back to his feet quickly to get himself in the way of the shot. On the second occasion he kept the scores level it was down to sheer brilliance.
QPR headed a left wing corner clear but only as far as George Boyd. He turned and unleashed a wonderful shot that somehow Green got to and finger tipped onto the post. It looked good from the far end but the best view of it had to be from the centre of the main stand. It gave the two managers the perfect view and both said the shot had goal written all over it from the second it left Boyd's boot.
It wasn't one way traffic by any means and we had a couple of concerns ourselves, one when Michael Keane cleared off the line, but overall there was no doubting who were the better side and QPR must have been mightily relieved to get off at half time with the scores level.
Leroy Fer was yellow carded right on half time, and he'll still be wondering how on earth he escaped a second yellow card in the second half after an awful foul on Kieran Trippier.
But the next card went our way and from our vantage point it looked harsh as referee Jon Moss pulled out his yellow card for Barnes in the first minute of the second half.
I didn't think it was a foul at all; I thought he'd played the ball cleanly. So did Joey Barton, the player supposedly fouled, and he made it clear to the referee that he hadn't been fouled and that Barnes had played the ball.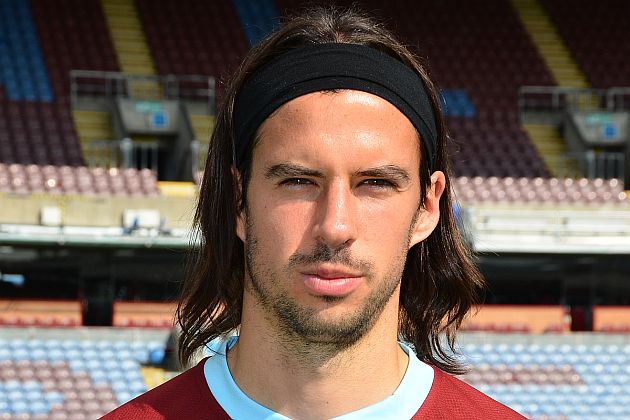 Rob Green denied George Boyd a goal with a brilliant save
He's doing well is Ashley right now. He was carded for handball last week when he headed the ball, something the referee has now apparently admitted to getting wrong, and this week he's been carded for playing the ball with his feet.
Things were soon to take a turn against us though. With just over five minutes of the half gone we fell behind. You just knew Charlie would be involved. He held off Trippier and squared the ball for Fer.
Mee got across to block Fer's shot but it looped up off his boot and over Tom Heaton into the net. Sean Dyche felt Heaton would have saved it otherwise; from the away end it wasn't possible to say one way or the other, but the one thing for certain was that we had gone behind.
After a few minutes we really fought our way back into the game. Boyd blazed over from just outside the box after good work down the right from Dean Marney, and from a right wing cross, Ings headed wide at the far post after some excellent movement had got him into that position.
Dunne was also proving to be an obstacle. More than once he got last minute touches to the ball to keep us out. On two of those occasions we'd have been certain scorers without his interceptions.
Going into the last twenty minutes we were still behind. I did think we might make a change. Arfield was offering very little by now and I'd have liked to have seen Michael Kightly come on. Dyche opted for Wallace, but before he could get him on there were two big talking points.
The first of them saw Austin yellow carded for a challenge on Trippier. It wasn't good; he got a yellow card and it could so easily have been a red as he stretched beyond the ball to take Trippier's ankle.
I thought it was nasty, but out of character for the former Claret. What he did next was definitely not out of character as he turned home a low right wing cross. We've seen it so often; him taking a step back to create that space for himself in the box.
I've seen him punish other teams on countless occasions but this time it was us on the receiving end and at 2-0 we were staring at a defeat.
75 seconds later and Austin was right in the action again, this time leading with his arm in an aerial challenge with Keane. From my vantage point, which gave me the perfect angle on this, it looked shocking. It was deliberate and looked far worse than any of the angles shown on television. It should, I believe, have seen him get a straight red card.
As it was he received a second yellow. He still had to go but it will be the next few weeks when QPR will benefit from the choice of card; he'll miss just one game instead of three.
Both card incidents have reflected badly on our former striker. Yes, he'd over celebrated both goals but I don't have a problem with that, but I hope he'll realise that these two incidents were way out of order, although judging from his comments to day I don't think that realisation has sunk in yet.
I have to say that from that moment to the end of the game, we were very poor. At no point did we ever really look like getting one goal, let alone two. QPR with their ten men saw out the game comfortably.
I recall someone on the message board pointing out all the stats in Stoke's favour a couple of weeks ago and I quickly replied with the one stat that actually matters - it was Stoke 1 Burnley 2. The same applies with this one. It doesn't matter how many chances we might have created and it doesn't matter how many saves Green made or how many vital touches Dunne got in. All that matters is QPR 2 Burnley 0 which brings with it zero points as we look to move up the table.
"How the hell did we not win that game?" posted mkmel on the message board soon after the final whistle. He felt we deserved at least a one goal win.
We'll play worse and win, I'm sure of that. But if you don't put your chances away you won't win a game of football and that's what happened to us yesterday.
The teams were;
QPR: Rob Green, Mauricio Isla, Steven Caulker, Richard Dunne, Suk-Young Yun, Leroy Fer (Matt Phillips 90+1), Joey Barton, Karl Henry, Eduardo Vargas (Jordan Mutch 78), Bobby Zamora (Niko Kranjcar 66), Charlie Austin. Subs not used: Alex McCarthy, Nedum Onuoha, Rio Ferdinand, Junior Hoilett.
Yellow Cards: Leroy Fer, Charlie Austin.
Red Card: Charlie Austin.
Burnley: Tom Heaton, Kieran Trippier, Michael Keane, Jason Shackell, Ben Mee, Scott Arfield (Ross Wallace 75), Dean Marney, David Jones (Lukas Jutkiewicz 86), George Boyd, Danny Ings, Ashley Barnes (Marvin Sordell 89). Subs not used: Matt Gilks, Steven Reid, Kevin Long, Michael Kightly.
Yellow Card: Ashley Barnes.
Referee: Jon Moss (West Yorkshire).
Attendance: 17,785 (including 1,583 Clarets).