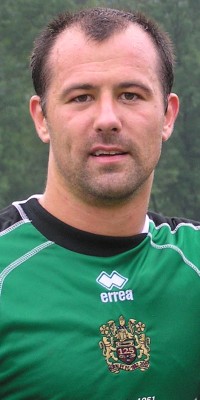 Gabor Kiraly - but for him Hull would have won by a much larger margin
I have, on a few occasions, been criticised for being a so-called neggo, a glass-half-full guy when it comes to the Clarets. So walking towards Turf Moor tonight, still shivering despite trying to wear as many layers as possible, I was really hoping for a good performance to write home about.
I was in a good mood prior to kick-off- I'd learnt that I had enough loyalty points to go to the Blackpool game- by ten. And encouraged by the good reports from Bramall Lane at the weekend, I was looking forward to seeing us finally come up with something good at home. But I suppose I should have known better than to expect a good performance from Burnley at the moment.
I remember when we played Luton at home last season. It was 0-0 and without doubt one of the worst games of football- and Burnley performances- I have ever seen. I'm now debating with myself as to whether last night was worse. Coming away from that game, everyone seemed to remember the other forms of entertainment we had to find during the game, the infamous pigeons, and the chip tray that glided down past the Longside. Last night it was even too cold for the pigeons to make an appearance, so towards the end of the game I was bored, and longing for the final whistle.
Hull were a poor side, they had nothing about their team, no players that you thought "he's a threat". That said, they were by far the better team and thoroughly deserved their three points. If it wasn't for Gabor Kiraly, they would have won by a much larger margin than the one nil that they eventually came away with. For all his doubters, Gabor was fantastic- the only player to come away with any credit whatsoever from a game where we had no attack, midfield or defence. He saved at the feet of Hughes superbly in the first half, before superbly tipping a Garcia effort over the bar.
He was beaten though, early on, when McPhee deflected a shot into the back of the Burnley goal. There were cheers from the home fans when the linesman raised his flag to indicate that the goal would not stand, but alas, that would be the loudest cheer of the night from the Burnley fans although the scoreboard did try to get us singing by flashing up "Longside, give us a song". I just laughed.
The half time whistle couldn't come soon enough. I could go inside and warm up a bit, and hope that the second half would be a vast, vast improvement. Why is it that when it's cold and we're playing poorly, you always feel a lot colder than if your playing well?
Now, usually, I would go through the highlights of the second half at this point, but I can't think of any at all. It really was an awful half. If the first half was bad, this was unthinkably poor. Chris McCann headed against the crossbar but, in all fairness, had that gone in we would have earned one of the most undeserved leads in football history.
David Unsworth had been awful all night, the first half in particular, he was beaten both in the air and on the deck to almost every ball and his night turned from bad to worse when he was shown red for bringing down a Hull forward right on the edge of the box. For a moment I thought the referee had given a penalty, given how far the attacker was into the Burnley area. But thankfully it was only a free-kick and Hull made a mess of it and the danger was clear. But, for all our defensive worries, we were now another defender down.
Deep into injury time it seemed as though we had managed to keep a clean sheet and stolen two points off Hull… but then Marney crossed the ball into our penalty area. Again we were a shambles at the back but this time the visitors managed to take full advantage, with Michael Turner heading in the winner. No, don't adjust your screens, we really did concede a headed goal.
And that was it. Another defeat, but more worryingly, an absolutely abysmal performance. Walking out of the ground, I had to laugh. I couldn't help it. If I didn't, I would probably cry, going to the Turf is starting to turn into a chore and it shouldn't be like that at all. It's not the defeat that I am so annoyed at, it's more the performance- or lack of it, and that fact that these poor performances are becoming very common. What made it even worse is that a friend, Matt, text me at the final whistle bragging that his team, Liverpool, had set a Champions League record by winning 8-0. I joked that we should have put that game up on the big screen.
If I was to sum the mess of a performance up simply, I would put it down to us having no midfield. The defence were left exposed so many times, and you almost felt sorry for Gray, Blake, Lafferty and Akinbiyi who all played upfront during the game, for they saw so little of the ball they had no chance of making any kind of an impact. But it is more than that. From just the first minute, our defenders were all over the place and I never felt confident when Hull we're going forward.
It's difficult to pinpoint what we can do to improve. Obviously we need that player in the middle of midfield who can tackle and play the ball. But this team looks to have a distinct lack of confidence. Kyle Lafferty, who is always a player who shines in the poor performances with his passionate displays, looked to play the ball backwards a lot and rarely tried to get past his man. We appear to be playing with less confidence than during that awful run last season and the blame for that that, I am afraid, lies at the feet of our manager, Steve Cotterill.
I am by no means a Cotterill fan- far from it. I have been gunning for him to be removed from the manager's position from a few games into the 19-game run last season and nothing this season has changed by view, I would probably go as far to say that I am more against him now than I was last year.
When I started writing this match report I wanted to present a much more positive image of the game than I have done. I wanted to try and explain what was going wrong and why. But as I've gone through, I've realised that I have failed in my efforts to do that. I don't think I can really get anything positive from this game, so I'm not going to try.
Hopefully next time I get the opportunity to report on a match for you, it will be much more upbeat and positive.