That's six wins in little over two years that have ranged from fortunate, through referee (Mike Jones) inspired to hammering them as we did at home last season. The sixth of those wins, which came courtesy of a Martin Paterson goal following a defensive mix up, means we end the calendar year in fine style, and better than has been the case for many a year.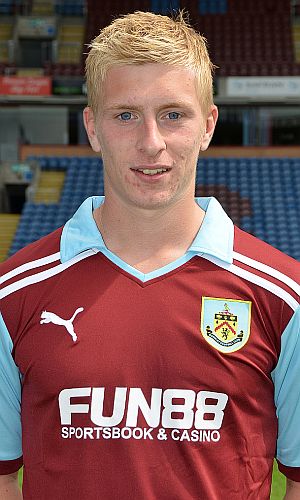 Ben Mee - played well in the centre of defence
This win has taken us to seventh place in the table and that's incredible given that just five weeks ago we trailed Hull 2-0 at the KC Stadium and were heading into the bottom three of the league.
Had we lost that game we would have come home in 22nd place on the back of five straight defeats and goodness knows what that would have done to our already fragile confidence. Two David Edgar goals brought us level with a late winner from Jay Rodriguez to follow.
It gave everyone a lift and prior to yesterday's game we'd followed that up with four more wins with the only blemish a 1-0 home defeat against Portsmouth that came courtesy of a stoppage time goal.
The Christmas period notoriously provides little cheer for Burnley fans but we went into this game after seeing off Willie McKay's All Stars of Doncaster on Boxing Day, winning the game 3-0 which was our biggest win on that date since a 4-0 win against Rochdale back in 1987 when George Oghani, Andy Farrell, Paul Comstive and Ian Britton got our goals.
Suddenly there is an air of confidence about the place and all the talk was positive ahead of this game even though we were facing one of the teams currently in the play off positions and a team who, themselves, had just been on a run of four wins prior to an unfortunate Boxing Day defeat at Middlesbrough.
The team news had little surprises. We knew there was no chance of Michael Duff playing and it was only a question of whether Andre Amougou replaced him in a straight swap or whether Brian Easton would be recalled at left back with David Edgar shifting to the right of centre and Ben Mee moving into left centre from left back.
Amougou is very much out of favour right now with the good money suggesting Burnley would like to cash in on him if possible this month so there was no surprise to see Easton get the nod to come back in.
Eddie Howe had said he would rotate the squad but the only other change saw Keith Treacy return with Junior Stanislas dropping out.
On the other side, Hull were forced into one change with Liam Rosenior suspended and he was replaced by Paul McShane.
The Doncaster game had been played on a bright but breezy afternoon. This time it was much more typical Burnley. It was a damp and miserable afternoon weather wise but we started well, just where we'd left off against Doncaster.
We moved the ball quickly and got at Hull and put them under some early pressure. It was just what we needed but unfortunately we couldn't sustain it any longer than the opening seven or eight minutes.
A speculative Jay Rodriguez effort went just over the bar whilst Ross Wallace's effort was deflected for a corner but then Hull started to have more of the play and they gave our defence plenty of work to do.
Thankfully they'd come without their shooting boots and an early shot from Matty Fryatt proved to be just about the only save Lee Grant had to make all afternoon. They failed to test Grant with a number of opportunities with Cameron Stewart, Aaron McLean and Robert Koren particularly guilty.
It took goalkeeper Peter Gulacsi to show them how to do it when his long punt upfield was on target but Grant dealt with it comfortably. Gulacsi was soon to play a key part in the only goal.
With just over half an hour gone we were the first team to have the ball in the net but Jay Rod's quick shot was ruled out by an offside flag and when Hull responded they again came close.
It was from one of their attacks that the goal came. The ball found its way back to Grant who kicked up field. The ball bounced past a defender and Jay Rod and there seemed to be no danger.
Central defender Jack Hobbs was beckoning his Gulacsi to come and collect but then realised he'd have to deal with it himself. By then, the goalkeeper was on his way. Hobbs headed it, the keeper got a touch but the ball dropped invitingly for Martin Paterson who turned and hit the ball into the almost unguarded net as Hobbs tried to get back and recover the situation.
Pato turned to celebrate as Hobbs finger wagged at Gulacsi and vice versa. The on loan goalkeeper didn't last much longer and gave way just before half time to Adriano Basso.
A half time lead was probably more than we deserved and things didn't change too much in the second half. Hull were still the better side and created a couple more chances. One from Koren was probably the worst miss of the lot.
We needed to do something. We had shuffled the personnel with Jay Rod now down the left and Wallace in a central role but we were being overrun in the midfield area. With just over an hour gone, Marvin Bartley came on to replace Treacy but that seemed to just force is to play deeper and deeper.
There was one amazing incident when Jay Rod collected the ball and went on a barnstorming run upfield, but virtually the rest of the Burnley team were stood in their own half of the field with no one making any attempt to support him.
It looked as though we were going to be in for a tough last twenty minutes or so but I don't think they created anything of note other than an attempt to give us the ball back from a dropped ball and force Grant into a save from it.
We, in the end, came closest to scoring and probably should have added a second. Paterson was twice played in. Wallace played him in but he delayed his shot too long allowing Basso to save and then got his positioning wrong when Jay played a ball into him.
He looked shattered by then and it was perhaps a surprise he stayed on as long as he did. He's been out for some time and it seemed to take its toll. Still he got another goal which will do him no harm at all but he's going to have to be careful as he also picked up a third yellow card in three games.
Sam Vokes finally replaced him in the 90th minutes just before the fourth official signalled five minutes stoppage time. Again we should have got another goal. Again it was Wallace and he played the ball across for Jay who had all the time in the world. He opted for the spectacular volley which went nowhere near goal.
It was getting frantic and in the very last minute Edgar got his head to a ball in his own box that thankfully Grant was able to collect just before Chris Sarginson, an impressive referee, brought it all to an end.
It had been a scrap, no doubt about that. We'd had to roll up our sleeves for this one and it was summed up by Mee after the game. He said: "It was a massive win. We didn't play our best but sometimes you have to win ugly and we are really happy and all the lads are buzzing.
"The character of our team has been growing throughout the season. We have become quite a close bunch and everyone gets on really well. I think that's a big factor as well. We stick together and we came together tonight and ground out a result rather than bossed the game.
"You get those games where you have to dig in and we all feel that we can do that now. We had a couple of chances ourselves on the break. Unfortunately we didn't get the second goal like we did the other day against Doncaster but we stuck together and we ground out a result.
"The clean sheet means everything to us. At the start of the season we were struggling to get them and now they are starting to come. We have shot up the table and we just want to keep that going."
Ben Mee had a good game and alongside Dean Marney and David Edgar was very much a candidate for man of the match.
Hull are a decent team. We've taken six points off them again and that means two excellent results. There's no doubt there are far worse teams than Hull in this league.
These two wins this week have been massive. We've struggled for results at times at home but that's three wins in four and only one goal conceded, and who would have thought that a few weeks ago.
It's still going to be tough this season but going into 2012 in 7th place has to be fantastic. Let's hope it is a Happy New Year.
The teams were;
Burnley: Lee Grant, Kieran Trippier, David Edgar, Ben Mee, Brian Easton, Ross Wallace, Dean Marney, Chris McCann, Keith Treacy (64), Martin Paterson (Sam Vokes 90), Jay Rodriguez. Subs not used: Jon Stewart, Andre Amougou, Charlie Austin.
Yellow Card: Martin Paterson.
Hull: Peter Gulacsi (Adriano Basso 42), Paul McShane, James Chester, Jack Hobbs, Andy Dawson, Paul McKenna, Corry Evans, Robert Koren, Aaron McLean (Richard Garcia 83), Matty Fryatt, Cameron Stewart (Robbie Brady 66). Subs not used: Joe Dudgeon, Tom Cairney.
Yellow Card: Paul McShane.
Referee: Chris Sarginson (Staffordshire).
Attendance: 15,071.