A goal in each half gave Huddersfield their first win at this level since they beat QPR at the then named McAlpine Stadium in April 2001. This win was gifted to them after one of the most inept performances you can possibly imagine.
It's hard to believe we got here just a week after the fantastic win against Bolton, but it's been downhill ever since that win. The performance, for me, at Middlesbrough, was nowhere near good enough, particularly in the second half, but Middlesbrough, apart from their goals, were pretty inept.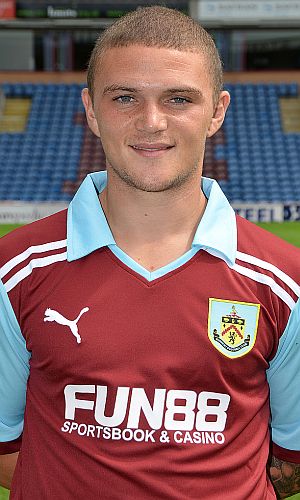 Kieran Trippier was our best player
Yesterday, Huddersfield weren't inept and we simply had no answer in what was one of the worst performances I've seen for some time. Eddie Howe said after the game that he didn't think we were outplayed or outclassed. Sorry Eddie, over 3,000 Burnley fans will totally disagree with you and will add that we were out everything else as well.
We were very much out thought tactically. We knew how Huddersfield would set up; Simon Grayson said so the day before. With former Blackpool midfielder Keith Southern doing the defensive work, you know, the job Brian Stock is supposed to be doing for us, it allowed Adam Clayton and Oliver Norwood to run the game. They won't get an easier ninety minutes all season.
They must not have been able to believe it as we played our version of passing football, slow as you like, no movement, no urgency, no desire to get forward, no runners, and they must have known the game was won once that first goal went in on seven minutes because we simply had no answer whatsoever.
It had been a fun journey over, dodging the showers that were more like torrential downpours. Sensible people take cover when the rain comes down like that but outside the ground yesterday I spotted three not too sensible people who just stood there and got themselves drenched as everyone else sheltered. Still, two of them did have their coppers' helmets on.
The Burnley fans were piling in. We'd sold over 2,600 tickets and with brisk trade at the cash turnstile we lifted that to in excess of 3,000.
As the teams came out to warm up there was no sign of rested Martin Paterson. "It's a long ******* rest after just one game," said one Burnley supporter aside me as it was confirmed he wouldn't be involved again.
It's been pretty insulting this 'rested' line being touted by our club this week. Whilst the media machine was going down that line there were enough hints from the manager on Tuesday that he was injured and he finally confirmed that yesterday. "Martin has had a scan on a grade one hamstring tear. It's a really tiny tear and we are desperate to have him back," he said after the game.
When the team was announced, it was same again from Tuesday with just one change on the bench as Keith Treacy, who hadn't kicked a ball for us since February, returned at the expense of Shay McCartan.
That meant Brian Stock, who needs to be nursed, was again on the bench. That's another strange one. Here's a player we were desperate to get. We've got him and he's just sat watching games.
Ahead of kick off, it was another Olympic theme as gold medal cyclist Ed Clancy was introduced to the crowd. They did it well, after the introduction he was allowed to walk round the pitch perimeter and the Huddersfield fan received a superb reception from all four sides of the ground. It's happen as well we did because there certainly wasn't much else to applaud all afternoon.
It all started so well against a team who haven't beaten us in a league game since 1970 and who haven't beaten us in Huddersfield since 1956. We had the first chance as Ross Wallace played in Dean Marney whose effort was deflected for a corner. That I'm afraid is just about as good as it got.
Huddersfield, too, won a corner from their first real attack and they made the most of it. Joel Lynch, at the near post, headed the corner goalwards but it was cleared on the far post by Joseph Mills.
The assistant referee, well positioned, immediately flagged that it had crossed the line. Even from my seat behind the goal it looked in and television pictures have confirmed the decision was a correct one.
So, seven minutes gone, and behind. It could have been worse too had the bar not saved us as Jordan Rhodes got above Jason Shackell far too easily to win his header. Last week, I thought Shackell and David Edgar had played very well. One week on and their defending was shambolic. I don't think either of them won a header of any note all afternoon.
Still, we looked good in possession in the final third. Sadly, that was our defensive final third as we continued this tiresome over playing at the back with no sign of any movement in front of them.
There was never any chance of us getting back into it playing like this and we could be thankful we didn't fall further behind. More than once Huddersfield came close in front of the Burnley fans while there was precious little to enthuse about the play at the other end.
Then, out of the blue, we got the ball in the net. Junior Stanislas hoisted a free kick from the left into the box. They won it but the header was poor and it dropped invitingly for Edgar who got his shot in. It deflected off a clearly offside Charlie Austin and as we, very briefly, started to celebrate an assistant's flag again went against us, but again rightly so.
Heads shook in the away end at half time. It really had been a dreadful showing, but if we thought it was going to get any better then we were sadly mistaken and once Huddersfield got their second on 58 minutes it really was very much game over.
This time it was Edgar with the poor header but it was followed by some incredibly half hearted defending that allowed Rhodes so much time and room it was frightening. He scored 36 league goals last season. He needs closing down. He's always going to score if you allow him to get his shot in so damned easily.
We needed to change things. We needed to get someone into the midfield. Surely Stock would come on now. For me, had he come on for any one of Wallace, Stanislas or Sam Vokes it might have helped.
Vokes was the one hauled off, but, in a reshuffle, Michael Duff came on and we went with three central defenders. That proved to be a disaster, certainly on the left hand side where Mills, who had been one of our better players to that point, suddenly went awol in terms of carrying out his duties.
Nine minutes later he came off with Wallace moving into the left wing back slot and Keith Treacy coming on, his first Burnley appearance since the home defeat against Millwall last season.
We did get an effort on goal with Austin heading just over, but in truth it made no difference and by that time it was never going to make any difference. Huddersfield were head and shoulders better than us. They were playing with confidence and I'm not sure bringing on two subs without taking anyone off would have helped.
Stanislas was withdrawn in the very last minute of normal time; Alex MacDonald coming on, but by then this Burnley team was well beaten.
How good were Huddersfield? I'm not sure. They were at us, mobile, moved the ball well and quickly and got players forward. But, they didn't need to be very good to come out on top against this totally inept performance from Burnley.
Lee Grant got nothing wrong; Kieran Trippier was, by a mile for me, our best outfield player. No one else is coming out of this shambles of a performance with any credit.
I'm hoping for a much better showing against Plymouth, no matter what team we put out, but we are going to have to play a whole load better than this if we want to get anything out of next Saturday's home game against Brighton.
This was simply not good enough. "It's a game that leaves more questions than answers," said Luppy on the message board last night. Frankly, I can't think it provided one single answer, but it certainly posed a lot of questions.
Not good enough Burnley, nowhere near good enough. The passion and the desire carried us through against a poor Bolton side but the two away performances since, yesterday in particular, have just not been acceptable.
The teams were;
Huddersfield: Alex Smithies, Paul Dixon (Anthony Gerrard 83), Joel Lynch, Peter Clarke, Jack Hunt, Keith Southern, Oliver Norwood, Adam Clayton, Sean Scannell (Danny Ward 23), Jordan Rhodes, James Vaughan (Lee Novak 77). Subs not used: Ian Bennett, Scott Arfield, Calum Woods, James Spencer.
Yellow Card: Adam Clayton.
Burnley: Lee Grant, Kieran Trippier, David Edgar, Jason Shackell, Joseph Mills (Keith Treacy 73), Ross Wallace, Dean Marney, Chris McCann, Junior Stanislas (Alex MacDonald 90), Sam Vokes (Michael Duff 64), Charlie Austin. Subs not used: Brian Jensen, Ben Mee, Brian Stock, Marvin Bartley.
Referee: David Webb (Sunderland).
Attendance: 15,483 (including 3,106 Clarets)
Footnotes
The last time Huddersfield beat us in a league game was at Turf Moor in November 1970. Alan West and Steve Kindon scored for us in a 3-2 defeat. The last time we lost at Huddersfield (other than in the friendly against Stoke) was in February 1956 when we were beaten 1-0.
Chris McCann became the latest player to make 200 league appearances for Burnley yesterday. His first appearance was just over seven years ago when he came on as a substitute for the injured Wade Elliott.
He joins Brian Jensen (270) and Michael Duff (233) of the current squad but no other member of that squad has reached 100. The fourth highest is Ross Wallace with 92 league appearances.