High fives and a much needed three points
Report of match Burnley 5 Peterborough United 2 played 15th September 2012
Reporter Tony Scholes
Burnley brushed that tiresome performance and defeat against Brighton right out of the system yesterday as we went goal crazy against bottom club Peterborough United with a 5-2 win to lift us out of those bottom positions in the league.
Goals from Chris McCann and Junior Stanislas, at least two from Charlie Austin and another where the scorer is still very much being debated ensured the first points since the opening day of the season win against Bolton. And by the final whistle there was absolutely no doubt that we were fully deserving of the points.
I wouldn't say I wasn't confident as I left home for this one but I did have some real concerns. For one, Peterborough are a side against whom, in our limited number of games against them, we don't have a good record.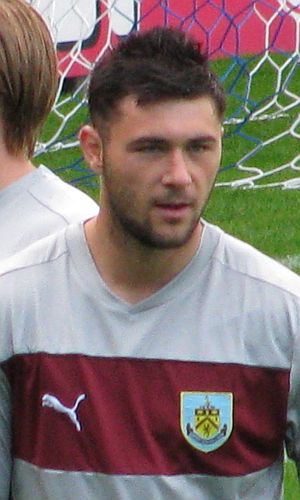 At least two more goals for Charlie Austin
If that was a bad omen then add to that the fact that they hadn't recorded a point all season and, going back into last season, they were without a league win in ten games. Neither had they won on the road since Boxing Day 2011 when George Boyd scored to give them a win at the City Ground against Nottingham Forest at a time when Forest were losing for fun.
I hate all these things. I kept recalling the 1975/76 season when we faced Birmingham and Sheffield United three days apart. Both were pointless and both beat us.
So I tried to concentrate on almost five years ago, when we went to Sheffield Wednesday on 18th September 2007. They'd no points from five games and we won comfortably.
Pointless Peterborough arrived at Turf Moor to find that Eddie Howe had made three changes to the side that had started in that last game two weeks earlier.
I think it had been one of the worst kept secrets for well over a week that Michael Duff was to be recalled. He came in for David Edgar whilst Marvin Bartley, substituted at half time against Brighton, and Cameron Stewart joined the Canadian on the bench as both Martin Paterson and Ross Wallace returned.
We played towards the cricket field end in the first half and by five past three I think we'd seen more from the Clarets than in the previous three games put together, not as though all of the early action was in our favour.
With less than two minutes gone we should probably have been in front, Austin hitting a shot against the bar after being played in by Paterson. In truth, he should have done better and we should have had an early lead, and that's something Peterborough then came close to getting.
Lee Grant pulled off a magnificent save in Peterborough's first attack and then, after another good save, saw the defence in front of him struggle to clear the ball ,and all that with only five minutes gone.
If that was a hectic start then it got even more so and, for the first twenty minutes of the game it was very much all in our favour.
The goal we needed came with just over six minutes gone. A ball across the box found its way to Joseph Mills out on the left wing. He crossed first time for Chris McCann to get in front of his defender and head home at the far post.
It was McCann's first Turf Moor goal since the 4-0 drubbing of Ipswich back in November last year and quite how we didn't add to that advantage I'm not really sure. Just about everyone seemed to have an attempt at goal but all the attempts were either wide of the mark or found goalkeeper Bobby Olejnik.
I couldn't believe another goal wasn't about to come, and I was right. Unfortunately, against all the run of play, it came at the other end, and it really was down to some poor defending that ended when Duff brought down Nathaniel Mendez-Laing making it the easiest of penalties to give for referee Mike Dean.
Lee Tomlin stepped up to put his spot kick into the corner to Grant's right and before we could recover from ridiculously losing the lead we went behind. More calamitous defending, this time from Jason Shackell and Kieran Trippier left Grant stranded as Mendez-Laing strode through to score.
It was ridiculous. We could have had the game done and dusted but here we were, 2-1 behind, and for a period of time after that we really did lose our way. There was little cohesion, the whole ground was apprehensive, and there was every possibility that we could find ourselves on the end of another bad result.
Things could have got worse too as the impressive Mendez-Laing, a summer signing from Wolves, was denied a goal when Mills cleared from the line. A third Peterborough goal at that point would surely have spelled curtains for us.
But they didn't get that third and, from nowhere, six minutes from half time, we rescued things with an equaliser. I'd like to report who scored it but that's somewhat confusing right now although in my mind it is correctly recorded as a Michael Bostwick own goal.
Austin, who had by now missed two good chances, did really well to get past two Posh defenders in the box. Pushed wide he then hit a shot towards the bottom corner. Would it have gone in? I've watched it several times and don't believe it was. In the end, it didn't matter as Bostwick, in trying to clear, did not more than turn it into the net on our behalf.
Given the fact that Austin scored a brace in the second half, he's now trying to claim it for his second Burnley hat trick, but until the Football League stats show it as Austin's goal, and they currently show it as an own goal, then an own goal it must remain. I do think that is the correct decision although I suspect someone might try and get that changed.
It really didn't matter. We were back in the game. We went in at half time level, and it could have been even better when a long, long range shot from Trippier was kept out by Olejnik's finger tips as the action drew to a close in the first half.
That equaliser had given us the opportunity to regroup and hopefully push on and go on and win it in the second half; that's exactly what we did.
It took a time though and in the first quarter of an hour of the second half it could still have gone either way. Austin missed another opportunity almost immediately when he headed a Mills cross wide and there were a couple of occasions when Grant, again, had to be very alert.
He was hardly keeping us in the game but I'm surprised just how often he's targeted. Only this week one fan told me the answer to all our problems was to drop Grant from the side, something I continue to find staggering.
With just under half an hour to go we made a double change. Off came the tiring Paterson and Ross Wallace, who was having little influence on the game. On came Sam Vokes and Stewart. It seemed to lift the performance and just under ten minutes later we finally regained the lead we'd lost over 50 minutes earlier.
McCann it was who had given us that early lead and he played a big part in this, our third goal. Making a trademark run forward and to the left, he looked up, played the ball across to Austin who finished powerfully into the top corner. if there was any dispute with the previous goal, there certainly wasn't with this one.
Now, we had to ensure we didn't lose the lead again, and there was no danger of doing that this time. Peterborough, by now, were offering nothing and we doubled the lead with just under ten minutes to go from the penalty spot.
It was Austin again, bursting into the box, only to find Olejnik in his way. Another clear penalty, another comprehensive finish, powerfully into the bottom left hand corner.
It was almost exhibition stuff now and Stewart was so unlucky not to get his name on the scoresheet as he curled a shot towards the corner. Olejnik saved well but only as far as Stanislas, having his best game of the season, who returned it into the net for his first ever Turf Moor goal.
"When did we last get six?" I was asked. Incredibly, we haven't hit a half dozen in the league since we dispatched York 7-2 in the Chris Waddle season of 1997/98 season and the last time we hit an exact six in the league was at Wrexham in 1991.
There wasn't to be a sixth, although there might well have been. We even got to see the elusive Brian Stock who came on to allow Austin a standing ovation.
It was all over, the biggest home win of the year, and out of the bottom three. It wasn't perfect by any means and there were certainly a lot of questions to ask about our defending. We hadn't beaten one of the better sides either, more likely we'd beaten a side who will do very well to avoid the drop at the end of the season.
But this was a much needed win. This was a much, much better performance. We moved the ball quicker, there was movement off the ball and there was a much better tempo to it from start to finish. We can't always play well, we can't always win but this is how we should be looking to play, with a bit of defensive tightening up.
There were some very good individual performances. Stanislas, as I said, had his best game of the season. Grant played really well. I was very impressed with McCann, and the sooner he signs a new contract the better, but two goals or three, Austin was again an impressive figure up front.
We're back on the road again now. By the time Millwall pitch up at the Turf in two weeks we'll have been to Leicester, Derby and Swindon. Some points and progress in the cup would be nice and then look to get some revenge on Millwall who have won both of their last Turf Moor games.
Finally, and nothing to do with the game. In my last report, two weeks ago, I referred to my recent poor health. Thankfully for me things have improved dramatically and I'm now just awaiting one last doctor's appointment, after which I'm expecting to be signed off. I know just how serious it could have been.
Can I please say a massive thanks to all those who have contacted me with their best wishes, be it on the message board, by email or in person. It's been humbling and overwhelming. Thanks so, so much for your support.
The teams yesterday were;
Burnley: Lee Grant, Kieran Trippier, Michael Duff, Jason Shackell, Joseph Mills, Ross Wallace (Cameron Stewart 62), Dean Marney, Chris McCann, Junior Stanislas, Martin Paterson (Sam Vokes 61), Charlie Austin (Brian Stock 87). Subs not used: Brian Jensen, David Edgar, Ben Mee, Marvin Bartley.
Yellow Card: Joseph Mills.
Peterborough: Bobby Olejnik, Mark Little (Kane Ferdinand 83), Sean Brisley (George Zakuani 59), Michael Bostwick, Craig Alcock, Lee Frecklington, Grant McCann, Nathaniel Mendez-Laing, Lee Tomlin, George Boyd (Emile Sinclair 68), Tyrone Barnett. Subs not used: Joe Day, Joe Newell, Nathaniel Knight-Percival, Jonson Clarke-Harris.
Yellow Card: Bobby Olejnik.
Referee: Mike Dean (Wirral).
Attendance: 10,979.