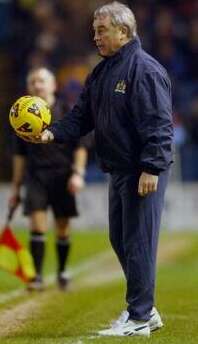 Stan wonders who wants the ball
Was our fantastic start to the season that saw us top of the table at Christmas no more than a metaphorical drunken hour? The year 2001 seems so long ago yet it reminds us of a time when going to Turf Moor was an enjoyable pastime but Clarets fans really are miserable now.
On one hand you could say what right have we to be miserable when we are still standing in a very promising play-off place but on the other how can we expected to remain happy following week after week of directionless and dispiriting football?
There is a train of thought that says 'Stan is never wrong' and I'm sure that managing a First Division football club is far harder than anyone can imagine but let me ask you a question. You are the manager of a football club and in your squad you have a player who is arguably one of the best left backs in your division and another player who is one of the worst. Who would you play at left back?
I'm sure it's not Graham Branch's fault but Stan's insistence on starting him at left back is getting embarrassing. When Steve Bruce saw the teamsheet he must have been rubbing his hands especially when he also noticed that we were playing with just Gareth Taylor up front. Taylor did have some success in the air against Nottingham Forest but he was never likely to win much playing against the accomplished Darren Purse and so it proved. I just wonder what sort of message it sends to the opposition when you line up 4-5-1 at home.
After a 15 minute delay whilst the 'Matchsaver' was removed ever so carefully following last weeks postponement we were ready for the off and what we got was just plain miserable.
Unable to attack with any pace Taylor became isolated and when we did work a position it came so slowly that all options were covered. The best we managed in the opening 20 minutes was a shot from 18 yards by Taylor which Bennett in the Birmingham goal gathered easily. Other promising attacks were halted when Taylor repeatedly fell foul of Birmingham's offside trap.
At the other end the Blues were not showing much attacking ambition though snap shots from the lively looking Mooney and Woodhouse kept Marlon on his toes.
Stan had asked for the fans to get behind the team and we were trying but there was so much not working it was difficult especially after Branch's umpteenth misplaced pass. Then on 25 minutes came the goal that decided the game.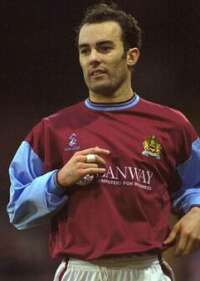 Graham Branch - not his best game
A long ball was played forward to Stern John who was being well marshalled by Ian Cox on the edge of the box. Instead of going to mark the tricky Devlin advancing down the wing Branch trotted in the direction of Cox then stood there lamely as the ball was fed to Devlin who crossed first time for Mooney to head home unchallenged from 6 yards out.
Stan's response was to remove Paul Cook from midfield and replace him with Ian Moore, a move which perplexed everyone. Moore struggled to get into the game and the closest the Clarets came before the break was when Taylor headed a deep cross towards goal but just out of reach of the onrushing Alan Moore.
At half-time Branch was duly removed, as he always is, and on came Steve Davis to much applause after his long injury lay off. This allowed Kevin Ball, who had been playing well at centre half to push into midfield and for Lee Briscoe to drop to left back.
Now playing with a brisk wind the Clarets looked an altogether more impressive unit though still we struggled to create any real chances of note. You got the impression that Birmingham had only come for a point and now they were in possession of all 3 they weren't going to give them up without a struggle. As far as the Clarets were concerned a draw would have been a good result at this stage as once again we were left to play catch up at home.
Despite much huff and puff nothing went right in front of goal. As Birmingham defended deeply the Clarets won a succession of free kicks on the edge of the box but our record on these is abysmal. Everyone has had a go with Dean West being the latest to try his hand but he hit the wall from the most promising of them which was awarded just on the edge of the box after Purse had brought down Ian Moore for which he deservedly picked up a booking.
It was Moore who had the best chance of the night when we for once beat the Blues offside trap and running on to the ball he was 10 yards clear of the pursuing defenders. Moore seems to be low on confidence to me and he completely failed to control the ball allowing the defence to get back before he'd got anywhere near shooting range. Could you see a centre forward playing for one of our promotion rivals not score from a similar position?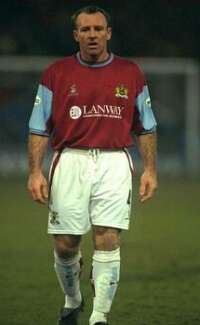 Kevin Ball - Man of the Match
Robbie Blake came on for Alan Moore with 20 minutes remaining and once again showed some nice touches but the Clarets were becoming increasingly desperate in their attempts to chase the game and were leaving holes at the back. A late flag saw John's headed 'goal' chalked off for offside and the impressive Mooney almost caught Marlon unawares with a shot from 35 yards but Burnley were still pushing for a point at the other end.
As time ran down Paul Weller and Glen Little combined and Little's fierce angled drive whistled past the far post and it was all over. Had it gone in you might just have been able to say that we deserved a point for our second half performance but really there could be no complaints but it maybe offered a glimmer of hope for our next home game on Saturday.
Despite the recent run of home form there really is much to be optimistic about and, though it's not always easy, I did try.
'We'll slaughter Norwich, they're rubbish away' I remarked to someone afterwards. 'Yes' they replied 'but we're rubbish at home' which left me to ponder about how miserable I really was.