The controversy came in incidents either side of half time involving Clarets' goalkeeper Tom Heaton that eventually saw him sent off and left us fighting an uphill battle with ten men for over half and hour.
The red card couldn't have come at a worse time. We had been the better side from the start of the second half and Brighton had offered little since the resumption, but they showed just how to play against ten men and in truth we never ever threatened to get back into it once Heaton had gone.
It all changed a game that had been fairly even up to just before half time despite Brighton having taken the lead and it changed a game that Burnley certainly still looked more than capable of getting something from.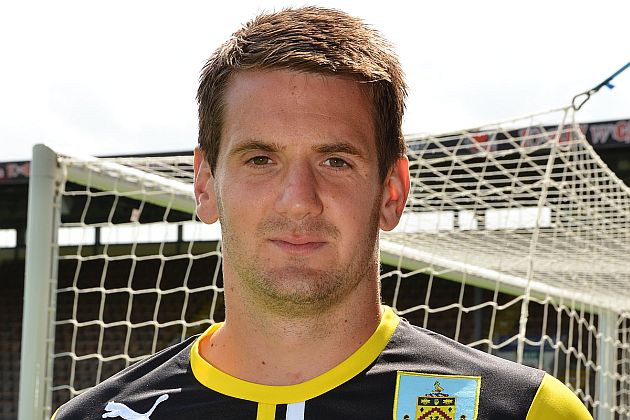 Tom Heaton became the first Burnley goalkeeper to receive a red card since Brian Jensen at Luton in 2005
So the first long trip of the season saw us come home with nothing as I got home around 16 hours after leaving in the rain just after 6:30 in the morning, soon coming up against a sea of red and white egg chasers on their way to Wembley for the Challenge Cup Final. Wigan won too, they must have really gone toe to toe against Hull.
We were at the Amex in plenty of time. It's my third visit and I still find it a strange ground, although improved from our first visit, and I was just thankful not to be forking out for their limited £15 per car parking.
The rain was coming down, as it did in the South East yesterday. It ruled out the fourth day of the test match which was good news because it left the Aussies sulking, and brought an early end to the game between Charlton and Doncaster at the Valley. There never appeared to be any sort of problem with the Brighton pitch.
The team news came through and answered the one big question as to whether it would be Keith Treacy or Scott Arfield who would replace the injured Ross Wallace. It was Treacy but Arfield played too with Junior Stanislas relegated to the bench.
The bench was a surprise. Having had it confirmed on Friday that Michael Duff hadn't travelled it was something of a shock to see him warming up as one of the subs. He might have cast a glance at referee Darren Sheldrake too. In his last appearance, at Wolves, it was Sheldrake who had very harshly sent him off.
Albion hadn't won at home this season and they made a nervous start as we seized the initiative, making progress particularly down the right flank where Kieran Trippier and Treacy were linking up well.
They helped set up the first chance of the game too; Treacy eventually finding Dean Marney who in turn found Danny Ings, but he didn't get anything like enough on his shot and Tomasz Kuszczak was able to get down to his left and save easily.
Brighton looked comfortable in possession but were offering very little threat and Burnley might again have snatched a lead. This time a ball in from Treacy found Arfield beyond the far post. He scuffed his shot but it was still enough for the goalkeeper to save at the expense of a corner.
There was nearly half an hour gone, and I thought we'd certainly been the more productive of the two sides. But a poor mistake proved costly and we found ourselves a goal behind.
David Jones' ball to Kevin Long was not a good one but the Irish defender should have done far better than he did. In the end, as he went to ground under threat from Leo Ulloa. He could only knock the ball back a few yards for Ulloa to collect.
Jason Shackell, in coming over to try and stop Ulloa, left Andrew Crofts unmarked and when the ball came across he made no mistake.
It was an awful goal to give away but we really should have drawn level when Treacy again got in a good position on the right from a quickly taken free kick. He got a ball over but not one Burnley forward attacked the ball and the chance was gone.
We looked set to go into the interval at 1-0, and that we did, but it was so very nearly two. Again it was poor Long, this time with an awful header back that left Will Buckley clear. Out came Heaton and he took Buckley out a few yards outside the box.
I'll be honest, from my vantage point at the other end of the ground, my heart was in my mouth as I feared a red card. It was, thankfully, yellow, and Brighton did nothing from the free kick.
Should it have been red? It's a debate but the referee saw the positioning of Shackell and deemed that Buckley still had too much to do to be certain and he was, by then, running away from goal. Maybe Heaton had got away with it. Maybe referee Sheldrake thought so too because he certainly made a complete pig's ear of the decision that saw Heaton sent off.
We'd started the second half well. We'd put Brighton under some pressure and they'd not even had an attack until them came forward a couple of minutes before the hour. It ended with a weak Ulloa shot straight into the hands of Heaton on his line.
The goalkeeper was looking to get out to the edge of his box quickly to release the ball. He was firstly pulled back by Buckley. He got away and to the edge of the box but then came the incident where he released the ball and then caught it again.
I couldn't have been better positioned. Buckley most definitely impeded Heaton and Buckley most definitely made contact with the ball between the two touches. Sheldrake blew immediately and marched over as he went for his cards. I was certain that we'd won a free kick and Buckley was about to be yellow carded.
I was absolutely astonished at what happened. I've seen it again and again and I still cannot believe he's penalised Heaton let alone card him and ultimately send him of, Heaton becoming the first Burnley goalkeeper to be sent off since Brian Jensen on that unforgettable November day in 2005 at Luton.
Forget this 'unsporting behaviour' that's been reported. Every single yellow card received by our players this season has been for unsporting behaviour. This time, as I see it, it's a get out by a referee who knows he's made one serious mistake.
It didn't end there. As we looked to get Alex Cisak ready he marched over to our technical area. I'd assumed he was not happy with the time we were taking but he ordered Ian Woan to the stands.
Treacy was the player sacrificed, and for me it was a sacrifice. He'd done well. In my article relating to Treacy a few days ago I did warn that one swallow doesn't make a summer, but I did feel as though a second swallow had flown in yesterday amongst Brighton's seagulls.
That was it for us to be honest. Brighton took control and got themselves another goal, this time Ulloa heading home, once again getting the better of Long too easily. I am maybe being a bit harsh on Cisak because it was a good header. It must be very difficult coming on as a goalkeeper but I did think had he moved across to his right to anticipate he might well have saved it.
Stanislas came on; David Edgar came on but we were never getting back into this game. Our hopes of coming home with anything were well and truly extinguished when that red card went into the air.
The teams were;
Brighton: Tomasz Kuszczak, Inigo Calderon, Gordon Greer, Matthew Upson, Stephen Ward, David Lopez (Kazenga Lua Lua 66), Rohan Ince, Andrew Crofts, Will Buckley (Solly March 90+2), Kemy Agustien (Jake Forster-Caskey 74), Leo Ulloa. Subs not used: Peter Brezovan, Adam El-Abd, Adam Chicksen, Vitalijs Maksimenko.
Yellow Card: Matthew Upson.
Burnley: Tom Heaton, Kieran Trippier, Kevin Long, Jason Shackell, Danny Lafferty, Keith Treacy (Alex Cisak 59), Dean Marney, David Jones (David Edgar 79), Scott Arfield, Danny Ings (Junior Stanislas 74), Sam Vokes. Subs not used: Michael Duff, Ben Mee, Brian Stock, Ryan Noble.
Yellow Cards: Tom Heaton, David Jones.
Red Card: Tom Heaton.
Referee: Darren Sheldrake (Surrey).
Attendance: 26,007.